Kidney Cancer Lawsuit Filed By Philips DreamStation CPAP Machine User
September 24, 2021
By: Irvin Jackson
Following use of a recalled Philips DreamStation CPAP machine, a Missouri woman has filed a lawsuit alleging that she inhaled or ingested toxic particles released as the device's sound abatement foam degraded, causing her to develop kidney cancer, require surgical removal of her kidney, and suffer other injuries.
Angela Holmes filed the complaint (PDF) against the Dutch manufacturer, Koninklijke Philips, and its U.S. subsidiaries on September 22 in the U.S. District Court for the Western District of Missouri, indicating that her injuries were a direct and proximate result of the manufacturer's sale of defective CPAP machines containing a polyester-based polyurethane (PE-PUR) foam that is prone to degrade, releasing chemicals and gases directly into the device's air pathways.
Philips recalled an estimated 3.5 million CPAP, BiPAP and mechanical ventilators in June 2021, following years of user reporting that they were finding black particles and debris were found in the machine, face masks or tubing. The manufacturer ultimately acknowledged that the PE-PUR sound abatement foam was breaking down and degrading, posing serious health risks for consumers.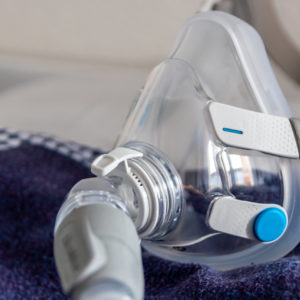 Lab analysis has found the degraded CPAP foam may release a number of harmful chemicals, including toluene diamine, toluene diisocyanate and diethylene glycol. In addition, several Volatile Oraganic Compounds (VOC) have been identified from testing.
Holmes indicates she used one of the recalled Philips CPAP machines on a nightly basis, for treatment of sleep apnea and narcolepsy. Following regular exposure these chemicals and gases released by the CPAP machine foam, Holmes states she was diagnosed with kidney cancer in January 2021 and had her kidney removed in April 2021. The lawsuit also notes she suffers from esophageal-related injuries and inflammation.
"Plaintiff's use of the [Philips DreamStation CPAP machine] caused or significantly contributed to her development and progression of kidney cancer and/or esophageal irritation and inflammation, which has permanently changed her life," according to the product liability lawsuit, which indicates that the manufacturer knew or should have known about the risk long before the recalls were issued.
The first information released by the company about the Philips DreamStation CPAP foam problems was not sent to users of the machines, but rather included in a statement for investors in April 2021, two months before consumer recall was announced. However, at that time, Philips reassured investors that it had already developed a second-generation device, known as the DreamStation 2, which does not experience the same issues with degrading sound abatement foam.
On June 30, the FDA issued a safety communication, urging consumers who were not relying on the devices for life-sustaining therapy to immediately stop using the recalled sleep apnea machines and contact their doctors to decide on alternative treatments for the condition.
"Despite the fact that Defendants knew or should have known that the [recalled CPAP machines] caused unreasonably dangerous side effects, like cancer, they made conscious decisions to downplay these risks and continue to market, manufacture, distribute and/or sell the devices to physicians and patients, including the Plaintiff," according to the complaint.
Holmes' claim now joins a growing number of similar Philips CPAP machine recall lawsuits being pursued in courts nationwide, alleging that users have been diagnosed with various types of cancer and respiratory injury following exposure to the chemicals from degraded PE-PUR foam.
Koninklijke Philips, N.V. generated over $23 billion in revenue last year, and is expected to face massive liability from lawsuits and CPAP machine settlements over the next few years. In an earnings report issued prior to announcing the recall, the company advised investors it had taken a provision of about $295 million to cover the costs of the recall, which will likely only cover a small fraction of the compensation and damages the company will ultimately be required to pay.
"*" indicates required fields