CVS Faces Class Action Lawsuit Over Baby Formula Deceptive Advertising
February 16, 2022
By: Irvin Jackson
A class action lawsuit filed by an Illinois woman claims that CVS baby formula is deceptively advertised as a suitable product for older children, which the lawsuit claims it is not.
The complaint (PDF) was filed by Stephanie Surratt in the U.S. District Court for the Northern District of Illinois on February 5, pursuing damages against CVS Pharmacy, Inc. for all consumers who bought the store brand infant formula products.
According to the CVS baby formula class action, a product sold under the generic brand "Toddler Beginnings" is labeled for use among children between nine and 18 months of age. However, the lawsuit claims that CVS is advertising the formula in a way that makes it misleadingly similar to infant formula.
Surratt's claims this is intended to mislead parents into continuing to feed their older children formula, even though it is not nutritionally advantageous for the child.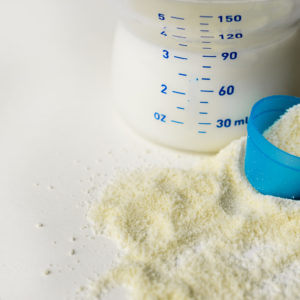 "Companies like Defendant capitalize on consumers' familiarity and acceptance of federally-approved infant formula and continue selling them the same or substantially identical products even when their children are no longer infants, defined as zero to twelve months old," the lawsuit states. "The identical labeling elements ride the coattails of the carefully regulated and trusted infant formula to drive sales."
The lawsuit claims CVS's labeling suggests giving older infants the formula is part of their nutritional development, which the class action complaint says is untrue. It calls Toddler Beginnings nutritionally inconsistent with expert advice on child nutrition, pointing out that the formula contains added sugars which should not be consumed by children between 12 and 24 months old.
The lawsuit also claims CVS is deceiving consumers about the presence of genetically-modified organisms, claiming Toddler Beginnings contains no GMO ingredients. But the lawsuit notes the milk and lactose in the formula comes from cows who were fed GMO grains.
The complaint comes amid growing concerns over the safety of some infant formula products that are specifically marketed toward premature infants, even though they may increase the risk of a severe and life-threatening gastrointestinal condition known as necrotizing enterocolitis (NEC) when used instead of breast milk.
Families throughout the United States are currently pursuing Similac NEC lawsuits and Enfamil NEC lawsuits, alleging that manufacturers of these name-brand products distributed to hospitals and NICUs know that the cow's milk formula may pose serious risks for premature infants, yet continued to actively market their products for preemies, often as a superior alternative to breast milk, which is known to be safer.
"*" indicates required fields