Da Vinci Robot Doubles Price of Thyroid Surgery: Study
August 24, 2012
By: Irvin Jackson
New research suggests that use of the da Vinci surgical robot for thyroid surgery, which is not an FDA approved procedure for the device, costs twice as much as traditional surgery and may provide little, if any, additional benefits.
In a study published this week in the online edition of the medical journal Archives of Surgery, researchers from Vanderbilt University's Department of Surgical Sciences found that da Vinci robotic thyroid surgery, which is being performed at a growing number of hospitals throughout the United States, costs 217% more than traditional thyroid surgery.
The da Vinci Surgical System is a complex robot used to minimize invasive surgical procedures. It features four remote controlled arms and a camera, allowing surgeons to operate through a small incision with a joystick-like control.  Claimed benefits associated with da Vinci robotic surgery are the smaller scars and faster recovery times it allows, but this new research raises questions about whether the costs justify any potential benefits during thyroid surgery.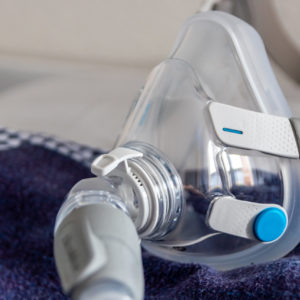 Did You Know?
Millions of Philips CPAP Machines Recalled
Philips DreamStation, CPAP and BiPAP machines sold in recent years may pose a risk of cancer, lung damage and other injuries.
Learn More
da Vinci Robotic Thyroid Surgery Cost Analysis
Although the FDA has not specifically approved the da Vinci Surgical System for use in thyroid surgery, doctors are allowed to use the machine as they see fit for their patients.
In the study, researchers conducted a cost analysis using data from two high-volume endocrine surgeons and compared their costs to other high-volume surgeons, who used the more traditional method of thyroid surgery. They only used the cost of operative time, anesthesia fees, consumables and the cost of the system.
Researchers found that the relative costs for traditional thyroid surgery was $2,668, not including staff fees. By comparison, using the da Vinci had a relative cost of $5,795 per surgery. Traditional thyroid surgery was slightly faster as well, taking 113 minutes compared to the da Vinci's 137 minutes, and they determined there might be a slightly faster recovery rate for patients who went the traditional route as well.
The only apparent benefit provided by thyroid surgery with a da Vinci robot are the decreased chance of scarring and the fact that the robot goes in under the arm instead of the neck, meaning any scars from thyroid surgery would be far less visible, researchers said. According to a report by Reuters Health, researchers suggested that the overall safety appears to be the same, with the only pure advantage of robotic thyroid surgery being the potential cosmetic benefits.
"Technological advances are paramount in providing the best medical care for patients," the researchers said in their conclusion. "This progress must be tempered by a rational, open discussion about the costs of these advancements. Only then can the proposed benefits of a new technology be weighed accurately against the overall societal cost."
Lawsuits Over Da Vinci Robotic Surgery Complications
Amid the increasing popularity and use of da Vinci robotic surgery at hospitals throughout the United States, especially for prostate and gynecologic surgery, a growing number of product liability lawsuits have also been filed by individuals who allege that they suffered severe complications from the surgical robot.
Lawsuits over da Vinci robotic surgery have been filed by individuals who suffered cuts, burns and tears to nearby arteries or internal organs. The complaints allege that the machine features design defects and that Intuitive Surgical, the manufacturer of the da Vinci Surgical System, failed to provide adequate warnings, instructions and training on use of the robot.
Some of the complaints allege that the da Vinci robot's use of monopolar energy to cut, burn and cauterize tissue poses an unreasonably dangerous design, and that safer methods are available, which could substantially reduce the risk of complications.  Lawsuits also allege that the device features insulation on the shafts that may become worn or torn in places, allowing the electrical current to pass outside of the operative field, causing damage.
Photo courtesy of http://en.wikipedia.org/wiki/User:Nimur / CC by 3.0
"*" indicates required fields