DePuy Pinnacle Lawsuits Filed Over Problems with Metal-on-Metal Hip
January 17, 2011
By: Staff Writers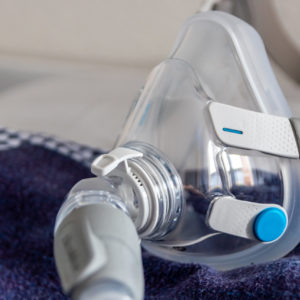 Did You Know?
Millions of Philips CPAP Machines Recalled
Philips DreamStation, CPAP and BiPAP machines sold in recent years may pose a risk of cancer, lung damage and other injuries.
Learn More
There are now more than 100 lawsuits that have been consolidated in federal court as part of the DePuy ASR recall litigation, and many lawyers expect that thousands of complaints over ASR hip replacements will eventually be filed. The suits all involve similar allegations that design problems with the DePuy ASR hip system cause the metal parts to rub against each other and shed microscopic metal particles into the body, which can lead to failure of the hip replacement within a few years.
The DePuy Pinnacle hip is a different metal-on-metal hip replacement product made by the Johnson & Johnson and DePuy Orthopaedics, which recent lawsuits now allege has similar design defects that may make it likely to fail within a few years of implant.
On December 10, 2010, a DePuy Pinnacle hip replacement lawsuit was filed in the U.S. District Court for the Western District of Washington by David Cornis and his wife, Judith. According to the complaint, Cornis had a hip replacement in 2007 where a DePuy Pinnacle metal-on-metal hip was used. Since then, he indicates that he has had to undergo at least six surgeries to address problems caused by the metal poisoning from his DePuy Pinnacle hip.
Cornis alleges that metallic ions and metal particles caused by friction from the hip implant's metal-on-metal construction led to the destruction of the surrounding tissue and the formation of large and painful tumors. According to the complaint, during his first hip revision surgery, less than two and a half years after the DePuy Pinnacle hip was implanted, doctors discovered necrotizing muscle tissue that was "gray-covered" and had the appearance of "cooked chicken."
Following multiple additional surgeries, Cornis alleges that he has been left with no functioning right hip as a result of the DePuy Pinnacle hip replacement and will likely never be able to walk again without assistance.
Another DePuy Pinnacle hip lawsuit was filed on November 30, 2010, by Grace Purnia in the U.S. District Court for the Central District of California. Purnia alleges that she now suffers from an abnormal gait, nerve pain and other problems from a DePuy Pinnacle metal hip replacement in 2004. Her doctor has discovered that the shaft of the DePuy Pinnacle hip is loosening and slipping out of the cup, and she indicates that surgery to revise the DePuy Pinnacle hip is scheduled for January 2011.
Cornis and Purnia do not appear to be the only hip replacement patients suffering DePuy Pinnacle hip replacement problems. A search of the FDA's adverse event reports database indicates that there were 548 complaints filed in 2010 by recipients of DePuy Pinnacle hip replacements. The reports include patients complaining about severe and debilitating hip and groin pain, doctors finding metal particles and signs of metallosis and reports of acetabular cups moving out of position.
Over the past year, concerns about metal-on-metal hip replacements have been growing. In October, the American Academy of Orthopaedic Surgeons (AAOS) issued warning about potential problems with metal on-metal hip replacements, indicating that patients and the medical community should be aware that pain months after hip replacement surgery may be a sign of metal-on-metal hip cobalt toxicity. In addition, product liability lawyers are now reviewing potential metal-on-metal hip replacement lawsuits for a variety of different implants.
Tags:
DePuy,
DePuy ASR,
Depuy ASR Hip,
DePuy Pinnacle Hip,
Hip Implant,
Hip Replacement,
Johnson & Johnson,
Medical Device,
Metal Hip Replacement,
Metal-on-Metal Hip,
Metal-on-Metal Hip Replacement,
Metallosis,
Product Liability,
Washington
Image Credit: |
Christopher

November 6, 2011 at 10:59 pm

I too have had problems with the Pinnacle Metal on Metal Hip Implant. I have my left hip replaced in June 2010 and my right hip September 2010 at the 37. At first, didn't have problems with the left hip replacement. But I had pain from the right hip replacement from post surgery to this very day. Been tested twice and found elevated levels of cobalt and chrome in my blood. I walk with a limp [Show More]I too have had problems with the Pinnacle Metal on Metal Hip Implant. I have my left hip replaced in June 2010 and my right hip September 2010 at the 37. At first, didn't have problems with the left hip replacement. But I had pain from the right hip replacement from post surgery to this very day. Been tested twice and found elevated levels of cobalt and chrome in my blood. I walk with a limp and still am using my cane. I Decided to see orthopedic docs at NYU Hospital for Joint Disease. What a waste of my time. bastards wanted to keep pushing more narcotic pain meds on me and that's it. WTF!?!? Now dealing with a new hospital in NYC and trying to get both of these replaced before I develop tissue damage. i can already just barely pinch the area along my surgical scar on my right leg and feel immediate pain. That should not be a year later. Also dealing with lawyers regarding this. Depuy and Johnson and Johnson need to give up billions for this screw up!

Travis

May 13, 2011 at 4:19 am

I too had the pinnacle hip replacement, and have been experiencing ever increasing discompfort. This has led to me missing time at work, and i would be interested in more information about this Attourney in Missouri.

Tracy

April 21, 2011 at 7:16 pm

I am a bilateral Depuy ASR hip implant recipient. After my first implant in 2007, I never seemed to recover from post-op pain. Was diss'd by my surgeion to go to pain management since they don't treat chronic pain. The hip popped and grainded constantly. I was in constant pain generating from the hip and radiating through my lower right back. I had steroid injections that seemed to help for a[Show More]I am a bilateral Depuy ASR hip implant recipient. After my first implant in 2007, I never seemed to recover from post-op pain. Was diss'd by my surgeion to go to pain management since they don't treat chronic pain. The hip popped and grainded constantly. I was in constant pain generating from the hip and radiating through my lower right back. I had steroid injections that seemed to help for a few weeks, then the pain came back and never left. I had gone back to my surgeon several times only to be told they don't treat chronic pain. The last visit in 2009 I was told the hip could be replaced, but there was no urgency. I could have it done whenever I wanted. Then the hip recall came out in 2010. I get a call lfrom my surgeon, "Well, we know what the problem is now." After the blood test revealed I had 100 times normal amount of cobalt and chromium, my surgeon said it was time to replace the hip. After the revision surgery, my surgeon said the surrounding tissue was gray and rubbery and had to be removed. I still have the left hip that also needs to be revised because of the high levels of cobalt and chromium. I have had some pain in the left, but not as severe as the right; however, my surgeon suggest I have mettallosis in that one too. Now that my right one has been revised, I still, after 3 months post-op have pain. And, of course, I have to go back to pain management. I don't know if I'll ever be fixed. If you research metal-on-metal hip implants, you will find these implants have had probelms dating back to the 1960's. So why do they still want to put them in our bodies? I was told originally that mine would last 20 years. It didn't last 3 months.

jesse

April 10, 2011 at 5:56 am

i got my pinnacle hip replacment over 2 an half years ago i have had nothing but pain since,this was suppesed to be the supper hip that last for 20 plus years ,the best out ect,i'm 35 years old,

roger

January 30, 2011 at 10:57 pm

I had my right hip done om 9/8/9 Pinnacle. About 6 months after surgery I started experiencing problems in my right groin area as well as popping and discomfort on right outside of hip. Have fallen down about 6 times. Since then I have lost some weight trying to keep my muscle mass up. I hear your mucles can go bad from the metals. Had every test out there Bone scan, mri 2 times blood test twice, [Show More]I had my right hip done om 9/8/9 Pinnacle. About 6 months after surgery I started experiencing problems in my right groin area as well as popping and discomfort on right outside of hip. Have fallen down about 6 times. Since then I have lost some weight trying to keep my muscle mass up. I hear your mucles can go bad from the metals. Had every test out there Bone scan, mri 2 times blood test twice, exrays. blood test for infection. Still have the same problems I have a attorney from New York, but am looking towards Missouri I hear there is a attorney who has 20 clients for the Pinnacle Hip thats who I want.

Lisa

January 19, 2011 at 2:05 pm

This is great news that their including the Pinnacle, but it should include ALL Pinnacles not specifically the Metal on Metal. Mine is a Pinnacle Sector II Acetabular Cup with Polyethylene on Ceramic & it's defective (dislocated 3 times)! Would love to talk to a whistleblower!

T.T

January 18, 2011 at 3:00 am

Biggest mistake I made don't ever liisten to the drs they are so quick to get you in and do the surgery then they try to ignore the pain.

JIM

January 17, 2011 at 9:58 pm

I HAVE BAD BILATERAL HIPS WITH THE PINNACLE CUP AND ULTIMET SYSTEM. MY HIPS HAVE NEVER BEEN WELL. OVER THE LAST YEARS THEY HAVE DETERIORATED, I HAVE HAD ONE REVISION DONE THIS YEAR, TAKING 4 OPERATIONS TOTAL TO MAKE IT RIGHT. THE LEFT HIP IS VERY PAINFUL AND STIFF AND WARM TO TOUCH. I AM CALLING ALL MY ORTHO DOCTORS TO SHARE WITH THEM THAT THIS PROSTHESIS IS A FAILURE AND WHY WOULD THEY GIVE META[Show More]I HAVE BAD BILATERAL HIPS WITH THE PINNACLE CUP AND ULTIMET SYSTEM. MY HIPS HAVE NEVER BEEN WELL. OVER THE LAST YEARS THEY HAVE DETERIORATED, I HAVE HAD ONE REVISION DONE THIS YEAR, TAKING 4 OPERATIONS TOTAL TO MAKE IT RIGHT. THE LEFT HIP IS VERY PAINFUL AND STIFF AND WARM TO TOUCH. I AM CALLING ALL MY ORTHO DOCTORS TO SHARE WITH THEM THAT THIS PROSTHESIS IS A FAILURE AND WHY WOULD THEY GIVE METAL ON METAL, WHEN THEY KNOW THAT THE METAL FRAGMENTS WOULD BE ABSORB IN MY BODY, THUS COMPROMISING MY ALREADY COMPROMISED IMMUNE SYSTEM. CALL YOU PHYSICIANS AND MAKE THEM AWARE THAT THERE ARE THOUSANDS WHO HAVE THE SAME PROBLEMS AS THOSE TOTAL HIPS CALLED BEFORE
"*" indicates required fields