Reports of Dicamba Drift Damage To Crops Increasing
July 10, 2018
By: Irvin Jackson
A growing number of farmers are reporting crop damage from dicamba, a Monsanto weed killer that has been found to "drift" and damage neighboring crops, with a new report suggesting that the problems may be worse this year, as the use of the herbicide spreads. 
Integrated Pest Management at the University of Missouri issued a report last month, which indicates that about 383,000 acres of soybeans have been damaged by dicamba so far this year, as of June 15.
Dicamba is believed to have "drifted" from other fields, where farmers are using soybeans genetically modified to resist the herbicide. The soybean seeds are sold under the brand name Xtend, and the brand name for the herbicide itself is Engenia.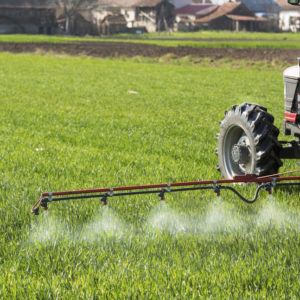 For neighboring farmers who do not have the genetically modified soybeans, they are seeing widespread crop damage. Some suggest that the dicambi problems are part of a larger design by Monsanto, which is forcing more farmers to buy their genetically modified soybean seeds.
"I have personally witnessed this increasing problem of off-target dicamba injury to 'other' crops and tree species in the calls I have received, field visits, and 'windshield surveys' of Missouri that I have taken the past few weeks, especially when driving around southeast Missouri last week," said study author Kevin Bradley, with the University of Missouri Division of Plant Sciences. "In this region, I'm convinced that the adoption of the Xtend trait in cotton and soybean is as high as anywhere in the country. Many growers in this area have adopted the Xtend trait so they don't experience dicamba injury on their soybean crop for a third season in a row. "
In an article published last week by the Delta Farm Press, Ryan Rubishchko, who leads Monsanto's North American Dicamba portfolio, replied to the concerns, indicating that the company is doing trials to better understand and control dicamba drift problems. Those trials are taking place in Arizona and Australia, among other locations, to understand the drift-related issues in high temperatures and hot climates, as this summer is turning out to be unusually warm in many places.
Rubishchko called for farmers affected by drift to call Monsanto to have someone come out and look at their field and offer advice.
According to Rubishchko, about 50 million acres of Xtend soybeans and cotton are expected to be planted this year. That is double the amount planted in 2017, when concerns about dicamba drift became widespread.
Dicamba Crop Damage
Dicamba is a synthetic herbicide, which has been used for years by farmers nationwide to control weeds. However, in the past, it has typically only been used during certain times of year.
A growing number of dicambi crop damage lawsuits have been filed in recent months, each raising similar allegations that Monsanto and BASF marketed a new type of tolerant crop that can withstand exposure to Xtend, Engenia and similar herbicides.
The new crops were designed to allow farmers to use dicambi "over-the-top" for the first time in 2016, which involves applying the herbicide on crops emerging from the ground. This has drastically increased use of dicambi herbicides, but many farmers now indicate that the weed killers drifted to neighboring crops that were not resistant, causing massive damages and losses.
Complaints filed since August 2017 claim that Monsanto rushed the system and either withheld or concealed information from regulatory authorities about the volatility of Engenia, and marketed dicamba-tolerant crops without approval from regulators. The complaints allege that the manufacturer knew the use of the herbicide would endanger other nearby crops.
Farmers in several states have suffered millions of dollars in crop damage when Engenia or Xtendimax drifted onto neighboring, sensitive crops in the 2017 growing season.
"*" indicates required fields