Accident Risk Greater with Texting Than Other Driving Distractions: Study
May 16, 2016
By: Russell Maas
Amid substantial efforts in recent years to raise awareness about the risks of distracted driving, the findings of a new study suggest that texting while driving is substantially more dangerous than other psychological distractions, such situations that cause drivers to be emotionally or mentally challenged.
Researchers out of the University of Houston and the Texas A&M Transportation Institute released a new study on May 12, suggesting drivers who text while driving are more prone to veering off course, suggesting that the activity has a greater disruption to the eye-hand coordination, increasing the risk of an auto accident.
The study involved an evaluation of data collected from 59 volunteers, who were asked to drive the same segment of highway four times under normal conditions, while being distracted with cognitively challenging questions, while distracted with emotionally charged questions, and while preoccupied with texting during the drive. The researchers randomized the order in which each driver performed each segment to avoid bias.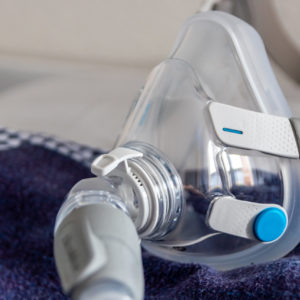 Did You Know?
Millions of Philips CPAP Machines Recalled
Philips DreamStation, CPAP and BiPAP machines sold in recent years may pose a risk of cancer, lung damage and other injuries.
Learn More
The study found that during all of the distracted segments, the participant's control of the wheel became jittery when compared to their normal, undistracted segment. However, drivers displayed relatively straighter trajectories and less veering during the cognitively challenging and emotionally distracting segments when compared to the texting while driving portion. The only segment that caused drivers to make unintentional lane deviations and unsafe driving maneuvers was during the run while texting.
"A likely explanation for this paradox is the function performed by a part of the brain called the anterior cingulate cortex, or ACC," lead author Ioannis Pavlidis said in a University of Houston press release. "ACC is known to automatically intervene as an error corrector when there is conflict. In this case, the conflict comes from the cognitive, emotional and sensorimotor, or texting, stressors. This raises the level of psychological stress, funneling 'fight or flight' energy to the driver's arms, resulting in jittery handling of the steering wheel."
Drivers who texted while driving displayed much more unbalanced veering maneuvers, according to the findings, indicating that the drivers ACC response was not as equal or controlled as during other distractions.
Pavlidis concluded that for the brain's ACC response requires the support of the driver's eye-hand coordination loop, which is broken when texting. Without the full eye-hand coordination loop, drivers' jittery reactions on the steering wheel will not be counterbalanced, causing them to veer further off course and potentially crash into other vehicles or roadway objects.
According to the National Highway Traffic Safety Administration (NHTSA), an estimated 95% of all roadway crashes are caused by human error. The majority are the result of a distraction shortly before the collision. A 10% increase in automobile related fatalities from 2014 to 2015 was likely linked to an increase in distracted driving, NHTSA investigators speculate.
According to 2014 data collected by the NHTSA, almost 3,200 people were killed in automobile crash related accidents and an estimated 431,000 were injured as a result of driving distractions. Nationally in 2014, teenagers accounted for an estimated 13 percent of all accidents as a result of driving distracted with the primary cause of accidents stemming from driver inexperience and cell phone use.
Distracted driving has become such an epidemic across the nation that the NHTSA launched a "Distracted Driving Awareness Month" in April to warn drivers of the risk associated with driving distractions, particularly cell phone use and other common bad habits that commonly result in preventable crashes. The U.S. Department of Transportation noted in the campaign announcement that at any given time during daylight hours in 2014, there were as many as 587,000 vehicles being driven by individuals using a handheld device.
"*" indicates required fields