DreamStation CPAP Lawsuit Filed Over Lung Cancer Diagnosis From Use of Recalled Philips Sleep Apnea Device
May 27, 2022
By: Irvin Jackson
After receiving a lung cancer diagnosis, a Louisiana woman has filed a lawsuit against Philips, indicating that her recalled DreamStation CPAP machine caused the cancer, since the device released toxic chemicals and foam particles directly into her lungs.
Angela Sterken filed the complaint (PDF) against Koninklijke Philips and its North American subsidiaries in the U.S. District Court for the Eastern District of Louisiana on May 18, alleging that the companies manufactured and sold sleep apnea machines that contained defective sound abatement, which is prone to degrade and breakdown.
A Philips CPAP device recall was announced in June 2021, impacting millions of breathing machines sold over the past decade, which contained a polyester-based polyurethane (PE-PUR) sound abatement foam. While the foam was intended to reduce noise and vibrations while consumers use the device every night for treatment of sleep apnea, it is now known that the foam releases toxic chemicals and debris directly into the lungs of users.
Breathing the chemicals, gasses and particles released by the PE-PUR foam has already been linked to reports of cancer, lung damage and severe respiratory injuries, according to allegations raised in hundreds of Philips CPAP lawsuits now being pursued by former users.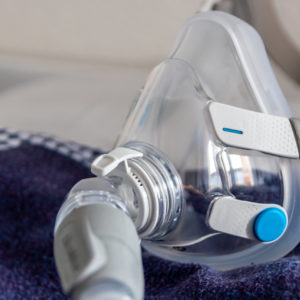 Philips CPAP Recall Lawsuit
According to the lawsuit, Sterken was prescribed the use of a DreamStation CPAP device in 2019, and used it daily to treat her sleep apnea. The lawsuit claims this significantly contributed to, or caused, her lung cancer, as well as cellular and DNA damage.
Similar to many Philips CPAP lawsuits being filed, Sterken claims the manufacturer knew about the sound abatement foam cancer risks. However, rather than warning users and the medical community, Philips sat on the information for years, and continued to sell the dangerous and defective sleep apnea machines.
"In its recall notification, Philips identified examples of potential risks which include exposure to degraded sound abatement foam particles and exposure to chemical emissions from the sound abatement foam material," Sterken's lawsuit notes. "Philips reported that, based on lab testing and evaluations, it may be possible that these potential health risks could result in a wide range of potential patient impact, from transient potential injuries, symptoms and complications, as well as possibly serious injury which can be life-threatening or cause permanent impairment, or require medical intervention to preclude permanent impairment."
The complaint will be centralized with other product liability lawsuits and class action lawsuits filed throughout the federal court system, which are currently consolidated before Senior U.S. District Judge Joy Flowers Conti in the Western District of Pennsylvania for coordinated discovery and pretrial proceedings.
In the coming years, it is expected that Judge Conti will establish a bellwether program where small groups of representative CPAP lawsuits will be prepared for early trial dates, to help gauge how juries are likely to respond to certain evidence and testimony that is likely to be repeated throughout the claims.
"*" indicates required fields