Living Downwind of Hydrofracking Sites Increases Risk of Death for Elderly Residents: Study
February 03, 2022
By: Irvin Jackson
Amid rising concerns nationwide about the unintended side effects of hydraulic fracturing, commonly known as "fracking", the findings of a new study suggest that elderly individuals who live near the gas mining operations may face a higher risk of death than their peers.
Harvard researchers found a small, but statistically significant, increase in mortality among Medicare beneficiaries who live in high proximity to such hydraulic fracturing operations, as well as other unconventional oil or gas mining operations, which they say may be due to increased levels of air pollutants, as well as soil and groundwater contamination.
Hydraulic fracturing involves drilling and fracturing of shale rock to release oil and gas, resulting in the injection of water, sand and chemicals into wells at high pressures to crack the surrounding rock, thus releasing the natural gas underground and allowing it to flow to the head of the well.
Problems from fracking have previously been linked to negative environmental effects to the surrounding communities, due the impact on drinking water, as well as increased dust and exhaust from drilling rigs, compressors and the transportation of the water, sand and chemicals. The process has also been linked to increased earthquake activity. The extent of the potential harm to humans living close to these fracking sites has yet to be determined.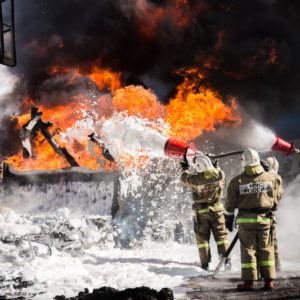 Learn More About
Exposure to firefighting foam chemicals may result in an increased risk of cancer for firefighters, military and airport personnel.
Learn More About this Lawsuit
In the findings of a new study published in the journal Nature Energy, researchers looked at a cohort of 15,198,496 Medicare beneficiaries in all major U.S. oil exploration regions from 2001 to 2015 and gathered records from more than 2.5 million oil and gas wells. They calculated subjects' proximity to such wells and their downwind-based pollutant exposure.
According to their findings there was a 2.5% increased risk of death from all-cause mortality for Medicare beneficiaries who lived in high proximity to unconventional oil and gas sites.
"We found evidence of a statistically significant higher mortality risk associated with living in proximity to and downwind of unconventional oil and gas wells," the researchers concluded. "Our results suggest that primary air pollutants sourced from unconventional oil and gas exploration can be a major exposure pathway with adverse health effects in the elderly."
However, that mortality number only dropped slightly for those living upwind of such projects, leading the researchers to suggest air pollution may not be the only environmental factor at play.
Fracking Health Risks
While much research has been done to link fracking to negative consequences to the environment, recent research has focused on the impact to human health. Prior research has linked contaminated fracking water to increased risk of heart failure among those living near fracking operations.
Living near fracking operations increases the risk of asthma in children, increased risk of preterm births, low birth-weight infants, and high risk pregnancies, according to other recent studies. Other suspected side effects include birth defects, miscarriages and a wide range of other health problems. Similar previous studies have also indicated that the closer a person lives to fracking locations, the worse the health problems.
A number of fracking lawsuits have been filed in the United States, with one verdict issued in March 2017 by a federal jury in Pennsylvania that awarded two families in excess of $4.2 million in damages over fracking tainting their drinking water. The two families were the last of more than 40 families in the Dimock, Pennsylvania area to resolve lawsuits over fracking problems.
Fracking operations also face an increasing number of lawsuits over earthquakes in Oklahoma and other states. Recent research has linked fracking wells to an unprecedented increase in powerful earthquakes across the South and Midwest. U.S. government geologists now say that Oklahoma suffers more earthquakes than California, due entirely to fracking and oil and gas wastewater disposal wells.
"*" indicates required fields