Wrongful Death Lawsuit Alleges Enfamil Caused Necrotizing Enterocolitis for Premature Infant in NICU
September 29, 2022
By: Irvin Jackson
The father of a preterm infant has filed a lawsuit against Mead Johnson over the preventable death of his newborn baby, indicating that Enfamil caused necrotizing enterocolitis (NEC) to develop while the infant was still in the hospital following birth.
NEC is a devastating intestinal disease that primarily impacts premature babies, where the wall of the intestines is invaded by bacteria, leading to destruction of the bowel and often resulting in the need for emergency surgery while the infant is still in the neonatal intensive care unit (NICU).
The complaint (PDF) was filed by William Peebles in the U.S. District Court for the Middle District of Louisiana on September 20, indicating that his daughter developed NEC after being fed Enfamil in the Newborn Intensive Care Unit (NICU), causing her death during the first month of life.
The case raises allegations similar to those presented in hundreds of NEC baby formula lawsuits filed by families nationwide over the past few years, indicating that the manufacturers of Enfamil and Similac knew that premature babies faced an increased risk of developing the devastating condition following use of their products, yet continued to promote their products to hospitals and families without adequate warnings.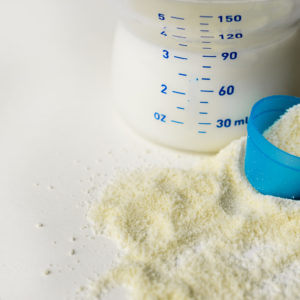 Peebles is pursuing damages on behalf of himself, and as the administrator of the estate for his baby, Lillian, who died from NEC in July 2019.
Baby Lillian was born prematurely at 27 weeks gestation on June 21, 2009. After being fed cow's milk-based Enfamil infant formula products, she developed NEC and died approximately 30 days later from complications after an exploratory laparotomy, during which her intestines were deemed "non-salvageable."
The lawsuit points to a growing body of medical research and scientific literature published over the past decade, which highlights the risk of NEC among premature infants, when compared to babies fed exclusively a mother's breast milk or human donor milk. However, rather than warning about the risk, the company aggressively promoted Enfamil for premature infants, often suggesting the formula was superior or equivalent to breast milk.
"Despite the knowledge of the significant health risks posed to preterm infants ingesting the Cow's Milk-Based Products, including the significant risk of NEC and death, Defendants did not warn parents or medical providers of the risk of NEC in preterm infants, nor did Defendants provide any instructions or guidance on how to properly use its Cow's Milk-Based Products so as to lower the risk or avoid NEC or death," Peebles' lawsuit states. "In fact, Defendants did not provide any warning in its labeling, websites, or marketing that warns that its Cow's Milk-Based Products exponentially increase the risk of NEC and death in preterm infants, or that human breast milk, donor breast milk, and human breast milkbased formulas and fortifiers are much safer for preterm babies than its Cow's Milk-Based Products."
Peebles presents claims of strict liability, design defect, negligence, failure to warn, and loss of consortium. He seeks compensatory damages for the wrongful death of his child.
October 2022 NEC Lawsuit Update
The complaint filed by Peebles will soon be transferred from the Middle District of Louisiana to the U.S. District Court for the Northern District of Illinois, where centralized pretrial proceedings have been established in the federal court system for all NEC baby formula lawsuit. U.S. District Judge Rebecca R. Pallmeyer was appointed to preside over the coordinated discovery and manage the litigation in April 2022, and recently announced that a small group of representative claims will be prepared for early trial dates to help gauge how juries are likely to respond to certain evidence and testimony that will be repeated throughout the lawsuits.
In September 2022, a pretrial order was issued that details how the parties will select the NEC lawsuit bellwether cases. A total of 12 claims will be part of an initial discovery pool, with the plaintiffs, defendants and Court each selecting four cases. Those initial discovery pool claims will later be reduced to a group of four lawsuits that will be eligible for the first bellwether trials.
Although the outcome of these early bellwether trials will not have any binding impact on other claims, they are expected to have a substantial impact on any baby formula NEC settlements the manufacturers may offer to avoid the need for each individual case to be remanded back to U.S. District Courts nationwide for separate trial dates in the future.
"*" indicates required fields