Companies Will Be Required To Report Use of PFAS "Forever Chemicals" Under New EPA Rules
October 20, 2021
By: Irvin Jackson
In response to growing concerns about the risk of cancer and other health side effects from PFAS (per- and polyfluoroalkyl substances), commonly referred to as "forever chemicals", federal environmental regulators have issued new testing requirements that will go into effect in a matter of months, despite industry efforts to push back against the new rules.
On Monday, the U.S. Environmental Protection Agency (EPA) announced a Strategic Roadmap to address problems with PFAS chemicals, which are used in everything from firefighting foam to furniture. The plan includes new reporting requirements and restrictions, increased research, and accelerated cleanup operations.
In June, the U.S. Environmental Protection Agency (EPA) announced that it was proposing the "first-ever" reporting requirements for PFAS chemicals under the Toxic Substances Control Act (TSCA). The rules, if finalized, would require manufacturers to report comprehensive data back to the agency on more than 1,300 PFAS manufactured in the U.S.
The reporting rule would cover all PFAS imported or produced since January 1, 2011; a requirement passed into law by Congress in the 2020 National Defense Authorization Act.
This increased data collection is companion component of the new strategic roadmap announced this week, EPA officials said. The new national testing strategy will require manufacturers of PFAS submit toxicity data on various compounds, with a goal of figuring out how to divide the large number of PFAS chemicals in use into categories based on similar features to help the agency better address their risks.
The initial testing orders are expected to be issued in a "matter of months" according to EPA officials, who say the testing will give the agency critical information on how to divide more than 2,000 different PFAS chemicals into more than 20 different categories.
"For far too long, families across America – especially those in underserved communities – have suffered from PFAS in their water, their air, or in the land their children play on," EPA Administrator Michael S. Regan said in an October 18 press release. "This comprehensive, national PFAS strategy will deliver protections to people who are hurting, by advancing bold and concrete actions that address the full lifecycle of these chemicals. Let there be no doubt that EPA is listening, we have your back, and we are laser focused on protecting people from pollution and holding polluters accountable."
The roadmap also includes timelines for setting enforceable drinking water limits for PFAS, a hazardous substances designation, a review of past PFAS rules which may not be protective enough, increased monitoring, data collection and research, a toxicity assessment and efforts to construct a technical foundation for the analysis of PFAS air emissions.
Side Effects of PFAS Chemicals
PFAS were first introduced into the manufacturing industry in the 1940's, because of their ability to resist heat, grease, stains, and water. However, since then the chemicals have been linked to a myriad of adverse health effects including liver damage, thyroid disease, decreased fertility, high cholesterol, obesity, hormone suppression, and cancer.
The chemical substances are used to manufacture a number of products, including some food packaging materials, pizza boxes, popcorn bags, fabrics, nonstick cooking pans, and other products.  However, it is perhaps most known for its use in firefighting through the use of aqueous film-forming foams (AFFFs) used by military and civilian firefighters.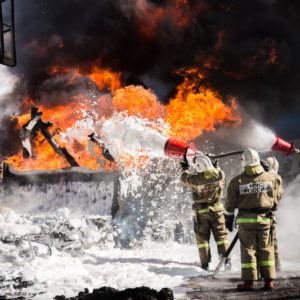 The new EPA regulations also come as several states and lawmakers are pushing to ban, restrict and monitor PFAS. In July, Maine put in place a ban on PFAS which will go into effect by 2030. In addition to Maine, New York set guidelines in January which set limits on allowable concentrations on some PFAS chemicals. Additionally, also in July, two U.S. Senators introduced a bill which would ban the use of PFAS in cosmetics.
Chemical manufacturers now face a growing number of firefighting foam lawsuits brought by nationwide, including individuals diagnosed with with cancer after exposure to the chemicals in their drinking water, as well as firefighters directly exposed during training and response exercises.
"*" indicates required fields