European Union Considering Widespread PFAS Chemical Ban Due to Health Risks, Water Contamination
February 10, 2023
By: Irvin Jackson
In response to growing concerns about the long term environmental and health effects of PFAS contamination, the European Union is considering a proposal which would ban use of the toxic chemicals throughout the continent.
Late last month, the European Chemicals Agency (ECHA) announced it has received a proposal from calling for heavy restrictions on per- and polyfluoroalkyl substances (PFAS) from five member nations, including Denmark, Germany, the Netherlands, Norway and Sweden.
PFAS include over 9,000 man-made chemicals, which have been frequently used in aqueous film-forming foam (AFFF) used to fight petroleum fires, and consumer and industrial products to resist grease, oil, and water since the 1940's. However, they are commonly referred to as "forever chemicals", since they persist in the environment and human body, building up over time and increasing the risk of a myriad of adverse health effects, including PFAS cancer risks, as well as liver damage, thyroid disease, decreased fertility, high cholesterol, obesity, hormone suppression, and cancer.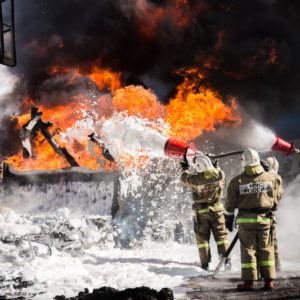 The proposed PFAS restrictions, which the ECHA considered some of the broadest in the E.U.'s history, would target the manufacturing, marketing and use of the chemicals throughout the European Union, according to details of the proposal, which were released published on February 7.
"PFASs are, or ultimately transform into, persistent substances, leading to irreversible environmental exposure and accumulation. Due to their water solubility and mobility, contamination of surface, ground- and drinking water and soil has occurred in the EU as well as globally and will continue. It has been proven very difficult and extremely costly to remove PFASs when released to the environment," the proposal states. "In addition, some PFASs have been documented as toxic and/or bioaccumulative substances, both with respect to human health as well as the environment. Without taking action, their concentrations will continue to increase, and their toxic and polluting effects will be difficult to reverse."
The proposal came after the five nations investigated different PFAS, how they are used, and how they propose a risk to people and the environment.
The ECHA will turn the proposal over to its Risk Assessment Committee and its Socio-Economic Analysis Committee, who will ensure the proposed restrictions meet the E.U.'s legal requirements, and then begin a scientific evaluation. The committees will begin a six-month consultation in March.
The two committees generally have opinions ready within a year. However, due to the extent of the proposal and the science involved, the ECHA warns this proposal may take more time.
When the opinions are ready, they will be sent to the European Commission and the E.U. member states to decide whether the proposal should be approved.
2023 PFAS Drinking Water Contamination Lawsuits Update
In the U.S., manufacturers of PFAS chemicals currently face hundreds of firefighting foam lawsuits brought by individuals diagnosed with cancer after direct contact with the chemicals during their careers as a firefighter. In addition, a growing number of PFAS water contamination lawsuits are being pursued by individuals diagnosed with ulcerative colitis or cancer, after regularly drinking water known to contain the chemicals.
Given common questions of fact and law presented in the claims, all federal water contamination lawsuits over PFAS chemicals in AFFF are currently centralized before U.S. District Judge Richard M. Gergel in the District of South Carolina, for coordinated discovery, pretrial proceedings and a series of early bellwether trials, which are expected to begin this year.
Early in the pretrial proceedings, Judge Gergel established a "bellwether" program that started with a group of water contamination cases going through case-specific discovery in preparation for a series of early trial dates, which are expected to begin around June 2023.
If parties do not reach a firefighting foam water contamination settlement agreement once the pretrial proceedings and bellwether test trials are completed, or the litigation is not otherwise resolved, the cases will be remanded back to their originating federal court districts for trial.
"*" indicates required fields