Exposure to Roundup, Other Herbicides Is Pushing Some Species Toward Extinction, EPA Warns
November 30, 2021
By: Irvin Jackson
According to biological evaluations issued by federal regulators last week, more than 1,600 protected animals and plant species may be at risk of extinction due to exposure to widely used herbicides, including glyphosate contained in the controversial weedkiller Roundup.
The U.S. Environmental Protection Agency (EPA) released evaluations of glyphosate, simazine and atrazine last week, warning that it is likely these herbicides are adversely affecting species listed under the Endangered Species Act.
The findings were announced in a press release issued by the EPA on November 12, indicating that new label warnings or restrictions may be considered due to the findings.
"EPA evaluated glyphosate, atrazine, and simazine to determine whether they may affect one or more species listed under the Endangered Species Act (ESA) or their designated critical habitats," the press release states. "The [biological evaluations] find that all of these chemicals may affect, and are likely to adversely affect, certain listed species or their designated critical habitats."
The evaluations are required by the Endangered Species Act, and these three herbicides are some of the first to be evaluated. After this evaluation, the U.S. Fish and Wildlife Service and National Marine Fisheries Service will conduct their develop their own biological opinions based on the information gathered by the EPA, and the agency indicates that if it determines any of these weed killers put an endangered species or habitat in danger, they will propose additional protections, which could result in new label warnings or restrictions.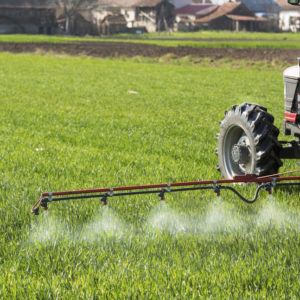 During its evaluation, the EPA determined that between 2013 and 2018, about 280 million pounds of glyphosate were used every year on about 285 million acres of crops; particularly soybeans, corn and cotton. In addition, more than 21 million pounds of glyphosate are used on non-agricultural sites annually, the EPA determined.
Species are exposed to Roundup and other herbicides primarily through runoff and spray drift. The EPA found the highest concentrations of glyphosate in surface water were in urban environments.
"Glyphosate has demonstrated adverse effects on growth to both vascular and non-vascular aquatic plants as well as terrestrial plants," the EPA evaluation states. "There have been over 1,000 reported ecological incidents involving glyphosate use for birds, fish, terrestrial invertebrates, and terrestrial plants."
Roundup Cancer Litigation
While there have long been concerns over Roundup and glyphosate's effects on the environment and other species, most of the attention in recent years has been focused on the weed killer's links to cancer among individuals directly spraying the weed killer.
Bayer and its Monsanto unit have faced more than 120,000 Roundup lawsuits brought on behalf of individuals nationwide diagnosed with non-Hodgkin's lymphoma, each raising similar allegations that the manufacturers knew about the cancer risk for decades, but withheld information and warnings from consumers.
Following a series of massive losses in early cases that went to trial, Bayer has agreed to pay billions in Roundup settlements to resolve individual cases, but continues to face new lawsuits brought as former users of the weedkiller continue to be diagnosed with non-Hodgkins lymphoma.
To limit its future liability, Bayer has announced plans to remove the active ingredient glyphosate from Roundup weed killers sold to U.S. residential customers by 2023. The products would still be sold under the Roundup label, but would use a different active ingredient, which has not been linked to a risk of non-Hodgkin's lymphoma. However, glyphosate would still be used in products sold to agricultural businesses and farmers, and in product sold in other parts of the world, Bayer officials said.
Bayer has noted the vast majority of Roundup cancer claims have come from U.S. residential users. However, the company is still expected to face years, if not decades, of future litigation and trials, as prior users develop non-Hodgkin's lymphoma after exposure to the product during the decades it has been on the market without any cancer warnings.
Bayer indicated earlier this month that it has resolved about 98,000 claims to date.
"*" indicates required fields