New FDA Peanut Allergy Warning Labels May Suggest Early Introduction For High-Risk Infants
September 11, 2017
By: Russell Maas
Following the results of a recent study that suggests the early introduction of smooth peanut butter products for infants as young as four months old may help reduce the risk of developing peanut allergies later in life, health officials have updated the allergy warning label requirements for certain food products.
The U.S. Food and Drug Administration (FDA) released new guidelines for peanut allergy warnings on September 7, which will continue to require disclosure of food items that contain peanut products, but for certain foods suitable for infants, the information will also indicate that the early introduction of peanuts may reduce risk the risk of infants developing peanut allergies.
The label change was introduced by the FDA after a recent clinical trial funded by the National Institutes of Health (NIH), which discovered that introducing foods containing smooth peanut butter to babies as early as four months of age who are at high risk of developing a peanut allergy due to severe eczema or egg allergies, could potentially avoid developing a peanut allergy by as much as 80 percent due to early exposure.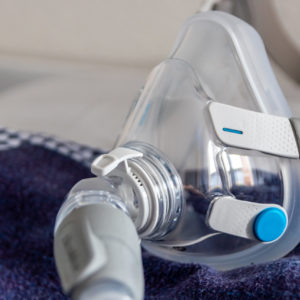 Did You Know?
Millions of Philips CPAP Machines Recalled
Philips DreamStation, CPAP and BiPAP machines sold in recent years may pose a risk of cancer, lung damage and other injuries.
Learn More
Following the clinical trial evidence, the NIH issued new guidelines earlier this year in January, recommending parents of infants with severe eczema, egg allergies or both introduce peanut-containing foods into a child's diet as early as four to six months of age, after first receiving approval from the infant's healthcare provider. The NIH also recommended the infants be tested by the health provider to determine their risk level and whether an allergy test would be needed first, and if the feeding should be done under doctor supervision.
Introducing children to peanut-containing foods can be a very scary and challenging decision for new parents due to peanut allergies being one of the most common and dangerous types of allergies that an infant could be exposed to with a weakened immune system.
Allergic reactions to peanuts may cause a wide variety of symptoms and adverse health consequences. Nut allergies are among one of the most dangerous allergies and may result in physical symptoms including itchiness, swelling, eczema, sneezing, asthma, abdominal pain, drop in blood pressure, diarrhea, and cardiac arrest. In severe cases, it can result in anaphylaxis, which could cause the individual to develop a skin rash, nausea, vomiting, difficulty breathing, and shock, and if not treated immediately with epinephrine, can result in unconsciousness or death.
The number of reported children with a peanut allergy has grown significantly in recent years, more than doubling from 1997 to 2008. An estimated 2 percent of American children are allergic to peanuts, according to the FDA with most children developing the allergy at a very young age, and never growing out of it.
Previous recommendations by medical experts advised parents not to introduce children to peanut-containing foods under the age of three that were at high risk, to avoid potential health consequences. However, the new clinical trial has altered the FDA's recommendations, claiming children may prevent developing the peanut-allergy by exposing them to the products as early as four to six months.
While the FDA has revised the new claim on food labels and will require certain food products for infants to contain peanut products with disclosures, a secondary warning indicating there may be a medical benefit of exposing a child to peanut-products at a young age could prevent the further development of a peanut allergen. The warning will disclose that parents should consult with their child's medical professional prior to feeding them peanut-butter products of any kind to ensure all safety precautions are taken.
The FDA will also disclose on the peanut allergy warning that the medical benefit was found in just one study that will require further review and that the agency will continue to monitor the research related to peanut allergy and update warnings as new information becomes available.
"*" indicates required fields