Sunscreen Chemicals Absorbed By Skin At Levels Beyond FDA Thresholds: Study
May 07, 2019
By: Martha Garcia
According to the findings of a new study, ingredients from sunscreen products are absorbed by the skin at much higher levels than allowed by current safety regulations, which could pose a risk of adverse health effects for consumers.
Researchers with the U.S. Food and Drug Administration (FDA) found that some sunscreen ingredients were absorbed into the bloodstream at levels 50-100 times higher than the federally regulated rate.
In findings published this week in the journal JAMA Network, researchers from the FDA's Center for Drug Evaluation and Research conducted a randomized control trial between July 2018 to August 2018. They focused on 24 healthy participants and application of four commercially available sunscreens.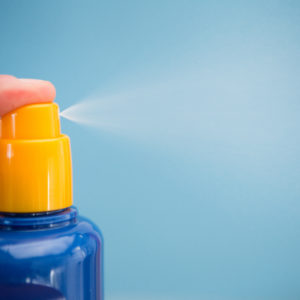 The study tested four active ingredients: avobenzone, oxybenzone, oxtocrylene, and ecamsule. These ingredients are some of the sunscreen chemicals the FDA recently indicated should be researched by manufacturers before they can be considered "generally regarded as safe and effective."
Participants were randomized instructed to use one of four sunscreens: spray 1, spray 2, lotion, or cream. Participants applied two milligrams of sunscreen per 1 cm2  over 75% of the body surface area four times per day for four days. Then researchers took 30 blood samples from each participant over seven days.
The data indicated sunscreen ingredients enter the bloodstream at levels high enough to trigger a government safety investigation after only one day of use.
Blood levels of three of the sunscreen ingredients continued to increase as daily use continued. Blood levels remained high in the body for at least 24 hours after sunscreen use ended.
The FDA sets limits on how ingredients in sunscreen can be absorbed into the skin. FDA regulation calls for systemic absorption greater than 0.5 ng/mL should undergo toxicology assessments, including carcinogenic studies and studies on the effects on development and reproduction.
Systemic concentrations greater than 0.5 ng/mL were reached for all four ingredients after four applications on the first day. Oxybenzone was absorbed to the body in 50 to 100 times higher concentrations than any of the other three chemicals.
Avobenzone concentrations reached varying levels up to 4.0 ng/mL in the spray form. Octocrylene levels ranged from 2.9 ng/mL for spray to 7.8 ng/mL. Ecamsule levels reached 1.5 ng/mL for cream and oxybenzone levels ranged from 194.9 to 209.6 ng/mL for spray and 169.3 ng/mL for lotion.
Many participants experienced side effects from sunscreen, the most common being rash, which developed in at least one participant with each product. Studies in the past have shown sunscreen ingredients to negatively affect male fertility.
Sunscreen was originally intended for use in small quantities while a person was on vacation. Now, experts recommend daily application to the largest parts of the body to protect against skin cancer.
The findings of the study indicate further safety studies need to be conducted on the ingredients in most sunscreens. The side effects of the ingredients, including daily repeated use of these ingredients, are simply unknown.
The absorption of the ingredients may not necessarily be harmful to humans. However, there is no way to be certain until manufacturers conduct safety studies for these absorption rates.
Despite the findings, the researchers urged consumers to continue using sunscreen. It is essential to help prevent skin cancer, which is now the most common type of cancer in the U.S.
"*" indicates required fields