Firefighter Cancer Rates To Be Tracked Through National Registry to Analyze Increased Risks
April 19, 2023
By: Irvin Jackson
Federal health regulators are encouraging all U.S. firefighters to enroll in a new national registry, which will track and analyze trends involving cancer rates among firefighters, which are known to be higher than the general public.
The U.S. Centers for Disease Control and Prevention (CDC) issued a press release on April 17, announcing the launch of the National Firefighter Registry (NFR) for Cancer.
The registry is being run through the National Institute for Occupational Safety and Health (NIOSH), and is part of President Joe Biden's "Cancer Moonshot" program, which seeks to cure or prevent as many forms of cancer as possible. However, it also comes as firefighters nationwide have begun raising concerns over their exposure to aqueous film-forming foam (AFFF) used to fight petroleum fires by civilian and military firefighting agencies, which contain per- and polyfluoroalkyl substances (PFAS), often known as "forever chemicals" which have been linked to increased cancer risks.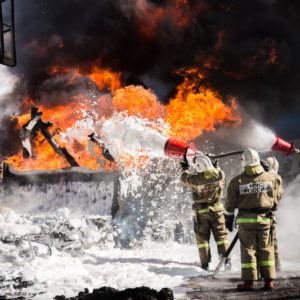 The new registry is designed to collect information about the work firefighters do, and compare it with cancer information from state cancer registries. It is the largest effort to study cancer among firefighters in the U.S., and was a mandate of the Firefighter Cancer Registry Act passed by Congress in 2018.
Participation in the registry is voluntary, but NIOSH and CDC officials are encouraging as many firefighting professionals as possible to register, regardless of whether they have cancer. All firefighter professions are covered by the NFR, including:
Active and retired firefighters
Career, paid-on-call, and volunteer firefighters
Structural firefighters
Wildland firefighters
Instructors
Fire Investigators
"I encourage all firefighters across America to join the NFR for Cancer – the more firefighters who join the NFR, the more researchers can learn about cancer arising from firefighting and how to prevent it," Dr. John Howard, director of NIOSH, said in the press release. "Firefighters are vital to the safety of our communities and their enrollment in the NFR for cancer can help protect them and the next generation of firefighters from cancer."
Firefighter Cancer Risks
There are more than 1 million career and volunteer firefighters across the United States. However, a series of studies in recent years indicate they, and firefighters around the world, face significantly higher risks of dying from cancer than the general population. They also suffer high rates of heart attacks, strokes and other diseases, many of which are believed to be linked to long-term and frequent exposure to toxic substances.
Those substances, such as PFAS chemicals, are not limited to those released by the fires they fight, but are also present in the foam they use to fight certain fuel-based fires, and even in the gear they wear to protect themselves.
A recent study in Scotland found that firefighters were 60% more likely to die of cancer than the general population. They were nearly three times as likely to die from malignant neoplasms, nearly four times more likely to die from prostate cancer, three times as likely to die from myeloid leukemia, and twice as likely to die from oesophagus, kidney and bladder cancer.
The researchers also found firefighters were more than five times as likely to die from ischemic heart disease, and also faced increased risk of stroke, interstitial pulmonary diseases, kidney failure and musculoskeletal system diseases.
Firefighter Foam and PFAS Lawsuits
Manufacturers of PFAS chemicals and safety equipment now face thousands of firefighter cancer lawsuits, involving allegations that years of exposure to the chemicals caused testicular cancer, kidney cancer, pancreatic cancer, bladder cancer and other injuries.
Although the manufacturers knew or should have known about the PFAS cancer risk, firefighters allege that they withheld important safety information and warnings for decades.
Claims brought throughout the federal court system against 3M Company, DuPont, Tyco Fire Products, Buckeye Fire Equipment Company, Kidde-Fenwal and other manufacturers of firefighting foam and protective equipment are now centralized in the U.S. District Court for the District of South Carolina, as part of a federal MDL or multidistrict litigation, since they each raise common questions of fact and law.
In addition to firefighter lawsuits over the PFAS cancer risk, the litigation also includes a number of complaints brought by local water suppliers over the costs associated with removing PFAS chemicals from their water systems. The companies also face potential PFAS water contamination lawsuits that are now starting to be pursued by individuals who lived in areas that are known to have high levels of the chemicals in their water, usually around military bases, airports and other firefighter training locations, where the chemicals seeped into the water supply.
As part of the coordinated management of the growing litigation, the U.S. District Judge presiding over the cases has established a "bellwether" program, where a small group of water supplier lawsuits are being prepared for early trial dates before lawsuits over the firefighters cancer risk from AFFF are scheduled, to help gauge how juries are likely to respond to certain evidence and testimony that will be repeated throughout the claims.
"*" indicates required fields