Firefighter Prostate Cancer Lawsuit Filed Over Side Effects From Fire Foam
August 13, 2020
By: Irvin Jackson
According to allegations raised in a recently filed product liability, side effects from fire foam caused an Alabama man to develop prostate cancer following years of exposure to the toxic chemicals during training exercises and firefighting activities.
The complaint (PDF) was filed by James Lampkin in the U.S. District Court for the District of South Carolina on August 3, pursuing compensatory and punitive damages from various companies involved in the manufacture and sale of aqueous film-forming foam (AFFF), which has been used for decades to fight fuel-based fires.
The fire foam has been widely used at military bases and other training locations for decades, containing certain per- and poly-fluoroalkyl substances (PFAS). The chemicals make the fire foam more effective than water alone, because of their ability to resist heat. However, PFAS can build up in the body and have been linked to a number of serious side effects for firefighters and others regularly exposed to the chemicals.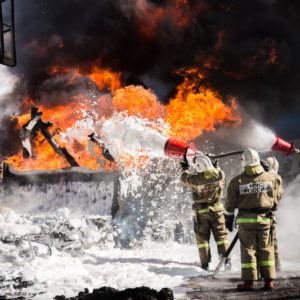 According to allegations raised in the prostate cancer lawsuit, 3M Company, DuPont, BASF, Kidde and other manufacturers and distributors knew about the serious health risks, yet failed to provide warnings for individuals regularly exposed during their careers as military and civilian firefighters.
"The Plaintiff was never informed that this product was inherently dangerous. Nor was the Plaintiff warned about the known health risks associated with this product," the lawsuit states. "Defendants have known of the health hazards associated with AFFF and/or its compounds for decades and that in their intended and/or common use would harm human health."
Fire Foam Health Risks
Exposure to PFAS in fire foam have been linked to a myriad of adverse side effects including liver damage, thyroid disease, decreased fertility, high cholesterol, obesity, hormone suppression, and cancer.
In addition to firefighting foams, PFASs are also used to manufacture a number of other products, including food packaging materials, pizza boxes, popcorn bags, fabrics, nonstick cooking pans, and other products. However, the level of exposure for firefighters during training and response exercises can be substantially higher.
The substances are commonly referred to as "forever chemicals", since they are projected to take thousands of years to degrade, and can build up in the body.
Previous U.S. Centers for Disease Control and Prevention (CDC) studies have shown PFAS chemicals primarily settle into the blood, kidney and liver, and could likely be detected in the blood of 98% of the U.S. population.
In June 2019, a federal investigation found that PFAS chemicals are commonly found in numerous food products, including meats, seafood, chocolate, cake and other products. However, the FDA released a statement indicating that the levels found do not raise health concerns, based on the best available science.
According to findings published in the Journal of the American Medical Association in 2012, exposure may also suppress the immune system and limit the ability of the body to create antibodies in response to childhood vaccines.
In December 2018, all fire foam lawsuits filed in federal courts nationwide were centralized in the U.S. District Court for the District of South Carolina for pretrial proceedings.
"*" indicates required fields