Firefighter's Kidney Cancer Diagnosis Caused By Exposure To Foam Used During Training, Career: Lawsuit
September 10, 2020
By: Irvin Jackson
Years of exposure to fluorochemicals found in aqueous film-forming foam (AFFF) resulted in a kidney cancer diagnosis for a New Jersey firefighter, according to a recently filed lawsuit.
The complaint (PDF) was filed by Douglas J. Ferrigno and his wife, Caren, in the U.S. District Court for the District of South Carolina on September 2, naming dozens of manufacturers and distributors of chemicals and firefighting safety equipment as defendants, including 3M Company, DuPont, and Kidde.
Ferrigno indicates he has been exposed to the fire foam since 1978, while working for the Hillside Fire Department in Union County, New Jersey, where he is still employed. During training exercises he has been repeatedly exposed to AFFFs, but at no point was he warned about the potential health risks posed by the chemicals in the fire foam.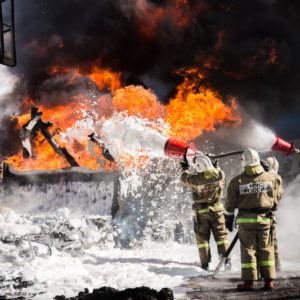 Learn More About
Exposure to firefighting foam chemicals may result in an increased risk of cancer for firefighters, military and airport personnel.
Learn More About this Lawsuit
In September 2018, Ferrigno indicates he was diagnosed with kidney cancer. As a result of the diagnosis, Ferrigno was hospitalized in October 2019, and had an operation to remove renal cell carcinoma from the right side of his kidney and adrenal glands.
Firefighter's foam has been widely used at military bases, airports and other training locations for decades, as the chemicals make the foam more effective than water alone at fighting fuel-based fires, because of their ability to resist heat. However, dangerous and toxic chemicals known as per- and poly-fluoroalkyl substances (PFAS) in the foam have been linked to a number of serious side effects for firefighters and others regularly exposed to the chemicals.
Previous U.S. Centers for Disease Control and Prevention (CDC) studies have shown PFAS chemicals primarily settle into the blood, kidney and liver, and could likely be detected in the blood of 98% of the U.S. population.
"Fluorochemical products are persistent in the human body," the lawsuit states. "A short-term exposure can result in a body burden that persists for years and can increase with additional exposures."
In addition to firefighting foams, PFASs are also used to manufacture a number of other products, including food packaging materials, pizza boxes, popcorn bags, fabrics, nonstick cooking pans, and other products. However, the level of exposure for firefighters during training and response exercises can be substantially higher.
The substances are commonly referred to as "forever chemicals", since they are projected to take thousands of years to degrade, and can build up in the body.
Since December 2018, all firefighting foam cancer lawsuits filed in federal courts nationwide were centralized in the U.S. District Court for the District of South Carolina for pretrial proceedings.
Tony

July 24, 2021 at 1:51 am

I was a volunteer firefighter for approximately 10 years starting in high school. I developed double kidney cancer and there is zero cancer in my family. Tge dr have been stymied as to how I developed the cancer. I've had to have my left kidney removed snd partial of my right. It's spread to my bones and lungs. I've never smoked. I need to report this finding to my Drs for a possible cause.
"*" indicates required fields