Florida Airport Files Lawsuit Over Contamination From Firefighting Foam Chemicals
February 03, 2020
By: Irvin Jackson
An Orlando-area airport has filed a lawsuit against firefighting foam manufacturers and other companies that are allegedly responsible for the contamination of land, groundwater and other parts of the property, calling for the defendants to be forced to pay for cleanup, monitoring and remediation of the site.
The complaint (PDF) was filed by the Sanford Airport Authority last month in Seminole County Circuit Court, pursuing claims against 3M Company, DuPont Nemours, Chemours, Kidde, Buckeye Fire Equipment Company and dozens of other defendants.
According to the lawsuit, the Orlando Sanford International Airport was previously a naval air station. Over the past several decades, the defendants manufactured, marketed or sold aqueous film-forming foam (AFFF) used as a firefighter agent against flammable liquid fires, such as fires caused by jet fuel and other aviation chemicals. This allegedly resulted in contamination throughout the property, and the airport alleges that the defendants did not disclose the toxic nature and harmful effects of the firefighting foam chemicals.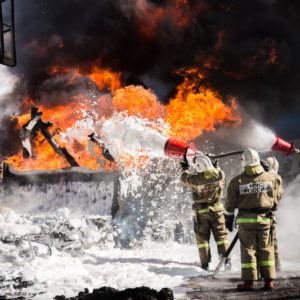 Several of the defendants, such as 3M Company, DuPont and Kidde, already face dozens of other fire-fighting foam lawsuits filed by both individuals and municipalities nationwide, each involving allegations perfluorinated compounds (PFAS) found in the firefighting foam products have contaminated water sources nationwide. In addition, a growing number of testicular cancer lawsuits have been filed by firefighters and others directly exposed to the foam.
"Defendants manufactured, marketed and/or sold AFFF with the knowledge that these toxic compounds would be released into the environment during fire protection, training, and response activities even when the AFFF was used as directed and intended by the manufacturer," the lawsuit states. "When sprayed onto outdoor surfaces as intended, these compounds migrated through the soil and into the groundwater, thereby contaminating the Property."
The lawsuit indicates that numerous parts of the airport are contaminated with PFAS and other chemicals from the firefighting foam, seeking to recover compensation and damages to pay for past and future cost s to test for, remediate, remove, dispose of and monitor for PFAS and other chemicals on the property. It also seeks damages for the loss of value of the property due to the contamination.
While previous lawsuits have mostly focused on water contamination, the Sanford Airport complaint is the latest in a growing number of lawsuits indicating the contamination is far more widespread.
In June 2019, a federal investigation found that PFAS chemicals are commonly found in numerous food products, including meats, seafood, chocolate, cake and other products. However, the FDA released a statement indicating that the levels found do not raise health concerns, based on the best available science.
According to findings published in the Journal of the American Medical Association in 2012, exposure may also suppress the immune system and limit the ability of the body to create antibodies in response to childhood vaccines.
In December 2018, all AFFF exposure lawsuits filed in federal courts nationwide were centralized in the U.S. District Court for the District of South Carolina for pretrial proceedings.
"*" indicates required fields