Settlement Reached in Lawsuit Over Toxic PFAS Chemicals in FogAway Eyeglasses Cleaner
December 12, 2022
By: Irvin Jackson
The makers of FogAway eyeglass spray have reached a settlement agreement to resolve claims raised in a deceptive marketing class action lawsuit, which alleged that the products contain toxic per- and polyfluoroalkyl substances (PFAS), also known as "forever chemicals".
The lawsuit was filed by Mahmood Dawood following a study by Duke University researchers earlier this year, which found FogAway and many similar eyeglass sprays contained potentially harmful PFAS chemicals.
PFAS include over 9,000 man-made chemicals, which have been frequently used in a variety of consumer and industrial products since the 1940s to resist grease, oil and water. However, since the chemicals are known to build up in the environment and human body, they are increasingly referred to as "forever" chemicals and dangerous levels of PFAS have been identified in drinking water throughout the United States.
PFAS Lawsuits
While PFAS are widely found in products like non-stick pans, pizza boxes an other material, the chemicals have caused widespread water contamination problems from firefighting foam, where large volumes were dumped into water supplies during training and response exercises to combat fuel based fires, particularly around military bases, airports and other firefighter training locations.
As a result of the harmful effects of the chemicals, hundreds of firefighting foam cancer lawsuits have been brought by individuals directly exposed to chemicals in the firefoam, alleging that they were not adequately warned about the health risks. In addition, a number of communities and local water suppliers have also filed lawsuits over the costs associated with cleaning up the chemicals from drinking water.
The same manufacturers also face PFAS water contamination lawsuits brought by individuals diagnosed with pancreatic cancer, liver cancer, bladder cancer, testicular cancer, kidney cancer or ulcerative colitis, following years of drinking tap water that has been found to contain high levels of the chemicals from firefighter foam, particularly near military bases and other locations where PFAS was released into the water system.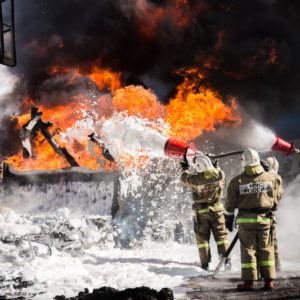 Dawood's class action lawsuit focused on PFAS found in FogAway eyeglass spray, claiming the company engaged in deceptive marketing by not revealing the presence of PFAS chemicals. The lawsuit notes that eyeglass spray became more commonly used to address glasses fogging up during the COVID-19 pandemic, due to the widespread use of face masks.
On December 6, attorneys for Dawood and Gamer Advantage LLC, FogAway's manufacturer, filed a stipulation of dismissal (PDF) in the U.S. District Court for the Eastern District of California, announcing the case was being dismissed because parties had reached a PFAS settlement agreement.
As a result, Dawood is not moving for class certification, and no class action in the case has been certified. However, the details of the settlement agreement currently remain confidential.
Duke University's FogAway PFAS Study
In the Duke study, researchers tested four anti-fog sprays and five anti-fogging wipes sold on Amazon.com. They had the highest number of positive reviews for such products at the time they were tested, according to the researchers.
What the researchers found was that all nine products contained two types of PFAS, which have been subjected to very little scientific study; fluorotelomer ethoxylates (FTEOs) and fluorotelomer alcohols (FTOHs).
The water resistant properties of PFAS makes them attractive for use in anti-fogging products. However, the researchers were surprised by the high amounts of these chemicals found in the products tested.
Due to the lack of research, very little is known about the health effects of exposure to these specific PFAS compounds, the researchers noted. However, what is known is that when they have been inhaled or absorbed through the skin, they could break down into other types of PFAS compounds known to be toxic, such as perfluorooctanoic acid (PFOA).
"*" indicates required fields