Anti-Fogging Sprays and Wipes For Glasses Loaded With Toxic PFAS Chemicals, Duke Researchers Warn
January 07, 2022
By: Irvin Jackson
Researchers from Duke University indicate that toxic PFAS chemicals, which have been linked to a number of serious health risks following exposure in firefighting foam and other materials, are also found in widely used sprays and wipes intended to keep glasses from fogging up.
One of the niche industries that has benefited from the ongoing COVID-19 pandemic are makers of anti-fogging products for glasses, which have come into high demand due to the use of face masks, which can cause glasses to fog up, making it hard to see. However, a new study published in the January issue of Environmental Science & Technology reveals that many, if not all, of the products contain per- and polyfluoroalkyl substances (PFAS), which are a family of often-toxic compounds linked to thyroid problems, cancer and immunotoxic side effects.
Toxic PFAS chemicals were first introduced into the manufacturing industry in the 1940's, because of their ability to resist heat, grease, stains, and water. The chemical substances are used to manufacture a number of products, including some food packaging materials, pizza boxes, popcorn bags, fabrics, nonstick cooking pans, and other products.  However, it is perhaps most known for its use in firefighting through the use of aqueous film-forming foams (AFFFs) used by military and civilian firefighters, which has dumped the largest volume of the chemicals into local water supplies near airports and training facilities.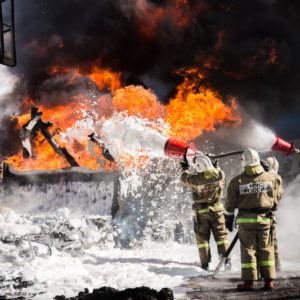 The water resistant properties of PFAS makes them attractive for use in anti-fogging products.
In the study, researchers tested four anti-fog sprays and five anti-fogging wipes sold on Amazon.com. They had the highest number of positive reviews for such products at the time they were tested, according to the researchers.
What the researchers found was that all nine products contained two types of PFAS, which have been subjected to very little scientific study; fluorotelomer ethoxylates (FTEOs) and fluorotelomer alcohols (FTOHs).
Due to the lack of research, very little is known about the health effects of exposure to these specific PFAS compounds, the researchers noted. However, what is known is that when they have been inhaled or absorbed through the skin, they could break down into other types of PFAS compounds known to be toxic, such as perfluorooctanoic acid (PFOA). However, the researchers were surprised by the high amounts of these chemicals found in the products tested.
"The median FTOH concentrations reported here in these sprays and cloths are similar to what has previously been reported in food contact paper, treated textiles, floor waxes, and stone/wood sealants," the researchers wrote. "However, the upper limit detected in anti-fog products (10,600 μg/mL) is an order of magnitude higher than previously measured."
Chemical manufacturers now face a growing number of firefighting foam lawsuits brought by nationwide, including individuals diagnosed with with cancer after exposure to the chemicals in their drinking water, as well as firefighters directly exposed during training and response exercises.
"*" indicates required fields