Premature Infants Fed Formula More Susceptible to Serious Adverse Health Events, CDC Study Warns
August 23, 2022
By: Irvin Jackson
A new report released by federal health officials laments the lack of available human donor milk for low birth weight and premature infants, and strongly advises against giving infant formula to premature infants, due to the risk of necrotizing enterocolitis (NEC), which reinforces claims raised in a growing number of NEC lawsuits against Similac and Enfamil manufacturers.
U.S. Centers for Disease Control and Prevention (CDC) researchers indicate human donor milk is still not available for very low birth weight (VLBW) infants at 13% of U.S. hospitals with neonatal intensive care units, according to a report published last week in the agency's Morbidity and Mortality Weekly Report.
Although health officials have been warning about the importance of using human breast milk for premature and low-birth weight infants, the makers of Similac and Enfamil have continued to make misleading promotional statements over the past few decades, even introducing versions of their cow's milk-based infant formula that was marketed for premature infants, ignoring the known risk of necrotizing enterocolitis (NEC) and other health problems.
A number of families are now filing Similac NEC lawsuits and Enfamil NEC lawsuits, alleging that infants may have avoided the devastating intestinal condition if the manufacturers had not misled families and the medical community. The lawsuits also indicate that the manufacturers set back the wider availability of donor human milk, by suggesting that the infant formula products were just as safe and effective.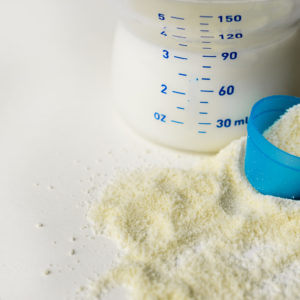 In this latest report about the continuing problems with human donor milk availability, the CDC included a warning which calls for doctors to avoid giving infant formula to very low birth weight (VLBW) children, who it says are often born premature.
"Benefits of human milk to infants with VLBW include decreased risk for necrotizing enterocolitis, a serious illness resulting from inflammation and death of intestinal tissue that occurs most often in premature infants, especially those who are fed formula rather than human milk; late-onset sepsis; chronic lung disease; retinopathy of prematurity; and neurodevelopmental impairment," the CDC researchers wrote.
Necrotizing Enterocolitis Risk for Premature Infants
Necrotizing enterocolitis is a devastating complication that mostly impacts preterm infants, where the wall of the intestine is invaded by bacteria, leading to destruction of the bowel and often requiring emergency surgery while the baby is still in the NICU. This can leave the infant with severe and life-changing injuries, as well as a substantial risk of premature death.
Over the past few decades, a number of studies have established that cow's milk formula like Similac and Enfamil cause NEC at at substantially higher rates than is seen among premature babies fed breast milk or donor milk alone. However, many doctors and families are still quick to abandon breast feeding attempts and efforts to make human donor milk widely available is lagging years behind the research.
In this latest report, researchers analyzed the CDC's 2020 Maternity Practices in Infant Nutrition and Care survey. They found that human donor milk was unavailable for low birth weight infants at 13% of hospitals in the U.S. which have level III or IV neonatal intensive care units. Out of the 616 hospitals examined, even then just a little more than half reported that 80% or more low birth weight infants received donor milk.
CDC researchers said the limited availability and use of donor milk could be due to several factors, including milk bank supplies, lack of knowledge about milk bank availability, lack of hospital leadership support and logistical challenges. The researchers also warned that lack of standardized policies and staff member training related to the importance of human donor milk may also play a role.
"Addressing barriers related to the availability of milk banks, donation to milk banks, use of donor milk in hospitals, and knowledge and attitudes about donor milk could potentially increase its availability and use for infants with VLBW," the researchers concluded. "The American Academy of Pediatrics and Baby-Friendly USA recently published documents outlining recommended practices for promoting human milk use for infants with VLBW and in the neonatal intensive care setting, which could provide guidance to hospitals implementing a donor milk program. State Perinatal Quality Collaboratives are another tool that could help birthing hospitals implement quality improvement initiatives to increase access to and use of donor milk to reduce morbidity and mortality in infants with VLBW."
Cow's Milk Formula Risks
Although Abbott and Mead Johnson knew for years that NEC is substantially more likely among premature babies fed the formula instead of breast milk, families pursuing lawsuits over NEC complications experienced by their premature infants say the companies intentionally misled parents and the medical community, and enticed them to take even more risks with infant lives through deceptive marketing practices, free samples, and advertising campaigns designed to shame parents into not questioning the safety of their products.
Given similar questions of fact and law raised in complaints filed in various different U.S. District Courts nationwide, the U.S. Judicial Panel on Multidistrict Litigation (JPML) established coordinated management for all NEC lawsuits against Similac and Enfamil manufacturers in April, requiring that any case filed throughout the federal court system be transferred to U.S. District Judge Rebecca R. Pallmeyer in the Northern District of Illinois.
"*" indicates required fields