Similac, Enfamil and Fortified Baby Formulas Do Not Increase Cognitive Function: Study
November 17, 2021
By: Irvin Jackson
Although fortified baby formula like Enfamil and Similac have been promoted with misleading statements that suggest long-term cognitive benefits, the findings of a new study suggests that is not the case, and these nutritionally modified formulas failed to improve academic performance in children.
Researchers from the United Kingdom set out to see if adding nutrients to baby formula products would have a positive effect on the academic performance of the children eating it, thus boosting its benefits. They conducted a randomized controlled trial and published their findings on November 11 in The BMJ.
The findings come amid increasing concerns about the potential side effects of Similac and Enfamil for premature babies, which has been linked to a serious risk of necrotizing enterocolitis (NEC); a devastating disease where the wall of the intestine is invaded by bacteria, leading to the destruction of the bowel and often requiring emergency surgery while the baby is still in the neonatal intensive care unit (NICU). As a result of the manufacturers' failure to provide information about these risks, a number of NEC baby formula lawsuits are now being filed by families nationwide.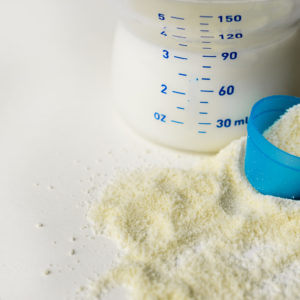 To evaluate some of the claimed benefits provided by fortified baby formula, researchers with UCL Great Ormond Street Institute of Child Health in London conducted seven randomized controlled trials involving 1,763 adolescents, with some given standard infant formula and others given nutrient-enriched formula. Different trials involved different means of enriching the formula. Additives included long-chain polyunsaturated fatty acid (LCPUFA), high iron, sn-2 palmitate formula and nucleotide supplemented formula.
The researchers noted that the goal was to improve infant formula so that it approached more of the benefits of breast milk, which they acknowledged was better for newborns.
"Breastfeeding is best for infant nutrition, with multiple health benefits for infants and mothers. But the rates for breastfeeding and for continued breastfeeding beyond six weeks are low in many high and middle income countries," the researchers noted. "One goal of modifying infant formula is to make long term cognitive outcomes more like those seen in breastfed infants."
Of the children tested, 425 were born preterm, 299 were born at term, but were small for their gestational age, and 1,039 were born at term. The researchers linked the clinical trial data to school data, looking at math and English exams at 16 and 11 years old.
However, according to the findings, there were no statistically significant differences which could be attributed to changes made in the formula given to the children at a young age, leading the researchers to determine that fortified infant formula did not grant long-term cognitive benefits when compared to standard infant formulas.
Similac and Enfamil NEC Lawsuits
Abbott Laboratories and Mead Johnson now face claims brought by a growing number of families who are pursuing a Similac lawsuit or Enfamil lawsuit, alleging that the companies aggressively marketed their products for premature babies, knowing that they may pose unreasonable risks and that such marketing would reduce breastfeeding rates, which is known to decrease the risk of necrotizing enterocolitis (NEC).
As recently as 2016, Abbott advertised some Similac formulas as being specifically for premature and low birth-weight infants, the lawsuits note, despite the known dangers.
Families now seek damages for the loss of premature babies in wrongful death lawsuits, as well as personal injury claims for life-long injuries and damages suffered by children who survived a NEC diagnosis.
Similac and Enfamil Baby Formula Lawsuits
Settlement benefits may be available as a result of the failure to warn about the risk of necrotizing enterocolitis (NEC) for premature infants.
Contact A Lawyer
"*" indicates required fields