Risk of Gastrointestinal Bleeding Risks with Pradaxa Highlighted in New Studies
November 06, 2014
By: Irvin Jackson
As concerns continue to mount over reports of bleeding problems with Pradaxa, Xarelto and other new-generation anticoagulants, two new studies found that users of Pradaxa may face a higher risk of gastrointestinal bleeds when compared to those who use the older blood thinner warfarin. 
Pradaxa (dabigatran) was the first member of a new class of anticoagulants introduced in the United States, approved in late 2010 for prevention of strokes among patients with atrial fibrillation. The medication quickly became a blockbuster drug, and has been followed by the introduction of Xarelto and Eliquis, in 2011 and 2012 respectively.
Amid aggressive marketing that promoted the drugs as superior alternatives to warfarin, which has been the go-to anticoagulation therapy for decades, combined sales of the new generation drugs have quickly grown to more than $2 billion a year. However, concerns have emerged about whether the new medications may carry an increased risk of severe and potentially life-threatening bleeds.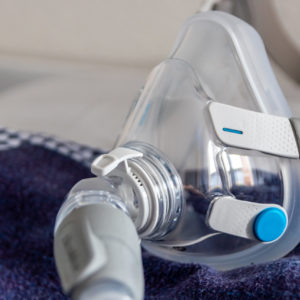 Did You Know?
Millions of Philips CPAP Machines Recalled
Philips DreamStation, CPAP and BiPAP machines sold in recent years may pose a risk of cancer, lung damage and other injuries.
Learn More
Two new studies were published this month evaluating Pradaxa in comparison to warfarin, both of which identified an increased risk of gastrointestinal bleeding on Pradaxa.
In a study published in the medical journal Circulation on October 30, FDA researchers found that while Pradaxa was associated with a reduced risk of ischemic strokes and intracranial hemorrhage, the risk of major gastrointestinal hemorrhage were much greater among individuals using Pradaxa over warfarin, with the increases greater with stronger doses.
Researchers from the Center for Drug Evaluation and Research set out to evaluate the safety of Pradaxa compared to warfarin in general practice settings, which has not been previously established. The study looked at more than 130,000 new Pradaxa or warfarin users from October 2010 to December 2012, finding that individuals who took Pradaxa were nearly 30% more likely to suffer a gastrointestinal bleeding event than those given warfarin.
In a separate study published in the journal JAMA Internal Medicine on November 3, researchers from the University of Pittsburgh also set out to examine whether Pradaxa was associated with higher risk of bleeding than warfarin in real-world clinical practice.
After evaluating data on 1,302 Pradaxa users and 8,102 warfarin users, that study found that users of the new-generation drug had an overall higher risk of bleeding from any location, specifically indicating that a higher risk of gastrointestinal bleeding was seen. As a result, the authors urged caution in prescribing Pradaxa, especially among high-risk patients.
New Anticoagulant Bleeding Risks
All blood thinners carry a risk of bleeding, as the medications are designed to prevent clotting, which can make bleeds difficult to control. However, the effects of warfarin can be quickly reversed with the use of vitamin K and fresh frozen plasma in the event that bleeding develops. There is no similar antidote currently available for Pradaxa, Xarelto or Eliquis.
When Pradaxa was first released it quickly became associated with a high number of adverse event reports to the FDA and hundreds of bleeding deaths in the U.S. alone.
More than 4,000 Pradaxa lawsuits were ultimately filed against Boehringer Ingelheim, alleging that the drug maker failed to adequately research the medication and withheld proper warnings about the bleeding risk and lack of a reversal agent.
Following several years of litigation, the drug maker agreed to pay $650 million in Pradaxa settlements earlier this year, with an average of about $150,000 paid to resolve claims brought on behalf of former users who experienced injuries from uncontrollable bleeds.
As concerns about the safety of Pradaxa mounted, Xarelto has grown to become the most widely used of the new-generation blood thinners. However, similar reports of Xarelto bleeding problems have surfaced, ith users experiencing uncontrollable gastrointestinal hemorrhaging and death.
Bayer Healthcare and Johnson & Johnson's Janssen subsidiary now face a growing number of Xarelto lawsuits, which raise similar allegations to those presented in the Pradaxa.
Many of the claims indicate that the drug makers failed to adequately explore all potential reversal agents, suggesting that Xarelto should be removed from the market until a safe and effective antidote for bleeding problems is identified.
Race For An Antidote
To secure the position of dominance in this new class of anticoagulants, the makers of Pradaxa, Xarelto and Eliquis are all attempting to identify and secure approval for an effective reversal agent, which would allow doctors to quickly stop the blood thinning effects of the drug if severe bleeding problems develop among users.
In June, the FDA granted "breakthrough status" to fast-track the approval process for Boehringer Ingelheim's possible Pradaxa antidote, meaning that the drug has been placed at the front of the line for development and review in hopes of getting it to the market more rapidly.
Last year, Bayer and Johnson & Johnson indicated that they were working with a company called Portola Pharmaceuticals to develop an Xarelto reversal agent.
Although Eliquis was the most recently introduced of these drugs, it appears that it may be the first to obtain a reversal agent. In a statement issued on October 1, Portola Pharmaceuticals indicated that a potential antidote for Eliquis has met both primary and secondary endpoints with high statistical significance in a phase 3 clinical trial, suggesting that they are close to confirming that tAndexanet Alfa can reliably stop the blood thinning effects of the drug in an emergency.
"*" indicates required fields