Genital Talcum Powder Use Increases Risk of Ovarian Cancer: Study
February 01, 2017
By: Austin Kirk
A new study adds to the growing mountain of evidence linking talcum powder to ovarian cancer when used around the genitals for feminine hygiene purposes.
Researchers from the U.S. and Germany indicate that they have identified a statistically significant association between genital talcum powder use and serous carcinoma, which is the most common type of ovarian cancer.
The findings were published earlier this month in the European Journal of Cancer Prevention, coming amid a growing number of lawsuits being pursued against Johnson & Johnson and other manufacturers over their failure to warn women about the risks associated with applying talcum powder around the genitals.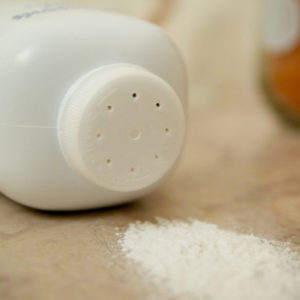 According to allegations raised in thousands of Johnson's Baby Powder lawsuits and Shower-to-Shower lawsuits filed in courts nationwide, Johnson & Johnson has known about the risk of ovarian cancer for decades, yet continued to market the genital use of their talcum powder products for "personal freshness", causing generations of women to suffer severe health problems.
Studies dating back as early as 1961 have shown that talc can move from the exterior of the genital area to the ovaries of women, with case reports identifying talc particles in ovarian cancer tumors among regular users of talcum powder products.
In this latest study, researchers conducted a meta-analysis of nearly 30 trials, involving more than 300,000 women. They analyzed the data a number of different ways, finding a 22% increased risk of cancer for women who ever used talc around the genitals. They also found that when they stratified the data by histology, looking at the microscopic structure of the affected tissue, there was a 24% increased risk of serous carcinoma, a type of ovarian cancer that causes the linings of the ovary to release a serum-like fluid.
"This meta-analysis suggests that genital powder use is associated with a small increased risk of developing ovarian cancer; however, this positive association appears to be limited to the serous histologic type, and to case-control studies," the researchers concluded. "This estimate is somewhat lower than that of previous meta-analyses: in our cumulative meta-analysis we confirmed the trend toward lower overall risk estimates as more evidence accumulated."
Researchers indicate that they could not confirm a causal link, but suggested that some bias in the studies may have been present.
Last year, at least three talcum powder ovarian cancer lawsuits went to trial against Johnson & Johnson over failing to warn about the risk. After considering the evidence, three separate juries returned massive verdicts in excess of $50 million each, including punitive damages designed to punish the manufacturer for their gross negligence and reckless disregard for the health of women using Johnson's Baby Powder or Shower-to-Shower.
More cases are expected to go to trial in Missouri and California state courts later this year, with additional cases pending in a federal multidistrict litigation (MDL) before U.S. District Judge Freda Wolfson in the District of New Jersey. If talcum powder cancer settlements or another resolution for the cases is not reached during the coordinated MDL proceedings, hundreds of individual claims may ultimately be remanded back to the U.S. District Courts nationwide for separate trial dates in the next few years.
"*" indicates required fields