Uterine Fibroid Lawsuit Filed Over Exposure to Hair Relaxer Chemicals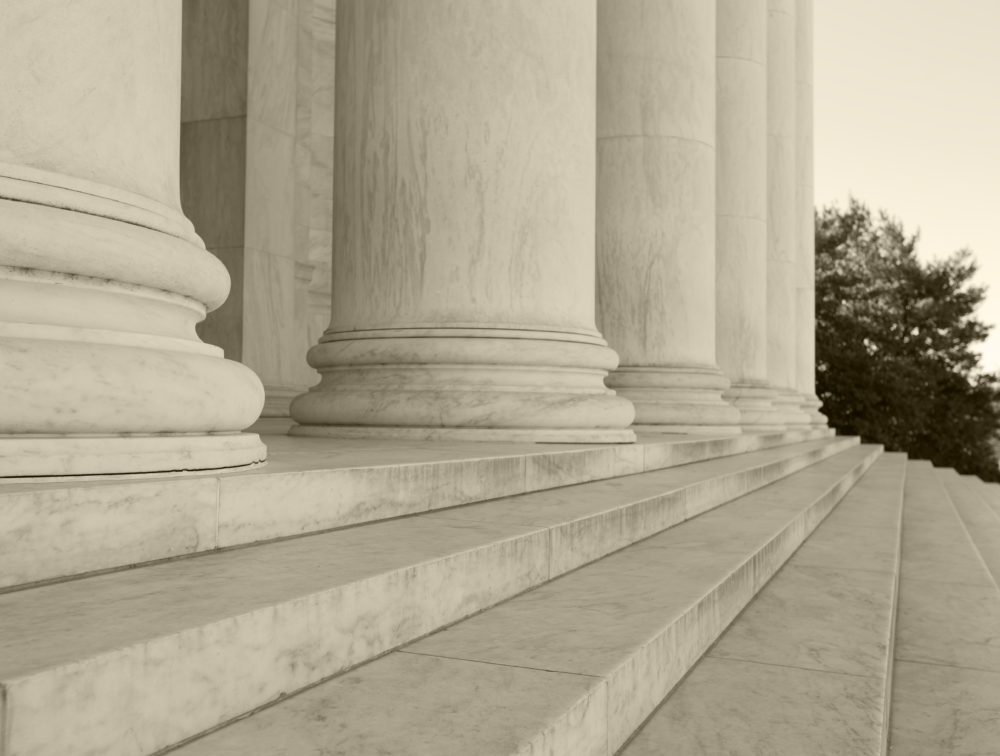 November 02, 2022
By: Irvin Jackson
Amid a growing number of hair relaxer uterine cancer lawsuits being filed, a new uterine fibroid lawsuit filed against L'Oreal and other manufacturers of hair relaxers, alleging that a Florida woman had to undergo a hysterectomy following years of exposure to the toxic hair straightening chemicals.
Mahogany Lee filed the complaint (PDF) on October 27, in the U.S. District Court for the Southern District of Georgia. The lawsuit indicates that phthalates and other endocrine disrupting chemicals in hair relaxers caused uterine fibroids to develop when she was only 29 years old.
Similar to a number of uterine fibroid lawsuits, the complaint names L'Oreal, USA, Inc., Strength of Nature Global, LLC, Soft Sheen/Carson Inc,, Namaste Laboratories, LLC and Godrej Consumer Products Ltd. as defendants, for their role in developing and selling some of the most widely used hair relaxers on the market, including "Dark & Lovely", "Optimum Care", "Motions", "Just for Me", "OR Olive Oil" and "African Pride".
Lawsuit Alleges Manufacturers Failed to Warn About Hair Relaxer Risks
Lee's complaint joins an increasing number of women now pursuing a hair relaxer lawsuit after developing uterine cancer, breast cancer, uterine fibroids, endometriosis and other injuries allegedly caused by long-term exposure to chemicals in products, which have been marketed as safe for decades, particularly to African American women and other women of color.
HAIR RELAXER COMPENSATION
According to the lawsuit, the hair relaxer chemicals caused uterine fibroids to develop about 15 years after Lee began using the products, when she was only 14 years old. However, she was unaware of the risks associated with the regular chemical hair straightening routines, since the relaxers contained warnings or other indication that they carried a risk of uterine fibroids.
"Ms' Lee was diagnosed with uterine fibroids on or about the year 2009, at the young age of 29 years old, after experiencing various symptoms including but not limited to extremely heavy bleeding and excruciating pain during her periods," the lawsuit states. "There was never any indication, on the Products packaging or otherwise, that this normal use could and would cause her to develop uterine fibroids."
In May 2009, Lee underwent a myomectomy to remove the fibroids. However, they returned three years later, which led to the need for a hysterectomy at age 41, leaving her sterile. As a result she now has to receive hormone therapy treatments and mourns the inability to ever have children.
Share Your Story
Did you or a loved one experience problems caused by hair relaxer chemicals? Share your story with the AboutLawsuits.com community and submit information for review by a lawyer to determine if you may qualify for a settlement.
ADD COMMENTS
Hair Relaxer Uterine Fibroid Risks
Uterine fibroids are usually noncancerous growths in the uterus. Many women develop them during their lives, but often do not know because mild cases sometimes cause no symptoms. However, in other cases, numerous fibroids can appear and cause the uterus to expand, which can lead to pain and other health problems.
Symptoms of uterine fibroids can include:
Heavy menstrual bleeding
Long-duration menstrual periods lasting more than a week
Pelvic pain or pressure
Constipation
Back or leg pain
Frequent urination and difficulty emptying the bladder.
In some cases, uterine fibroids have also been linked to infertility or pregnancy loss. It was originally believed that they carried very few health risks, however, in 2017 the FDA warned that potentially as many as one out of every 255 women have uterine fibroids which contain hidden cancer cells.
This revelation led to changes in uterine fibroid removal, with doctors moving away from the use of power morcellators, which could accidentally release the cancerous cells and spread cancer to other parts of a woman's body.
Now, uterine fibroids are often removed via what is known as a myomectomy, where the fibroids are surgically removed from the wall of the uterus while preserving the uterus the woman's ability to bear children. However, it does not stop fibroids from recurring later in life.
A hysterectomy is usually only recommended in cases where the fibroids are large, and the procedure leaves the woman unable to have any future children.
Hair Relaxer Uterine Cancer Risks
Chemical hair relaxers are popular among African American women, to style hair into a straight configuration by using extremely high heat and chemicals to break down disulphide bonds, which are the permanent hair bonds responsible for an individual's natural hair type. However, the products often use a variety of hazardous chemicals, including formaldehyde, Di-2-ethylhexylphthalate (DEHP) and phthalates; all of which are known for their individual abilities to either cause cancer, disrupt normal hormone function and cause reproductive and developmental problems, among other side effects.
In recent years multiple studies have been published highlighting the risk of hair relaxers and cancer.
In October, a study was published in the Journal of the National Cancer Institute, warning that ingredients used in the chemical hair relaxers may cause uterine cancer. Researchers found that the rate of uterine cancer was nearly three times greater among women who frequently used hair relaxer chemicals, compared to women who never used the products.
Researchers from the National Institute of Environmental Health reviewed data on nearly 34,000 women in the United States between the ages of 35 and 74 who completed questionnaires on their use of multiple hair products, including hair dyes, straighteners, relaxers, or pressing products, and permanents or body waves. A 10 year follow-up on the incident rate of uterine cancer diagnosis was performed.
According to the results, researchers identified 378 uterine cancer cases, finding participants who used hair straightening products at least once had the highest rate of uterine cancer diagnosis compared to any other hair products involved in the study. They also had a higher rate of uterine cancer when compared to women who used no hair straightener products.
Studies Linking Hair Straightener Chemicals to Breast Cancer
A 2019 study published in the International Journal of Cancer (IJC) issued similar findings, indicating women who reported regularly using straighteners and permanent hair dyes were 9% more likely to develop breast cancer than non-users.
Over an eight year period, researchers identified 2,794 cases of breast cancer diagnosis following hair relaxer use. The study revealed those who frequently used hair straightener products were at a significantly increased risk of breast cancer, finding women using hair straighteners at least every five to eight weeks, had a 30% increased risk of developing breast cancer.
Researchers warned that African American women who reported using permanent hair dyes regularly were associated with a 60% increase of breast cancer diagnosis, compared to an 8% increased risk for Caucasian women.
Find Out If You Qualify for a Hair Relaxer Lawsuit
Learn more about allegations raised in hair relaxer uterine fibroid and cancer lawsuits, as well as the criteria for claims being investigated by lawyers.
2022 Hair Relaxer Lawsuit Update
---
Find Out If You Qualify for Hair Relaxer Compensation
latanya

September 19, 2023 at 2:57 pm

I was diagnosed with uterine fibroids and had to have a hysterectomy. I used hair relaxer for about 30 years of my life. It was devastating. I had just gotten married and planned on having children with my husband. It never happened.

TAMARA

August 5, 2023 at 4:47 am

Hi I am 36 years old. I have breast cancer and uterine fibroids. I have used perms since I was age 8-9 years old. Then I switched over to relaxers at age 19 years old. The uterine fibroids caused my menstrual cycle to be 3 weeks each month. That started 2020 so it's been three years of that. Then I got cancer November last year. The fibroids started hurt every time I had an period. So that resulte[Show More]Hi I am 36 years old. I have breast cancer and uterine fibroids. I have used perms since I was age 8-9 years old. Then I switched over to relaxers at age 19 years old. The uterine fibroids caused my menstrual cycle to be 3 weeks each month. That started 2020 so it's been three years of that. Then I got cancer November last year. The fibroids started hurt every time I had an period. So that resulted in me taking medicine every four 4 hours and losing sleep.

Elaine

August 3, 2023 at 10:55 am

I am a 72-year-old Black woman who grew up in WV. I began with straightening perms as a young adult and continued until about 20-25 years ago. After heavy bleeding and pain during monthly period, I was diagnosed with uterine fibroids around the age of 36-37 and had a complete hysterectomy around the age of 39-41. I started with hormone replacement treatment, which was later determined to increase [Show More]I am a 72-year-old Black woman who grew up in WV. I began with straightening perms as a young adult and continued until about 20-25 years ago. After heavy bleeding and pain during monthly period, I was diagnosed with uterine fibroids around the age of 36-37 and had a complete hysterectomy around the age of 39-41. I started with hormone replacement treatment, which was later determined to increase the risk of serious health problems, including stroke and heart disease. I have recently learned that because I had a hysterectomy and discontinued hormone replacement, has likely led to the bone deterioration that I now have. I have osteopenia, which affects my quality of life. If I had known about the risks of perms, I would not have used them!!!

Tonya

July 13, 2023 at 4:19 pm

I see that many of us who had fibroids that almost bled to death such as myself and the fact these fibroids almost made me lose my job for attendance and jeopardized my pregnancy 🤰🏾 are now receiving letters of denial of case representations since we didn't sit there until it turn cancerous. That's the thing of getting hysterectomy because you are afraid to get cancer and your doctors warn you. Ma[Show More]I see that many of us who had fibroids that almost bled to death such as myself and the fact these fibroids almost made me lose my job for attendance and jeopardized my pregnancy 🤰🏾 are now receiving letters of denial of case representations since we didn't sit there until it turn cancerous. That's the thing of getting hysterectomy because you are afraid to get cancer and your doctors warn you. Many of us are denied as if we didn't suffer at all. They are not representing us correctly. We need to get a separate lawsuit with the same payout. I had to have several blood transfusions literally almost died. Any others out here ? That have been denied we need to find a different group of lawyers. I been upset about water contamination that happen to me in the 90's I am tired of being hurt by dirty systems. Where is the lawsuit for hair relaxers that people suffer from that had to have a hysterectomy, no if and buts , in order to live you need a hysterectomy or you will bleed out to death. I feel like here it is a mess around of representation due strictly to the race of people suffering the injustice. I will file appeal after appeal after appeal because this is not right.

Angela

July 7, 2023 at 2:12 am

I had to have a hysterectomy in 2010 due to fibroids the size of grapefruits. I had been having my hair permed since 1980 with chemical straighteners. I too experienced heavy bleeding, back pain, leg pain, abdomen pain, and a continuous issue with odor. This has been a truly embarrassing ordeal for years.

Roshanda

May 18, 2023 at 1:21 pm

I was diagnosed with fibroids and endometriosis in my mid 20 and early 30"s. I'm 50yrs old now. I started having pain on my left side and bleed dark brown blood. I have pain during sex and have painful lower back and leg pain all the time. I have numbness at the bottom of my foot on the right side. At times it will hurt to urinate and my bladder always felt full right after I released my bladde[Show More]I was diagnosed with fibroids and endometriosis in my mid 20 and early 30"s. I'm 50yrs old now. I started having pain on my left side and bleed dark brown blood. I have pain during sex and have painful lower back and leg pain all the time. I have numbness at the bottom of my foot on the right side. At times it will hurt to urinate and my bladder always felt full right after I released my bladder. I've been perming my hair every month since I was 13yrs old. I have used all different types of relaxers for so many years. I never thought I would be like this because of chemicals in the relaxers I have used all my life.

R

April 13, 2023 at 10:29 pm

I have been sufferings with Fibroid for years I found out that I had fibroids in my late twenties and yes you suffer with very heavy bleeding and endless pain women who suffer with this condition know what I mean the bleeding comes through your clothing it is really awful what you go through you really really suffer after years if this struggle , my doctor advise me to get an embolization to [Show More]I have been sufferings with Fibroid for years I found out that I had fibroids in my late twenties and yes you suffer with very heavy bleeding and endless pain women who suffer with this condition know what I mean the bleeding comes through your clothing it is really awful what you go through you really really suffer after years if this struggle , my doctor advise me to get an embolization to help me with this issue, Once again this was did not resolve my issue my pain was worst I was given pain medication by my doctor and that did not help I was still getting relaxers in my hair and using the box relaxer on my Hair Dark and Lovely and a few other who know that this was causing harm to any of us. this issue and suffering never goes away its a never ending pain I still have swelling in my stomach because of Fibroid its heart breaking to know that we supporting these companies that caused us so much suffering I'm in my late 60,s it never goes away you are stuck with this for the rest of your life and you just don't know what's next our health is on the line very sad, I stop using these relaxers and why are they still selling these product ? they should be taken off the market until they can make them safe I know that this may not affect every female but for those if us who it has affected these products has caused so much pain and suffering please take these dangerous products off the market until they can come up with a safe alternative .

T

April 6, 2023 at 1:19 pm

I've been using perm relaxers since I was in middle school. In the year 2015 my stomach started poking out and was hard in certain areas, as well as my cycles were starting to become very heavy. I had to were depends every cycle and panful imaginary cramps. It got so bad one cycle I went into the hospital, and first time ever I found out what was going on inside my stomach! I was hospitalized for [Show More]I've been using perm relaxers since I was in middle school. In the year 2015 my stomach started poking out and was hard in certain areas, as well as my cycles were starting to become very heavy. I had to were depends every cycle and panful imaginary cramps. It got so bad one cycle I went into the hospital, and first time ever I found out what was going on inside my stomach! I was hospitalized for up to 4 days had in IV going through my veins because my blood count was very low and was told I had Uterine Fibroids! when it came down to deal with them and have a hysterotomy I was denied because I had no Insurance at the time. Now 2023 of March 28th I was back again in hospital because of Fibroids uterus, Anemia, and shortness of breath! They said my oxygen level was 2.7 lowest they ever seen!! I was walking dead! I was told if I had waited another day I would have passed out! Now my fibroids are so huge all over my uterus I was given an Uterine Fibroid Embolization on 3/31/23. And was told wait a couple months till they shrink till then they can remove my uterus! I'm still in pain because of this procedure as they shrink. Id like this nightmare to end... Please help. Thanks, Sincerely, Fibroids Uterus patient for decades!

Raven

March 19, 2023 at 6:36 pm

Uterine fibroids

shalonda

February 13, 2023 at 2:18 pm

Yes i had uterine fibroids pre cancerous cells had to have total hysterectomy at the age of 49 due to this , pain irregular menstrual with blood clots , heavy bleeding for 7sometimes 8 days a month. started using hair relaxers at the age of 13 to change the texture of my hair

Nicole

January 19, 2023 at 7:03 pm

I had heavy bleeding with clots, very bad pain and then had a consistent bleeding episode that lasted almost a month when to Dr and he discovered that I had fibroids and endometriosis... In 2006 at the age of 27 I had the fibroids removed but shortly after that surgery I developed another fibroid and ended up having to have a hysterectomy... Now I am no longer able to have children... This ended u[Show More]I had heavy bleeding with clots, very bad pain and then had a consistent bleeding episode that lasted almost a month when to Dr and he discovered that I had fibroids and endometriosis... In 2006 at the age of 27 I had the fibroids removed but shortly after that surgery I developed another fibroid and ended up having to have a hysterectomy... Now I am no longer able to have children... This ended up causing my marriage to fail along with so much more... The SOL starts from what period of time?

Letitia

January 17, 2023 at 6:32 pm

I have uterine fibroids....Have had previous surgeries and ufe....Mutiple Large ones....Started using relaxer in 90's. Heavy bleeding, back pain, Mutiple miscarriages and excruciating periods with alot of pain.

Claudia

January 3, 2023 at 6:35 pm

Yes I have uterine fibroid that is bigger then my fist I had been using these relaxers for years I had to get the ablation done but now I have to get a partial hysteroscopies done the pain that I be having is really bad

TRINEZ

December 27, 2022 at 6:42 pm

I bleed heavy really heavy. I have had ovarian cyst burst. My menstrual cycles are irregular and I also have fibroids. Im just scared of developing cancer.

Lajune

December 23, 2022 at 2:56 pm

I started off using dark and lovely my 9th grade year in high school, then switch up to Ors Olive perm . So I been using perms for 30 years. I just bought a Ors perm last month. So why are they still on the shelf if they causing black womens so much problems. I have severe stomach pain and heavy menstrual bleeding . Thought the stomach pain I was having was nothing until, I did an ultrasound [Show More]I started off using dark and lovely my 9th grade year in high school, then switch up to Ors Olive perm . So I been using perms for 30 years. I just bought a Ors perm last month. So why are they still on the shelf if they causing black womens so much problems. I have severe stomach pain and heavy menstrual bleeding . Thought the stomach pain I was having was nothing until, I did an ultrasound this year to find out that I have firboids.

Jonelle

December 7, 2022 at 9:00 pm

Been hit with the mentioned products since 12,13 yrs old. Been natural 5yrs. Diagnosed 8/2021 but suffered way before then with heavy to moderate pain and bleeding that lasts months at a time and I'm not exaggerating at all. I couldn't take it anymore and it really affected my ability to walk around sit at my desk at work and even sleep. Full hysterectomy was done 3/25/22 at the age of 42.

Toi-Kai

December 7, 2022 at 5:45 pm

About 4 yrs ago I started having really bad menstrual cramps, severely crippling abdominal pains that had me in the bed not able to move and very bad bad pains that make it hard for me to walk long distances anymore. I can't grocery shop without one of the wheelchair carts. It very embarrassing to see older people walking around shopping while I'm in a buggy. I have been diagnosed with uterine fib[Show More]About 4 yrs ago I started having really bad menstrual cramps, severely crippling abdominal pains that had me in the bed not able to move and very bad bad pains that make it hard for me to walk long distances anymore. I can't grocery shop without one of the wheelchair carts. It very embarrassing to see older people walking around shopping while I'm in a buggy. I have been diagnosed with uterine fibroids a few months ago. I have had a few miscarriages and found out that that the fibroids may be the reason. I am now 41 and have been getting my hair permed since I was 5 years old. Started with Just for me. Then pink oil, cream of nature, dark and lovely and so on and so forth. I was recently told that they want to do a hysterectomy. This is crazy. The doctor's could never tell me what was wrong with me. I had an episode of vomiting blood and had upper endoscopy's done with no clear answers to anything just to be seen again with no answers again.

Fatima

December 2, 2022 at 12:40 pm

I started relaxing my hair at the age of 17. I used to suffer from with extremely heavy menstruation with bad cramps. The flow was so heavy that I would get huge blood cloths. At age 31 was when was when I discovered that I had a uterine fibroid and had it surgically removed. The following year I tried 6 rounds of fertility treatments with no success at all. At age 40 I had another uterine fibroid[Show More]I started relaxing my hair at the age of 17. I used to suffer from with extremely heavy menstruation with bad cramps. The flow was so heavy that I would get huge blood cloths. At age 31 was when was when I discovered that I had a uterine fibroid and had it surgically removed. The following year I tried 6 rounds of fertility treatments with no success at all. At age 40 I had another uterine fibroid in the same area surgically removed. The following year I stopped relaxing my hair and went natural and haven't looked back again. Unfortunately also I never pregnant.

Malisha

November 30, 2022 at 10:36 am

I keep having issue with heavy bleeding back in 2004. Finally in Feb of 2006 everything came crashing down on my had to have a emergency blood transfusion then about two week has to have a emergency hysterectomy it almost cost me my life fibroid cysts. I was only 38 yrs old

Nayo

November 26, 2022 at 4:43 am

I have used these products as well. I was diagnosed with fibroids in 2010. I had to get a blood transfusion that's when I finally found out what it was. I had a myomectomy in 2019. I suffered a miscarriage in 2015. I wish I would have known the risk I was using then since about 9 or 10 years old.

Chandra

November 24, 2022 at 4:27 pm

I used hair relaxers from 1985 to 2021. I have fibroids, heavy and often very long menstrual periods lasting weeks at a time.

Christina

November 22, 2022 at 11:06 pm

I got my first relaxer when I was 10 years old. I stopped getting them when I was 25. I'm 39 and have been relaxer free for 14 years. However, I got diagnosed with fibroids in my early 20s or mid 20's. I can't remember. I would have to look at my records. However, as a result, I have heavy menstrual bleeding, pelvic pain and excruciating menstrual cramps.

Karen

November 21, 2022 at 3:06 pm

I have been having relaxers done on me since childhood from my mother and then myself once I reached adulthood until 2015, I was diagnosed with uterine fibroids approximately around 2000 not sure, will check my medical records and was still perming my hair at that time, not knowing the potential of a health risk. I have a few of them, have had 3 DNC's and 2 Ablations, Hysteroscopies I didn'[Show More]I have been having relaxers done on me since childhood from my mother and then myself once I reached adulthood until 2015, I was diagnosed with uterine fibroids approximately around 2000 not sure, will check my medical records and was still perming my hair at that time, not knowing the potential of a health risk. I have a few of them, have had 3 DNC's and 2 Ablations, Hysteroscopies I didn't want a hysterectomy due to wanting to have a child for my husband. It never happened. Still suffering with uterine pain and painful intercourse. Iron level was under 5 and broke 2 teeth due to eating ice.

Donna

November 18, 2022 at 12:31 pm

I used all of the relaxers since I was 18 years in 1996 I went to the doctor thought I might be pregnant but come to find out I had fibroid tumors and I had to have a partial hysterectomy

Erika

November 16, 2022 at 7:24 pm

I've had a myomectomy(35), hysterectomy(36/37), a DNC, and just recently my tubes and ovaries were removed. I received a relaxer (Optimum/Motions) at the age of fourteen and began menses the same year. Diagnosed with fibroids around the age of twenty-one. I endured and am still in Pelvic Floor Therapy due to the chronic pain and scar tissue left behind that doctors couldn't keep me under any long[Show More]I've had a myomectomy(35), hysterectomy(36/37), a DNC, and just recently my tubes and ovaries were removed. I received a relaxer (Optimum/Motions) at the age of fourteen and began menses the same year. Diagnosed with fibroids around the age of twenty-one. I endured and am still in Pelvic Floor Therapy due to the chronic pain and scar tissue left behind that doctors couldn't keep me under any longer to remove. My son died in 2009 because fibroids grew with him, but there was one pressed against his head.

Toni

November 16, 2022 at 2:13 am

I started relaxing my hair at the age of 20 and not knowing the heavy bleeding but going to have surgery probably 2023 but having biopsy done December 2022 so fibroids the size of a golf ball but been suffering with these cramps but didn't know why thank you

Amelia

November 15, 2022 at 3:46 am

I have been using hair relaxers and straighteners since i was a child. I was diagnosed with uterine fibroids in 2006. My quality of life suffered due to heavy menstrual bleeding. I would like to speak with someone regarding my situation.

Mekita

November 14, 2022 at 1:25 pm

I was diagnosed with fibroids in 2018 and I was scheduled to have an abrsion surgery in March of 2020 due to my heavy blooding which is causing me to be anicic but COVID came and they cancelled all no emergency surgeries. Here today I haven't had the surgery yet.

Chandra

November 14, 2022 at 10:36 am

I have been using hair relaxers for years. In my early 30s I was diagnosed with fibroid on my uterus. In January of 2009 I had to have a myomectomy. Years later the fibroid grew back. I was unable to have children because I also struggled with infertility issues.

Cresha

November 11, 2022 at 8:14 pm

I've had fibroids since 13 and Im 39 now. I had a procedure done for fibroids and almost lost my life 2 months ago and due to that procedure Im going through a lot of difficulties. I been using perm since 1990 please help me. I also have all my medical files due to this situation.

Pam

November 11, 2022 at 1:36 pm

I've used relaxers for 30 plus years Dark and Lovely, Just for Me, Revlon, and many others. I developed Fibroids which resulted in two surgeries. One was an emergency removal of a couple. The other was a partial hysterectomy which required two surgeons to remove them. Horrible!!!

Deborah

November 10, 2022 at 9:27 am

I was a faithful user of hair relaxers since the 80s up to this year I have had problems with uterus fibroids for a couple of years not knowing that it was connected to the relaxers I was using. I just had a surgery on my stomach a couple months ago and have another surgery coming up to remove more fibroids in a couple months. I'm a 55 year old female and not only have I used relaxers on my hair[Show More]I was a faithful user of hair relaxers since the 80s up to this year I have had problems with uterus fibroids for a couple of years not knowing that it was connected to the relaxers I was using. I just had a surgery on my stomach a couple months ago and have another surgery coming up to remove more fibroids in a couple months. I'm a 55 year old female and not only have I used relaxers on my hair but I've also used relaxers on my 3 daughters hair

Katrina

November 9, 2022 at 8:44 pm

I Katrina carthon,have use perms since I was 15 years old,I have had a hysterectomy because of fibroid tumors which caused me to have heavy bleeding,prolonged menstrual periods,terrible pain because of them.

Kinisha

November 9, 2022 at 2:49 pm

I started getting relaxers around the age of 10. By the time I was in my 20's periods were extremely painful and heavy. I was orignally told I could not have children with the size and number of fibroids I had. I did conceive but my son struggled to grow in my uterus with the huge fibroids that were made worse with pregnancy hormones. I was in constant pain as they grew so large that they som[Show More]I started getting relaxers around the age of 10. By the time I was in my 20's periods were extremely painful and heavy. I was orignally told I could not have children with the size and number of fibroids I had. I did conceive but my son struggled to grow in my uterus with the huge fibroids that were made worse with pregnancy hormones. I was in constant pain as they grew so large that they sometimes burst inside me. I had to see a specialist on top of an OB to monitor my condition. After my son was born I had to undergo a hysterectomy and the removal of a parastic fibroid that attached to my ovary and grew to the size of a football. Then I lost both ovaries due to ovarian torision from large cysts. I also had to have a partial thryoid removal as my thyroid grew large and stopped functioning. I read an article about thyroid conditons and relaxers around this time and knew I couldn't take any more chances. My last relaxer was in 2019. Now my thyroid functions and I have less endocrine issues all around. I'm in full blown menopause though and I wish I had stopped the relaxers sooner.

Shaborn

November 8, 2022 at 8:14 pm

I'm 40 yrs old and suffering with fibroids I was diagnosed in 2012. Every time I got a pap I had irregular ones and a biopsy was needed to see if I had cancer. It came back negative however they never told me I had uterine fibroids not til 2012 in Georgia after I went for a check up. Dr. Seemed surprised as they asked about my fibroids like did you know you had this ? I'm like what no what is it ?[Show More]I'm 40 yrs old and suffering with fibroids I was diagnosed in 2012. Every time I got a pap I had irregular ones and a biopsy was needed to see if I had cancer. It came back negative however they never told me I had uterine fibroids not til 2012 in Georgia after I went for a check up. Dr. Seemed surprised as they asked about my fibroids like did you know you had this ? I'm like what no what is it ? They explained yrs went by I was ok til 2018 when I started spotting in between periods. Now I bleed every day light before my real period starts. I went from 3 days to 10 or more days of periods. I look pregnant, all the time. I was always a small framed woman now I'm big in my belly and bleeding all the time I didn't want a hysterectomy but it seems I maybe headed there. I do have 4 children grateful. But I wanted to die with what God gave me and made me a whole female. In 2012 I started going natural wore loose hair til 2018 when I locd my hair. I used so many perms and dyes before singer Mary J and rapper Lil Kim In the 90s. I started with just 4 me when I was 4 yrs of age my mom permed my hair it became easier for her being she had daughters. It became a ritual for me dark n lovely bantu, creme of nature, motions and african pride with hair dyes and perm. I'm so miserable I wear a tampon everyday of my life now. Which also is irrating me. I can't get my bf to understand me clearly he thinks I don't love him because I don't want intimacy with him. My mood swings are crazy. I eat ice everyday even in the cold my blood levels are low. I really don't have many options but I'm on vitamin b complex to help and considering herbals to help maintain. I'm the only female out of my family suffering from this. I have nobody thT can understand what I'm going through ughhhh. This is hell I sometimes wish I was a male. I hoping that the natural way will help before I get surgery to end this nightmare. It's so much the vag goes through with fibroids. My back hurts leg hurt I feel so much pressure on my right side. The pain has me ready to take out everything just live a normal life. My life is not the same. They make it seem like women live with this with an ease but that too is lie.

Virginia

November 8, 2022 at 2:01 pm

I started getting chemicals at age 18 wasn't aware of fibroids forming because of the chemicals I have had uterine fibroid embolization I'm now 62 and have had to have ultra sounds to see how much they have grown I have back pain ,leg pain,and causes me to use the restroom frequently.not sure if I'll have to get a hysterectomy in the near future.

sharron

November 7, 2022 at 4:38 pm

i had surgery due to a chemical fibroid and had to have a urinary bag

Nakia

November 7, 2022 at 11:46 am

I am 40 years old. I have used relaxers since I was 6 years old. In 2018 I was diagnosed with fibroids in my uterus and underwent a full hysterectomy. It broke my heart because at the time my boyfriend and I wanted to try for a baby. To this day I am still trying to adjust to this new normal. Had I or my mother known this would be the outcome, needless to say that we would not have used relaxers.

Dyane

November 6, 2022 at 4:44 pm

I have had fibroids since I was 30 I am now 67 years old. I have been and still do use the dark n lovely and some of the other pems mentioned for years not knowing it could cause me harm I have to see my doctor every 2 years to make sure the fibroids don't turn into cancer I have them and now real bad pain in my pelvic area as well as sometimes back pain

Lakeya

November 6, 2022 at 5:49 am

33 year old female. Got my first relaxer at a young age of 3-4. Dealt with fibroids from ages 21-27, when I was eventually told that a hysterectomy was my only safe option.

Tamieka

November 3, 2022 at 12:23 am

I Ms Tamieka Stephens have been extremely using straightener hair products. Optimum Care perm, dark and lovely perms hair straightener.previously I have been experiencing uterine fibroids and heavy bleeding and infertility after my second child. I have not been able to conceive after my second child which I conceived at the age of 19 years of age. I never understood why I have never been able to c[Show More]I Ms Tamieka Stephens have been extremely using straightener hair products. Optimum Care perm, dark and lovely perms hair straightener.previously I have been experiencing uterine fibroids and heavy bleeding and infertility after my second child. I have not been able to conceive after my second child which I conceived at the age of 19 years of age. I never understood why I have never been able to conceive children after age 19 until now that I have knowledge of this discovery about the straightener hair products that I have been using for 30 years. I feel that I have been a victim of these products. And would like to speak to someone about filing a claim against manufacturer responsible for my fertility disorder. Please contact Ms Tamieka Stephens at 404-914-7490
"*" indicates required fields