Study Finds One-Third Of Population Likely Exposed To Harmful Pesticides
February 18, 2022
By: Martha Garcia
Nearly one out of every three Americans are exposed to a harmful pesticide, 2,4-Dichlorophenoxyacetic acid, which is known to cause cancer and other serious side effects, according to the findings of a new study.
In findings published this month in the journal Environmental Health, researchers from George Washington University report that the risks of exposure to the pesticide has increased for all Americans since 2001, particularly among women and children.
The study involved data from the National Health and Nutrition Examination Survey (NHANES), testing urine samples of participants for biomarkers of the herbicide between 2001 and 2014. Of the nearly 14,400 participants, 32.5% had levels of the chemical above the level considered safe for human exposure, meaning one in three participants were exposed to the harmful pesticide, which is one of the most extensively used herbicides in the United States.
Children and women faced the highest risk of having dangerous levels of the herbicide in their system. Children ages 6-11 years had twice the risk of having the herbicide in their system and women of childbearing age, 20-44 years old, had nearly two times the risk compared to men of the same age.
Over the period of the study, high levels of the pesticide were detected more frequently over time, suggesting exposures are increasing. In 2001-2002, roughly 17% of participants had it in their system. By 2011-2012, that increased to 40% of participants. Researchers indicated increasing the use of the chemical is likely to increase exposures at the population level.
Children can be exposed if they play barefoot on a lawn treated with the weed killer or if they touch the grass and put their hands to their mouths. Eating soybean-based foods also exposes humans, which includes soybean-based cooking oils used in nearly every packaged food and fast food in the US.
2,4-Dichlorophenoxyacetic acid, also known as 2,4-D, is used as a weed killer in industrial agricultural settings as well as residential settings. More alarmingly, more than 600 US agricultural and residential products contain 2,4-D.
It is the fifth most heavily applied weedkiller in US agriculture. It is a class of herbicide similar to glyphosate, another controversial weed killer used in products like Roundup. Concerns over glyphosate exposure have led to tens of thousands of Roundup lawsuits over claims of cancer, particularly non-Hodgkin's lymphoma.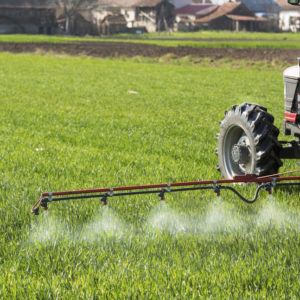 2,4-D is rapidly absorbed via oral and inhalation methods. The Agricultural Health Study found 100% of agricultural workers who applied the chemical had it in their systems after application and 40% of spouses and 62% of children also had it in their systems.
"The associations seen here between 2,4-D crop application and biomonitoring levels require focused biomonitoring and epidemiological evaluation to determine the extent to which rising use and exposures cause adverse health outcomes among vulnerable populations (particularly children and women of childbearing age) and highly exposed individuals (farmers, other herbicide applicators, and their families)," wrote study authors.
Research has indicated exposures to 2,4-D at high levels are linked to cancer, reproductive problems and other health issues. It is a known endocrine disruptor, much like glyphosate. In fact, several classes of pesticides and herbicides, like 2,4-D, were linked to an increased risk of Lou Gehrig's disease.
In order to help avoid exposure to herbicides and pesticides, researchers recommend consumers buy organically grown food and avoid using the weed killer on home lawn and gardens.
"*" indicates required fields