Homeowner's Exposure to Roundup Resulted in Diffuse Large B-cell Lymphoma, Lawsuit Alleges
October 14, 2019
By: Irvin Jackson
As a result of exposure to Roundup over a period of nearly ten years around her home, an Ohio woman indicates that she was diagnosed with diffuse large B-cell lymphoma, which is one of several subtypes of non-Hodgkins lymphoma (NHL) linked to the controversial weedkiller.
The complaint (PDF) was filed last week by Bobbie Riley in the U.S. District Court for the Northern District of Ohio, pursuing damages from Monsanto Company for failing to warn about the toxicity of glyphosate and other ingredients in Roundup.
"For nearly 40 years, farms across the world have used Roundup without knowing of the dangers its use poses. That is because when Monsanto first introduced Roundup, it touted glyphosate as a technological breakthrough: it could kill almost every weed without causing harm either to people or to the environment," the lawsuit states. "According to the WHO, the main chemical ingredient of Roundup—glyphosate—is a probable cause of cancer."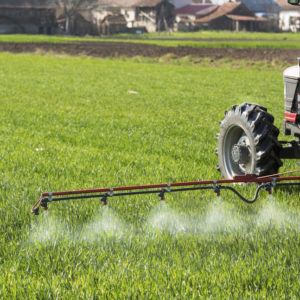 Riley indicates that she used Roundup around her home in East Liverpool, Ohio from 2006 to 2016, alleging that the weedkiller was a direct and proximate cause of her diagnosis with diffuse large B-cell lymphoma in June 2011.
Diffuse large B-cell lymphoma (DLBCL) accounts for about 30% of all newly diagnosed NHL cases every year, causing rapidly growing and spreading tumors that can result in swelling in the neck, armpits and groin, as well as fevers, night sweats, and weight loss. Treatment of DLBCL usually involves chemotherapy and an antibody that targets the tumors cells. If properly diagnosed and treated, the overall five-year survival rate is about 58%.
The lawsuit indicates the average homeowner had no way of knowing of the potential Roundup exposure risks, due to deceptive practices by Monsanto.
"Monsanto was fully aware of Roundup's safety risks. Nonetheless, Monsanto deliberately crafted its label, marketing, and promotion to mislead farmers and consumers," according to the complaint. "This was not done by accident or through some justifiable negligence. Rather, Monsanto knew that it could turn a profit by convincing the agricultural industry and the general population that Roundup was harmless to humans, and that full disclosure of Roundup's true risks would limit the amount of money Monsanto would make selling Roundup in the State of Ohio."
The complaint joins more than 20,000 other Roundup lawsuits currently being pursued against Monsanto and its new parent company, Bayer.
Three cases have gone to trial over the last year, with Bayer and Monsanto losing each of the "bellwether" claims, and juries ordering the company to pay massive damage awards for withholding known information from consumers about the link between Roundup and non-Hodgkin's lymphoma.
Bayer is currently engaged in a court-ordered mediation process that is designed to explore a potential resolution for the litigation.
It is widely expected that any Roundup settlement would require billions of dollars in compensation for individuals diagnosed with non-Hodgkins lymphoma, as well as the creation of a fund for future victims who have not yet been diagnosed. Given the latency for a non-Hodgkins lymphoma diagnosis, the fund would have to be sufficient to compensate individuals diagnosed over the next decade, but without cancer warnings on Roundup, there would be no end for future cases.
"*" indicates required fields