Hospital Infection Control Measures Are Often Outdated, Researchers Warn
November 15, 2021
By: Martha Garcia
According to a recent review of infection control policies in place nationwide, many hospitals continue to use outdated measures and need to revamp their protocols, to incorporate lessons learned from the COVID-19 pandemic.
In a report published last week in the the Annals of Internal Medicine, researchers called for updates to hospital infection control measures, suggesting that new protocols will help prevent the spread of respiratory infections.
Researchers from Harvard and the University of Maryland conducted a review of old hospital protocols and emergency protocols implemented during the COVID-19 pandemic to prevent the spread of the coronavirus. They found that current protocols are based on a "false simplification" of respiratory virus transmission, using a droplet/aerosol distinction for virus transmission and associated protocols.
This model says droplet organisms, like from the flu and common cold, are transmitted via large respiratory secretions that rapidly fall to the ground within one to two meters and are adequately blocked by surgical masks. Airborne pathogens, like from measles and tuberculosis, are transmitted by aerosols small and light enough to carry beyond two meters and remain suspended in the air for longer; penetrating the gaps between masks more easily. They can also accumulate in poorly ventilated space.
Due to these assumptions, healthcare workers are advised to wear N95 respirators and place these patients in negative pressure rooms. This is also recommended when caring for patients with flu or coronavirus and when conducting "aerosol-generating procedures" like intubation. However, the researchers say most of what we exhale is aerosol of different sizes, and most transmission occurs at close range because the virus in the aerosol tends to be concentrated close to the source.
Because they diffuse and dilute over distance, long-distance transmission tends to be rare in well-ventilated spaces, the researchers noted.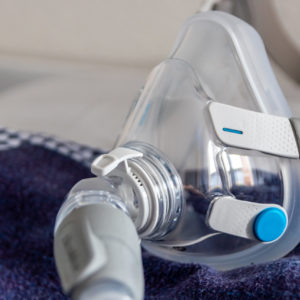 Did You Know?
Millions of Philips CPAP Machines Recalled
Philips DreamStation, CPAP and BiPAP machines sold in recent years may pose a risk of cancer, lung damage and other injuries.
Learn More
Researchers say other factors to consider for transmission when developing hospital infection control measures are key, such as duration of exposure. Longer exposure to an infected person presents a greater risk of infection. Additionally, patients with higher viral loads in their bodies are more contagious.
"Failure to appreciate these factors may lead to underappreciation of some risks (for example, overestimation of the protection provided by medical masks, insufficient attention to ventilation) or misallocation of limited resources (for example, reserving N95 respirators and negative-pressure rooms only for aerosol-generating procedures or requiring negative-pressure rooms for all patients with SARS-CoV-2 infection regardless of stage of illness)," the researchers noted. "Enhancing understanding of the factors governing respiratory pathogen transmission may inform the development of more effective policies to prevent nosocomial transmission of respiratory pathogens."
The authors of the report recommend making no major distinction between droplet and aerosol infections. The researchers also called for wider use of N95 masks, which has helped to eliminate respiratory infections which often spread through hospitals.
N95 masks should be used to care for all patients with respiratory infections, not only aerosol-generating procedures, the researchers determined, calling on hospitals to consider implementing universal masking from fall to spring during flu season. Source-control masking, or masking the infected person, should be implemented because it works to help reduce the spread of infection from the source.
The researchers also recommended airborne-infection isolation rooms be allocated for patients with respiratory infections and a high viral load.
Finally, minimum ventilation standards in hospitals should be reviewed and an increase in standards for non-clinical areas of the hospital should be considered. By implementing these protocols, hospitals can help reduce the spread of all respiratory infections going forward, the researchers concluded.
"*" indicates required fields