Hydraulic Fracturing Worker's Lawsuit Alleges Firefighting Foam Exposure Led to Prostate Cancer
April 28, 2021
By: Irvin Jackson
A worker in the hydraulic fracturing industry has filed a product liability lawsuit against chemical and safety equipment manufacturers, alleging that exposure to chemicals in firefighting foam caused him to develop prostate cancer.
The complaint (PDF) was filed by James Jeffers, of Arkansas, in the U.S. District Court for the District of South Carolina on April 26, indicating that he was exposed to toxic per- and polyfluoroalkyl substances (PFAS) during years of work on hydraulic fracturing sites, where the firefighting foam was often used at both company branches and oil field operations.
Aqueous film-forming foams (AFFF) have been widely used throughout the United States in recent years to help fight fuel-based fires. However, versions of the anti-fire foam contain chemicals known as PFAS, including perfluorooctanoic acid (PFOA) and perfluorooctanesulfonic acid (PFOS), which can build up in the body and are now known to cause cancer.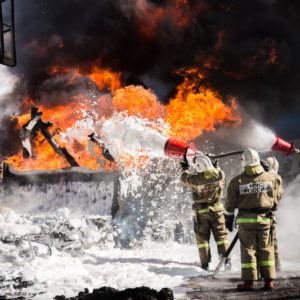 The lawsuit name numerous safety equipment and chemical manufacturers as defendants, indicating that Jeffers was exposed to the chemicals while working for Haliburton Services from 1980 to 1985, as a chemical mixer. He was diagnosed with prostate cancer in May 2018.
"Throughout his years of employment as a chemical mixer for Haliburton Services, Plaintiff was exposed to and ingested Defendants' AFFF and fluorochemical products," the lawsuit claims. "At no point during his trainings or career did Plaintiff receive any warning that Defendants' AFFF products containing PFOA and/or PFOS and/or their precursor chemicals were toxic or carcinogenic."
Hydraulic fracturing involves drilling and fracturing of shale rock to release oil and gas, resulting in the injection of water, sand and chemicals into wells at high pressures to crack the surrounding rock, thus releasing the natural gas underground and allowing it to flow to the head of the well.
Problems from fracking have previously been linked to negative environmental effects to the surrounding communities, due the impact on drinking water, as well as increased dust and exhaust from drilling rigs, compressors and the transportation of the water, sand and chemicals. The process has also been linked to increased earthquake activity. The extent of the potential harm to humans living close to these fracking sites has yet to be determined.
Many of the complaints involving water contamination and fracking illnesses are similar to those associated with exposure to PFAS water contamination, which has been identified in communities nationwide, especially near airports, military bases and other training sites where the firefighting foam has been frequently used.
PFAS Exposure Concerns
Experts indicate PFAS chemicals contained in the fire foam may take thousands of years to degrade, and past studies have shown their ability to enter and stay in the environment and human body through the air, dust, food, soil, and water.
The toxic chemicals were first introduced into the manufacturing industry in the 1940's, because of their ability to resist heat, grease, stains, and water. However, since then the chemicals have been linked to a myriad of adverse health effects including liver damage, thyroid disease, decreased fertility, high cholesterol, obesity, hormone suppression, and cancer.
Hundreds of similar lawsuits are currently being pursued by firefighters diagnosed with cancer after exposure to AFFF, including those diagnosed with prostate cancer, testicular cancer, kidney cancer, pancreatic cancer and other injuries.
The litigation also includes a number of complaints brought by local water companies or residents living around military bases, airports and other training sites, where the film-forming foam was regularly sprayed, resulting in widespread water contamination.
Given common questions of fact and law raised in the cases, the federal litigation is centralized in the U.S. District Court for the District of South Carolina, where it is expected that a small group of "bellwether" cases will be prepared for early trial dates, to help the parties gauge how juries respond to certain evidence and testimony that will be repeated throughout the claims. However, if settlements or another resolution for the lawsuits is not reached following coordinated pretrial proceedings, hundreds of individual claims brought by firefighters and others may later be remanded to U.S. District Courts nationwide for separate jury trials.
"*" indicates required fields