Infant Tylenol Recall Issued Due to Dosing Problems
February 20, 2012
By: Staff Writers
More than half a million bottles of grape-flavored Infants' Tylenol have been recalled after a number of parents complained about dosing difficulties, which raised concerns about whether children may be provided with the incorrect amount of acetaminophen. 
The Infants' Tylenol recall was announced by the FDA on February 17. The over-the-counter medication is manufactured by Johnson & Johnson's beleaguered McNeil Consumer Healthcare division.
The bottles of liquid pain reliever come with the SimpleMeasure dosing system, which uses a dosing syringe and a bottle with a flow restrictor to help measure out the correct dose. However, the flow restrictor, which should be at the top of the bottle, has been pushed into the bottle in some instances, making dosing more difficult.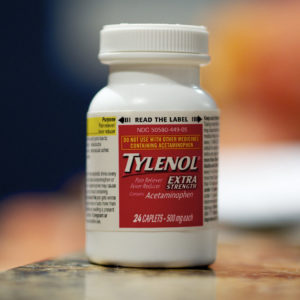 The recall affects seven lots, or about 57,000 bottles, of Infants' Tylenol Oral Suspension 1 oz. Grape. The lot numbers are BIL0U00, BIL0V00, BIL3500, BJL2D00, BJL2E00, BJL2T00 and BJL2U00. All of the bottles have a UPC code of 300450122308. There have been no reports of illness or Tylenol overdose related to this problem.
The active ingredient in Tylenol, acetaminophen, is a pain reliever and fever reducer used in a variety of over-the-counter drugs. Medication errors with acetaminophen led to 14 deaths and 74 injuries from 2000 to 2010 in children under the age of 13, according to prior FDA estimates.
Two years of ongoing manufacturing problems have led to a string of Johnson & Johnson recalls, mostly from its McNeil unit.
National attention was focused on Johnson & Johnson's OTC drugs after an April 2010 recall of Tylenol, Benadryl and Motrin, which affected affected 136 million bottles of children's medications. That recall resulted in the shutdown of the company's Fort Washington, Pennsylvania plant, an FDA injunction, and the suspension of the production of all children medications manufactured by their McNeil subsidiary for months afterward.
The ongoing problems with Johnson & Johnson  have resulted in Congressional hearings and have increased the likelihood that the FDA will receive increased powers to regulate drug makers. There have also been a number of Johnson & Johnson class action and individual lawsuits filed as a result of the ongoing problems.
Although Tylenol is a widely used medication that is generally regarded as safe, side effects of acetaminophen may increased risk of liver failure if too much of the medication is received. This has primarily been a problem with Extra Strength Tylenol and other products containing high doses of acetaminophen. Johnson & Johnson currently faces a number of Tylenol lawsuits filed by individuals who allege that the drug has carried inadequate warnings about the risk of liver problems.
Parents and caregivers are warned not to try to give Infants' Tylenol when the flow restrictor is pushed into the bottle. Consumers can contact McNeil for a refund by calling (888) 222-6036 or by visiting the website at www.tylenol.com.
"*" indicates required fields