Flesh-Eating Fournier Gangrene Infections Linked to Invokana, Farxiga, Other SGLT2 Drugs: FDA Study
May 14, 2019
By: Irvin Jackson
The findings of a new study by federal researchers appears to confirm warnings issued last year about the risk that side effects of Invokana, Farxiga and similar diabetes drugs could cause flesh-eating infections around the genitals, which are serious and life-threatening.
In a study published last week in the Annals of Internal Medicine, FDA researchers indicate they have discovered 55 unique cases of a rare necrotizing infection of the genitals known as Fournier's gangrene (FG) linked to the use of a class of diabetes drugs known as sodium-glucose cotransporter-2 (SGLT-2) inhibitors. This is a much larger number of cases than the dozen which led the agency to issue a warning about the risks last summer.
In August 2018, the FDA issued a drug safety communication about the risk of Fournier's gangrene from Invokana, Invokamet and similar diabetes drugs. Incidents of the serious genital infections, also known as necrotizing fasciitis of the perineum, can result in the disintegration of flesh and can be life-threatening.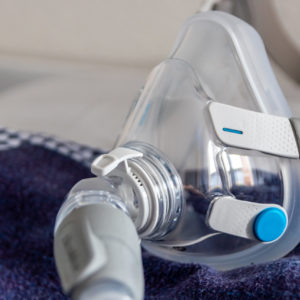 Did You Know?
Millions of Philips CPAP Machines Recalled
Philips DreamStation, CPAP and BiPAP machines sold in recent years may pose a risk of cancer, lung damage and other injuries.
Learn More
The FDA noted that while diabetes can increase the risk of the infections, the problems are still rare among diabetic patients not taking Invokana or similar drugs.
In addition to the warning, the FDA required new label warnings be added to all SGLT-2 inhibitors, including Invokana, Invokamet, Invokamet XR, Farxiga, Xigduo XR, Qtern, Jardiance, Glyxambi, Synjardy, Synjardy XR, Steglatro, Segluromet and Steglujan.
Following up on those warnings, FDA researchers combed through the FDA Adverse Event Reporting System and published case reports, discovering 55 cases flesh-eating Fournier gangrene infections from March 1, 2013 to January 31, 2019. According to the findings, the patients' age ranges were from 33 to 87 years old, and 39 men and 16 women were affected. The cases included three deaths.
By comparison, the FDA noted there were only 19 cases of Fournier's gangrene combined diagnosed among diabetics using all other diabetes drugs from 1984 to January 2019.
Researchers also determined that onset time varied greatly, with some cases of Fournier' gangrene beginning just five days after treatment started, while other cases took as long as 49 months to appear. In all cases, the patients had to undergo surgical debridement and were "severely ill" the researchers reported.
Other complications linked to the incidents included diabetic ketoacidosis, sepsis, and acute kidney injury. Some patients had to undergo surgery, two patients underwent amputations and three patients died.
"FG is a newly identified safety concern in patients receiving SGLT2 inhibitors," the researchers concluded. "Physicians prescribing these agents should be aware of this possible complication and have a high index of suspicion to recognize it in its early stages."
Invokana Health Concerns
Flesh-eating genital infections are just one of a number of adverse health risks added to Invokana and similar medications that are part of a new-generation of diabetes drugs introduced in recent years. The previous warnings have included kidney failure, diabetic ketoacidosis and amputations (specifically for Invokana). The drugs did not carry warnings for any of those risks when they were first approved by the FDA.
Invokana (canagliflozin) was the first SGLT-2 inhibitor introduced to the market, approved in March 2013. It quickly became a blockbuster treatment. The medication works in a unique way, impacting some normal kidney functions to help remove glucose from the body through urine.
In December 2015, the FDA required Johnson & Johnson to add new diabetic ketoacidosis warnings to Invokana and similar drugs, indicating that the medications increase the risk of this serious condition, which typically results in the need for emergency treatment to avoid life-threatening injury. Prior to the update, the warnings failed to alert consumers about the importance of seeking immediate medical attention if they experience symptoms like abdominal pain, fatigue, nausea, respiratory problems or vomiting.
In June 2016, the FDA again required additional warnings about the link between kidney risks and Invokana and other drugs from its class, indicating that the medications may increase the risk of acute kidney injury and other severe health problems.
In May 2017, FDA required the makers of Invokana to specifically to add warnings about amputation risks, adding information to the drug label about the increased incidence of leg, foot and toe amputations. That warning was only required for Invokana, and manufacturers of other SGLT-2 inhibitors have suggested that Invokana leg and foot amputation problems were unique to that drug, maintaining that the same risks were not seen among users of their medications.
Johnson & Johnson and Janssen face several thousand other Invokana lawsuits, which allege that users and the medical community were not provided adequate warnings at the time the drug was first introduced. The makers of other diabetes drugs from the same class, including Farxiga and Xigduo XR, have also faced similar lawsuits; though most have been filed against the makers of Invokana.
The FDA indicates that there were 1.7 million prescriptions dispensed for SGLT2 inhibitors in 2017. The agency requests anyone who has suffered side effects after taking one of these drugs file a report with the FDA MedWatch adverse event reporting system.
"*" indicates required fields