IV Acetaminophen Overdose May Be Caused By Dosing Accidents: Report
January 30, 2012
By: Staff Writers
Confusion over measurement guidelines may be causing acetaminophen overdoses, particularly among children, when the painkiller is given intravenously, according to a warning by child health experts. 
In 2011, the FDA approved the use of intravenous (IV) acetaminophen to treat fever and pain, but researchers say that medication errors due to confusion over the use of milligrams and milliliters has led to some patients receiving 10 times as much of the drug as they should.
This may increase the risk of acetaminophen side effects causing liver damage among children, according to a report published last week in the medical journal Pediatrics.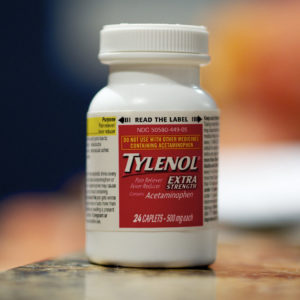 Researchers from the Rocky Mountain Poison and Drug Center at Denver Health in Colorado said that the correct use should be one milligram of acetaminophen per 10 milliliters of non-drug solution. However, they warn that if medical staff get the milligram and milliliter designations confused, patients could receive a 10-fold dose of acetaminophen.
The researchers do not indicate how often this has happened in their warning.
Acetaminophen is a pain killer and anti-inflammatory medication found in a number of over-the-counter and prescription drugs. It is also widely marketed for use among infants and children for the treatment of fever, aches and pain.
IV acetaminophen has been available worldwide for about a decade, but it was just approved for use in the United States by the FDA in 2011. Use is restricted to persons over the age of two.
Prior to approval of the IV form, the FDA has indicated that acetaminophen overdose is a leading cause of liver failure in the U.S., resulting in more than 50,000 emergency room visits, 25,000 hospitalizations and over 450 deaths annually. Medication errors with acetaminophen led to 14 deaths and 74 injuries from 2000 to 2010 in children under the age of 13, according to the FDA.
Due to the risks associated with receiving too much acetaminophen, an FDA advisory panel was convened in May to make recommendations about new warnings or other regulatory actions.
Stronger warnings about the potential risk of liver failure from acetaminophen have also been added to all products over the past year, including clearer indications about what products contain acetaminophen as the active ingredient to avoid the risk of overdose.
"*" indicates required fields