J&J Shareholders Allow Continued Sale of Talc Baby Powder Outside U.S., Despite Cancer Concerns
May 04, 2022
By: Irvin Jackson
Although the Johnson & Johnson already faces a mountain talcum powder lawsuits over the cancer risks associated with it's Baby Powder products, and has removed talc from versions of Baby Powder sold in the United States, shareholders have rejected a proposal to discontinue sales of the talc-based products worldwide.
At the company's recent annual meeting, an activist investor group, Tulipshare, proposed that the company end talcum powder sales around the globe, citing health concerns and problems with asbestos contamination that have plagued production. However, the proposal failed to receive support from a majority of the company's shareholders, meaning it will not be sent on to the company's board for consideration.
Johnson & Johnson currently faces more than 38,000 Baby Powder lawsuits and Shower-to-Shower lawsuits filed in federal courts in the United States, each raising similar allegations that the company knew or should have known that the talc-based powders increased the risk of ovarian cancer, mesothelioma and other injuries, and billions in damages have already been paid by the company to compensate plaintiffs.
In response to the massive liability it continues to face, Johnson & Johnson has recently been attempting a controversial "Texas Two-Step" bankruptcy plan, where it is trying to transfer the liability exposure to a new company, which was created for the sole purpose of placing it into bankruptcy.
While sales of Johnson & Johnson talc-based Baby Powder were halted in the U.S. in 2020, it is still sold in other parts of the world.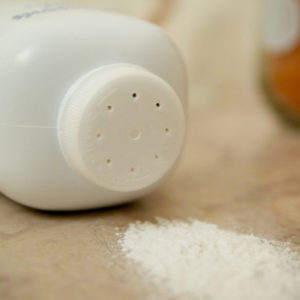 Tulipshare, a U.K.-based investor group that promotes environmentalism, consumer protection and corporate responsibility, introduced the shareholder proposal in March, calling for an end of global sales of Johnson & Johnson's talc-based products. The proposal needed a majority of voting shareholders to support it in order to be considered by the company's board, but it failed to get enough votes to advance.
"Johnson & Johnson's talc-based Baby Powder (talcum powder) was shown to contain traces of asbestos – a carcinogen known to cause cancer with no safe exposure level," Tulipshare stated in its proposal. "What's worse is that Johnson & Johnson reportedly knew about the asbestos contamination, yet continued to heavily market the product to minority, overweight women."
Johnson & Johnson maintains its products are safe and campaigned against the proposal.
The decision has no effect on the ongoing U.S. litigation or the talcum powder bankruptcy plan, which has been widely criticized by plaintiffs' lawyers, as well as bankruptcy experts, as an abuse of the legal process and an effort to delay a series of trials which were expected to go before juries this year.
Plaintiffs say Johnson & Johnson, which has billions in cash reserves, has no financial distress that would merit a bankruptcy filing. However, since the bankruptcy is being allowed to move forward, settlements for talcum powder cancer and asbestos lawsuits may be artificially capped.
Defending against the talcum powder litigation has already cost Johnson & Johnson $1 billion, on top of Baby Powder settlements and verdicts that have amounted to another $3.5 billion, according to the bankruptcy filing.
Most of the U.S. talc litigation is currently pending in the federal court system, where the cases are centralized before U.S. District Judge Freda L. Wolfson in the District of New Jersey, as part of an MDL or multidistrict litigation. Prior to the bankruptcy filing, the Court was planning to hold a series of talcum powder "bellwether" trials beginning in April 2022, which have now been delayed by the U.S. Bankruptcy Court.
"*" indicates required fields