Johnson & Johnson Attempts to Dismiss Talc Powder Safety Concerns, Ovarian Cancer Risk
March 08, 2016
By: Irvin Jackson
Following a $72 million talcum powder ovarian cancer verdict late last month, Johnson & Johnson still is working to downplay concerns about the safety of it's Baby Powder and other talc-based products, providing misleading and incomplete information for consumers. 
In response to mounting media attention and consumer awareness about the link between talc powder and ovarian cancer since the landmark jury award, the manufacturer issued a blog post defending the safety of talc, indicating that Johnson & Johnson talc products do not contain asbestos and maintaining that they have a 30 year safety record.
The statement comes after a St. Louis jury considered evidence presented during a three week trial in a case brought by the family of Jackie Fox, who died of ovarian cancer following years of using Johnson & Johnson talc powder for feminine hygiene.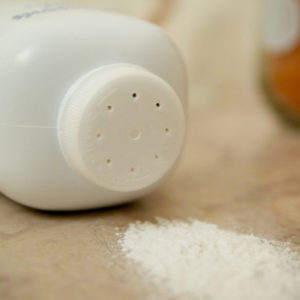 In addition to expert witness testimony presented on studies linking talc and ovarian cancer, internal memos from Johnson & Johnson were presented during the case, which appear to suggest the company decided to withhold information from women about the talc powder cancer risks.
Johnson's Baby Powder is the most widely used brand of talc powder sold by the company, which is commonly associated with use on infants to smooth skin and prevent diaper rash. However, it is also popular among adult women for feminine hygiene purposes and as a general body power. As a result of the popularity, Johnson & Johnson introduced Shower-to-Shower talcum powder, now owned by Valeant, specifically for this use.
The Fox case is one of about 1,200 similar talc powder cancer lawsuits filed against Johnson & Johnson on behalf of women throughout the U.S., each involving similar allegations that inadequate warnings were provided for consumers about the risks of applying the powder around the vagina or in women's underwear.
The only talc powder warnings provided with Johnson's Baby Powder indicate that users should avoiding contact with their eyes, inhaling the powder or applying to areas of broken skin.
In the blog post dated February 24, titled "The Facts About Talc Safety", Johnson & Johnson indicates that multiple research papers and epidemiology studies have found talc to be safe. However, the manufacturer fails to provide women with information about other studies that have identified a potential link between talc powder use on the genitals and a potential risk of ovarian cancer.
In 1992, a study at Johns Hopkins Hospital found that applying talcum powder to a woman's genitals with a sanitary napkin was associated with 379% increased the risk of ovarian cancer.
That research was followed by a study published in the American Journal of Gynecology in 1998, which was a case-controlled examination of data involving 170 Canadian women, finding that application of talc to the genitals was associated with a 149% increased risk of ovarian cancer.
More recently, a study published in the medical journal Cancer Prevention Research in 2013 suggested that women using talc on their genitals may face a 20% to 30% increased risk of ovarian cancer.
While the trial recently decided by a St. Louis jury has generated substantial media attention as a result of the large damage award, it is not the first time a jury has found evidence compelling that there is a link between talc and ovarian cancer. In October 2013, a South Dakota jury found that Johnson & Johnson failed to adequately warn about the risk of ovarian cancer from talc powder, but no damages were awarded in the case after the jury found that Johnson & Johnson as not responsible for that plaintiff's cancer.
In many cases pending in state and federal courts nationwide, evidence of talc has been found inside ovarian tumors of women who indicate that they used Johnson's Baby Powder, Shower-to-Shower or other talcum powder products over log periods of time. Plaintiffs allege that warnings about the potential talc cancer risk should have been provided so that they could make an informed decision about whether to use the powder around their genitals.
Additional trials are likely to be scheduled in the future, and a growing number of lawsuits continue to be filed as women and families learn about the link between an ovarian cancer diagnosis and talc powder used in the past.
If Johnson & Johnson fails to reach talc powder settlements or otherwise resolve the litigation, it could face substantial liability in hundreds, if not thousands, of individual trials nationwide in the coming years.
Roberta

March 11, 2016 at 10:23 pm

My mother died of ovarian cancer and I have been approached by various law firms to represent me in a case against Johnson and Johnson. It makes me sad that something we've trusted for so many years could cause this.
"*" indicates required fields