Landscaper Files Lawsuit Over Roundup Non-Hodgkins Lymphoma Diagnosis
August 24, 2016
By: Irvin Jackson
According to allegations raised in a product liability lawsuit recently filed against Monsanto, more than 30 years of heavy exposure to Roundup caused a landscaper to develop non-Hodgkins lymphoma.
The complaint (PDF) was filed by Eric Morris in the U.S. District Court for the Southern District of Florida on August 18, indicating that Monsanto knew or should have known about the Roundup non-Hodgkins lymphoma risk, yet failed to provide adequate warnings for users of their popular weedkiller.
Morris indicates that he sprayed Roundup on a weekly basis during his work as a landscaping employee from 1989 to 2008. In February, he was diagnosed with non-Hodgkins Lymphoma (NHL), and, like a growing number of other landscapers and agricultural workers, claims that the cancer was likely caused by Roundup's active ingredient, glyphosate.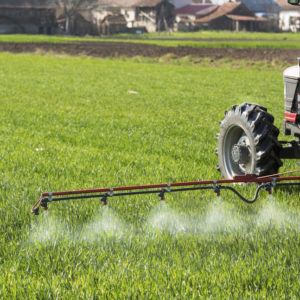 "Roundup was supposed to be safe. After all, Monsanto promoted Roundup as being harmless to humans for over thirty years — going so far as to proclaim the product safe as table salt," the lawsuit states. "The truth, however, is far more insidious. The active chemical in Roundup, glyphosate, is a carcinogen, and Monsanto has known this fact for decades."
Morris presents claims for design defect, failure to warn, and negligence, seeking both compensatory damages and punitive damages, which are designed to punish Monsanto for recklessly disregarding the safety of Roundup users.
The case joins a growing number of similar Roundup cancer lawsuits filed in courts throughout the U.S. Plaintiffs allege that they may have avoided a non-Hodgkins lymphoma diagnosis from Roundup if warnings and instructions had been provided about the risks associated with exposure to glyphosate.
In March 2015, the World Health Organization's International Agency for Research on Cancer (IARC) declared that glyphosate is a probable human carcinogen, sparking a world-wide debate about the widespread use of Roundup and what impact it may have on public health.
An estimated 2.6 billion pounds of the herbicide have been sprayed on America's agricultural land over the two decades, since Monsanto introduced "Roundup Ready" crops that are designed to survive being sprayed with with the chemical, killing the weeds but not the crops. However, Bridgeman and other plaintiffs allege that the manufacturer failed to disclose the potential cancer link with Roundup or provide adequate safety warnings for farmers, landscapers, homeowners or others regularly spraying Roundup.
As Roundup injury lawyers continue to review and file claims for individuals throughout the United States, it is widely expected that several thousand similar complaints will brought against Monsanto in courts nationwide in the coming months and years.
Efrain

October 21, 2016 at 4:21 am

I got exposed to Round Up back in the 80s and I develope an allergic reaction to heat, light, and swet, to these Days. My skin its very sensitive to the touch and rash easily!.I always suspected that was caused by that!.
"*" indicates required fields