Large B-Cell Lymphoma Resulted From 23 Years of Exposure to Roundup, Lawsuit Filed By Homeowner Alleges
September 25, 2019
By: Irvin Jackson
According to allegations raised in a product liability lawsuit filed by an Illinois man, his large b-Cell lymphoma diagnosis was caused by exposure to the weedkiller Roundup aver a 23-year time span around his home.
Scott Torvik filed the complaint (PDF) in the U.S. District Court for the Northern District of Illinois on September 23, indicating that Monsanto Company knew about the unreasonable risk of harm associated with exposure to Roundup, yet provided false and misleading information for consumers for decades.
According to the lawsuit, Roundup was regularly used by Torvik to manage weeds around his homes in Wheeling, Illinois and Prospect Heights, Illinois. However, in October 2017, he was diagnosed with large, B-cell lymphoma, which is a subtype of non-Hodgkin's lymphoma (NHL) that has been linked to the glyphosate-based weedkiller.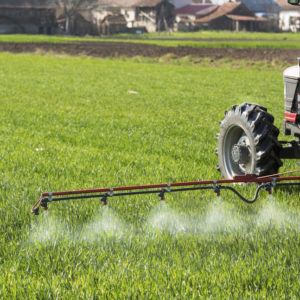 Diffuse large B-cell lymphoma (DLBCL) accounts for about 30% of all newly diagnosed NHL cases every year, causing rapidly growing and spreading tumors that can result in swelling in the neck, armpits and groin, as well as fevers, night sweats, and weight loss. Treatment of DLBCL usually involves chemotherapy and an antibody that targets the tumors cells. If properly diagnosed and treated, the overall five-year survival rate is about 58%.
The lawsuit indicates the average homeowner had no way of knowing of the potential Roundup exposure risks, due to deceptive practices by Monsanto.
"When placed in the stream of commerce, Defendant Monsanto's Roundup products were defective in design and formulation, and, consequently, dangerous to an extent beyond that which an ordinary consumer would contemplate," Torvik's lawsuit states. "Exposure to Roundup and glyphosate-based formulations presents a risk of harmful side effects including without limitation causing non-Hodgkin's lymphoma, that outweigh any potential utility stemming from the use of the herbicide."
The complaint joins more than 20,000 other Roundup lawsuits currently being pursued against Monsanto and its new parent company, Bayer.
In 2015, the World Health Organization's International Agency for Research on Cancer (IARC) determined that Roundup's active ingredient, glyphosate, was a probable carcinogen. This has resulted in restrictions and bans in a number of countries and a growing litigation.
Three cases have gone to trial over the last year, with Bayer and Monsanto losing each of the "bellwether" claims, and juries ordering the company to pay massive damage awards for withholding known information from consumers about the link between Roundup and non-Hodgkins lymphoma.
Bayer is currently engaged in a court-ordered mediation process that is designed to explore a potential resolution for the litigation.
It is widely expected that any Roundup settlement would require billions of dollars in compensation for individuals diagnosed with non-Hodgkins lymphoma, as well as the creation of a fund for future victims who have not yet been diagnosed. Given the latency for a non-Hodgkins lymphoma diagnosis, the fund would have to be sufficient to compensate individuals diagnosed over the next decade, but without cancer warnings on Roundup, there would be no end for future cases.
Mary Jane

December 3, 2019 at 12:23 pm

My husband diagnosed with DLBCL, stage IV...treatment chemotherapy and radiation.....spent 5 months in hospital unable to walk and eat, lost over 30 lbs. ...farmed with RoundUp since 1978...had to sell......Thank God he is still with us though problems with choking due to radiation damage..
"*" indicates required fields