Lawsuit Alleges Kidney Cancer Caused by Firefighting Foam Application
February 25, 2021
By: Irvin Jackson
A Florida man indicates he and other firefighters nationwide were never adequately warned about the risks associated with application of firefighting foam, indicating exposure to the toxic chemicals caused him to develop kidney cancer following years of use during training and to extinguish fires throughout his career.
Aqueous film-forming foam (AFFF) used by military and civilian firefighting agencies over the past several decades contained cancer-causing chemicals known as per and polyfluoroalkyl substances (PFAS), which can build up in the body and take thousands of years to degrade.
In a complaint (PDF) filed in the U.S. District Court for the District of South Carolina on February 18, Anthony Wayne Hull indicates he developed kidney cancer caused by firefighting foam used on a regular basis, presenting claims against 3M Company, Kidde-Fenwal, Inc., Buckeye Fire Equipment Company and numerous other chemical and safety equipment manufacturers as the defendants.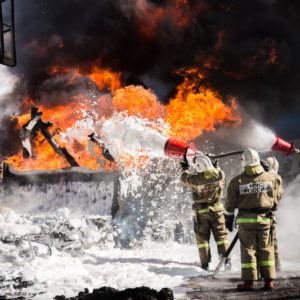 Hull indicates the defendants never warned about the toxic side effects of PFAS contained in the products, resulting in inadequate protective equipment used during foam application in the field or during training exercises.
"Defendants did not warn public entities, firefighter trainees who they knew would foreseeably come into contact with their AFFF products, or firefighters employed by either civilian and/or military employers that use of and/or exposure to Defendants' AFFF products containing PFAS and/or its precursors would pose a danger to human health," Hull's lawsuit states. "Defendants have known of the health hazards associated with AFFF and/or its compounds for decades and that in their intended and/or common use would harm human health."
The complaint joins a number of firefighting foam lawsuits filed across the nation, all raising similar allegations that individuals developed kidney cancer, testicular cancer, pancreatic cancer and other injuries after applying the products.
Given common claims brought throughout the federal court system, centralized pretrial proceedings have been established in the District of South Carolina, where the parties are engaging in coordinated discovery and preparing for a series of early "bellwether" trials designed to gauge how juries are likely to respond to certain evidence and testimony that will be repeated in claims brought by firefighters nationwide.
"*" indicates required fields