Military Base Water Contamination Class Action Lawsuit Filed Against Firefighting Foam Manufacturers
September 14, 2022
By: Irvin Jackson
Following widespread water contamination caused by per- and polyfluoroalkyl substances (PFAS) in aqueous film-forming foam (AFFF) used in recent years to combat fuel-based fires, 3M Company and other manufacturers face a class action lawsuit brought on behalf of individuals who lived or worked on military bases, where the toxic firefighting foam was regularly used during training exercises.
The complaint (PDF) was filed earlier this month in the Supreme Court of the State of New York, by plaintiffs Ernie Huizar, Ramond Williams, Donald Crook and James Paulk, who seek class action status to pursue damages from more than a dozen firefighting foam manufacturers, who they say knowingly supplied the U.S. military with AFFF that infiltrated nearby water supplies.
AFFF has been widely used for decades by military and civilian firefighting organizations, containing high levels of PFAS, which are commonly described as "forever chemicals," since they do not naturally breakdown and can bioaccumulate in the body and environment, causing a number of serious health conditions among former firefighters and instructors.
The toxic chemicals were first introduced into the manufacturing industry in the 1940's because of their ability to resist heat, grease, stains, and water. However, since then numerous studies have found that the chemicals may cause a myriad of adverse health effects including liver damage, thyroid disease, decreased fertility, high cholesterol, obesity, hormone suppression, and cancer.
A growing number of former firefighters and military service members, and municipal water systems are now pursuing firefighter foam lawsuits after water sources became contaminated and those living in the vicinity developed various different types of cancer, including prostate cancer, testicular cancer, kidney cancer, pancreatic cancer and other diseases.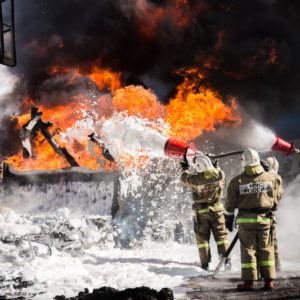 All four plaintiffs in this latest complaint indicate they were stationed on various military bases that have been found to contain PFAS water contamination, which put them at increased risk of developing various ailments. Huizar, for example, was stationed at Camp Lejeune, Paris Island and other bases, where he claims he was exposed to high levels of PFAS chemicals. While the plaintiffs do not indicate they have been diagnosed with any particular illnesses, they indicate they now must be monitored for cancers and other health problems which may result from the firefighter foam-contaminated water.
"Due to this contamination, Plaintiffs and the Class Members have suffered real personal injuries, bioaccumulation of PFAS in their bodies, as a result of the release of PFAS to their water supplies," the lawsuit states. "Plaintiffs and the Class Members have suffered an assortment of diseases and medical conditions as a direct result of their exposure to the PFAS contamination in their water supply."
The lawsuit indicates the plaintiffs and other class members have a "legitimate fear" of developing health problems doe to their PFAS exposure, which could include liver injuries, immune system damage, high cholesterol, thyroid problems and cancer. The water contamination class action lawsuits seeks to represent all individuals who formerly or currently live on military bases nationwide that have been found to contain high levels of PFAS in the water.
The class action comes as the manufacturers already face hundreds of firefighter cancer lawsuits brought over their failure to warn individuals using AFFF about the long-term risks associated with exposure. There are also a growing number of PFAS water contamination lawsuits being pursued against the same defendants by individuals diagnosed with cancer or ulcerative colitis after living near near military bases, airports and other training facilities, where the chemicals have contaminated local drinking water.
James

December 8, 2022 at 7:08 pm

contaminated water issue

Nikki

November 1, 2022 at 2:42 pm

Please note the years of service members you are targeting. I called and was told that they were not looking for service members of my Era.

John

October 14, 2022 at 2:12 pm

I was exposed to contaminated water
"*" indicates required fields