Drinking Water PFAS Contamination Near Military Bases Highlighted in Defense Department Data
June 02, 2022
By: Irvin Jackson
Newly released federal data confirms that many sites near military bases and installations throughout the U.S. are highly contaminated with toxic chemicals known as per- and polyfluoroalkyl substances (PFAS); which is likely the result of high levels of the chemicals contained in firefighting foam widely used in recent decades during training and in response to petroleum-based fires.
The U.S. Department of Defense (DoD) released the results of testing of off-base drinking water for PFAS last week. The report that found many locations had drinking water PFAS contamination levels so high they exceeded the safe levels established by the U.S. Environmental Protection Agency, which many environmentalists and consumer safety advocates criticize as too lax.
PFAS were first introduced into the manufacturing industry in the 1940's, because of their ability to resist heat, grease, stains, and water. However, the chemicals have since been linked to a myriad of side effects, including liver damage, thyroid disease, decreased fertility, high cholesterol, obesity, hormone suppression, and cancer.
In addition to firefighting foam, PFAS chemicals are also used to manufacture a number of products, including some food packaging materials, pizza boxes, popcorn bags, fabrics, nonstick cooking pans, and other products.
As a result of the poorly regulated and widespread use, PFAS water contamination lawsuits are being filed by plaintiff's in many areas, claiming they developed ulcerative colitis or cancer from high volumes of PFAS chemicals being dumped into the ground water surrounding chemical manufacturing plants and around military bases, airports and other training facilities.
In recent years, hundreds of firefighting foam lawsuits have been filed by former civilian and military firefighters diagnosed with various forms of cancer after direct exposure to the chemicals, and a number of municipal water systems are also pursuing claims against the chemical manufacturers over clean-up costs.
As more information is discovered about the more widespread contamination problems in surrounding communities, a growing number of individuals are now pursuing potential drinking water PFAS lawsuits, alleging that they developed kidney cancer, testicular cancer, pancreatic cancer, liver cancer, bladder cancer, ulcerative colitis and other injuries.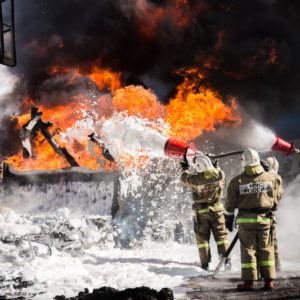 The data recently released by the DoD covers facilities in seven states, including Florida, Pennsylvania, Montana, Michigan, Wisconsin, Washington, and Virginia. They looked at water samples from off-base drinking water sources located near or "down gradient" from military installations, and have created a searchable database of their findings.
Of those, the Naval Air Station at Whidbey Island and the U.S. Army Yakima Air Station in Washington State, the Willow Grove Naval Air Station Joint Reserve Base in Pennsylvania, and the Camp Grayling Army Airfield in Michigan all had levels of PFAS which exceeded the EPA's health advisory levels of 70 parts per trillion.
"These levels are extremely high, said Jared Hayes, a policy analyst with the Environmental Working Group (EWG), which issued a press release on May 31 in response to the data. "For too long, service members and people living in communities near military installations have been victims of the Pentagon's failure to act."
Nearly 400 military installations have been confirmed as having ground water contaminated with PFAS, the Environmental Working Group pointed out. Contamination is suspected, but not yet confirmed, at hundreds of others.
The environmental group lauded the DoD's release of the data, but complained that the Defense Department has been too slow to clean up PFAS pollution.
The National Defense Authorization Act of 2022 ordered DoD to end its use of aqueous film-forming foam made with PFAS, and defense officials say that a PFAS-free foam should be available soon.
"*" indicates required fields