Interactive Map of PFAS Drinking Water Contamination Launched for Minnesota Residents
June 13, 2022
By: Russell Maas
In response to mounting concerns about the side effects of PFAS drinking water contamination, Minnesota state health officials have released an interactive dashboard that will allow residents to track areas where potentially toxic per- and polyfluoroalkyl substances (PFAS) have been discovered in tap water.
The state Department of Health launched the Minnesota PFAS dashboard last week, allowing residents to see the status of PFAS water contamination testing in their local community water systems. The map also provides information on how PFAS chemical exposures can be harmful.
The new tool for the public comes amid rising concerns over health risks from PFAS chemicals in drinking water, which recent studies have linked to a myriad of adverse side effects, including autism, ulcerative colitis, liver damage, thyroid disease, decreased fertility, high cholesterol, obesity, hormone suppression, and cancer.
PFAS Drinking Water Lawsuits
Were you or a loved one diagnosed with cancer following exposure to PFAS-contaminated drinking water?
CONTACT A LAWYER
On the Minnesota Department of Health's webpage, officials warn that PFAS have been found in both the groundwater and surface water in multiple geographical areas across the state, and that PFAS are emerging contaminants.
State health officials are alerting residents that testing and research are being done to determine how the chemicals move through water systems, and will recommend actions to individual public water systems to address potential health concerns as they are discovered.
The dashboard homepage indicates that the results of all currently known and future PFAS testing of community water systems will be uploaded, which users will be able to utilize an interactive map, showing the status of PFAS contamination.
PFAS Drinking Water Contamination Problems
PFAS were first introduced into the manufacturing industry in the 1940's and were popularly used because of their ability to resist heat, grease, stains, and water. However, PFAS chemicals gained the nickname "forever chemicals" due to how they persist and build up in the environment.
One of the primary uses of PFAS chemicals has been from aqueous film-forming foams (AFFF) commonly used by the military and firefighting organizations throughout the country. Currently, 3M Company and other chemical manufacturers are facing a growing number of firefighter cancer lawsuits seeking financial compensation and settlement benefits for injuries which may have been avoided if warnings and safety recommendations had been provided about the harmful long term side effects of PFAS exposure.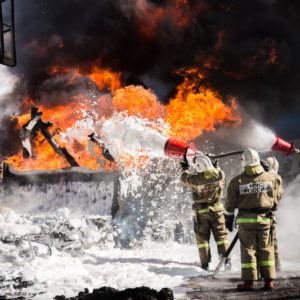 In Minnesota, PFAS in drinking water has been a growing concern since 2010, when the Minnesota attorney general filed a lawsuit against 3M seeking to collect damages for contaminating the Twin Cities Metropolitan Area drinking water and natural resources with harmful PFAS chemicals.
The Minnesota PFAS lawsuit against 3M was settled on February 20, 2018, after 3M agreed to pay $850 million to the state. At least $700 million of the award went towards multiple Minnesota drinking water projects to filter out PFAS contamination in 14 different communities that spanned over 150 square miles.
Minnesota's neighboring state, Wisconsin, is also currently facing a PFAS drinking water contamination crisis. On May 27, Wisconsin's Department of Health Services sent a letter to the Wausau City Council warning that "drinking unfiltered Wausau drinking water poses a health risk due to the PFAS levels measured."
The results revealed six separate wells providing the local drinking water in the City of Wausau produced levels of PFAS ranging from 23 to 48 parts per trillion, which far exceeds the DHS's PFAS health advisory limit of 20 parts per trillion. As a result, residents are being told to limit their exposure to PFAS in Wausau's drinking water by avoiding consumption.
"*" indicates required fields