Allergan Breast Implant Class Action Lawsuit Filed Over ALCL Risk in Netherlands
April 11, 2023
By: Irvin Jackson
While continuing to face growing breast implant cancer litigation in the United States, Allergan now faces a class action lawsuit in the Netherlands, which was brought on behalf of about 5,000 women over the manufacturer's failure to disclose the risk of breast implant-associated anaplastic large-cell lymphoma (BIA-ALCL), which has been linked to certain large surface area designs sold in recent years.
Anaplastic large cell lymphoma (ALCL) is a serious type of non-Hodgkin lymphoma, which is often aggressive and may spread quickly if not diagnosed promptly. However, researchers have found that women with certain types of breast implants are 40 times more likely to develop the cancer, compared to women without implants.
After concerns about the problems emerged several years ago, Allergan issued a breast implant recall for all versions of it's Biocell textured surface design, which was linked to nearly all known cases of BIA-ALCL.
The FDA also required manufacturers to provide a black box warning on their products and a number of breast implant cancer lawsuits have been brought by women throughout the U.S., alleging that they may have avoided a diagnosis if proper information about the risks had been disclosed to users and the medical community.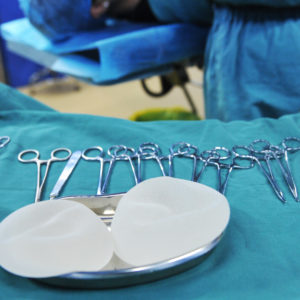 The Allergan breast implant lawsuit filed in the Netherlands was brought by the Bureau Clara Wichmann, a women's rights organization, which indicates they are seeking nearly $1 billion (€900 million) in damages for about 5,000 women who received the breast implants, which they now say have put the women at increased risk of BIA-ALCL.
The lawsuit seeks damages which would pay for the implants to be removed and for the women to undergo breast reconstruction, as their health insurance will not cover the removal and reconstruction if they are not deemed medically necessary. However, that would mean a BIA-ALCL diagnosis, which the women's group considers too late.
The complaint also seeks damages for the women's pain and suffering.
Breast Implant ALCL Risks
The American Society of Plastic Surgeons indicates the worldwide number of reported cases of BIA-ALCL was 1,333 as of late 2022. They also found 35 deaths associated with the condition since it was first detected in 1997.
In the United States alone, at least 402 BIA-ALCL cases have been identified, including eight deaths, according to data from the University of Texas MD Anderson Cancer Center. There have been about 90 such cases reported in the Netherlands.
There are currently more than 1,000 Allergan breast implant ALCL lawsuits pending in the U.S. federal court system, each raising similar allegations that the textured design was unreasonably dangerous and defective.
"*" indicates required fields