FDA Urged to Lift Warnings on Long-Term Use of Nicotine Gum, Patches
March 02, 2011
By: Staff Writers
The FDA is reviewing the long-term use of over-the-counter nicotine replacement products, such as gum and patches, which appear to have no side effects after extended use and have proven effective in helping people stop smoking. 
Currently, nicotine gum and patches are only recommended in the United States for 12 week programs to help smokers quit. However, studies have shown no long-term nicotine replacement product side effects, and they have been shown to be equally or more effective than prescription drugs like Chantix, but without some of the more dangerous psychological side effects of Chantix.
Experts are urging the FDA to lift the 12-week-only warning so that former smokers will continue to use products like GlaxoSmithKline's Nicoderm patch and Nicorette gum instead of returning to their old smoking habits. Experts say that even though the products contain nicotine they are still far less dangerous than smoking.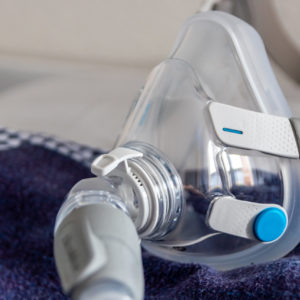 Did You Know?
Millions of Philips CPAP Machines Recalled
Philips DreamStation, CPAP and BiPAP machines sold in recent years may pose a risk of cancer, lung damage and other injuries.
Learn More
In 2009, Congress and President Barack Obama gave the FDA the power to regulate tobacco products and the agency was instructed to consider loosening the 12-week only warnings on nicotine replacement products, but it has yet to do so. The 12-week limit comes from the approval of the first products in 1984, which used 12-week long clinical trials to test them.
In 2008 a study published in the medical journal Thorax found that there was no significant difference between the long-term quit rates for smokers using Nicoderm or Chantix. But while Nicoderm's side effects can include skin irritation and rashes, they pale in comparison to those of Chantix.
Unlike nicotine-replacement products, Chantix (varenicline) is a prescription medication that some users have used to help reduce the urge to smoke. The medication was approved in the United States in 2006, and works by reducing the positive feelings that come from cigarettes, blocking the receptors in the brain commonly stimulated by nicotine. However, the impact of the drug on the brain has resulted in a number of reports from users who experienced sudden, unusually aggressive behavior, thoughts of self-harm and suicide.
Although a "black box" warning was added to Chantix in June 2009, a large number of serious psychiatric problems continue to be reported to the FDA. This has caused some groups to call for a Chantix recall to be considered or for ore severe restrictions to be placed on the medication. Extending the approval for nicotine gum and patches beyond 12 weeks may cut down on the number of smokers who feel that they need to turn to a prescription medication to help them stop smoking.
A number of individuals have filed a Chantix lawsuit against Pfizer for failing to adequately research the side effects of the stop-smoking aid and for failing to adequately warn that the medication may increase the risk suicide and other psychological problems. The federal Chantix litigation is consolidated and centralized in the U.S. District Court for the Northern District of Alabama, where the first trial is unlikely to reach a jury until at least 2012.
Eddie

June 10, 2022 at 3:04 pm

Pretty much the same story. Started smoking when I was 43 smoked a little less than a year and started chewing the gum to quit. That was 20 years ago. In the last few years I've more cavities, root canals, crowns and bridges. Every time I go to the dentist I have another cavity or two it seems.

WENDY

February 25, 2022 at 1:33 am

I too used the gum and lozenges for a number of years thinking it was better than smoking. In 2007 my beautiful strong teeth were fine by the dentist. I did ask him about the teeth issue although I hadn't seen or heard it anywhere. He and two other dentists since then had not heard of it! I did ask. By 2011 I was told my enamel was gone and I lost about 8 teeth. The others are barely hanging [Show More]I too used the gum and lozenges for a number of years thinking it was better than smoking. In 2007 my beautiful strong teeth were fine by the dentist. I did ask him about the teeth issue although I hadn't seen or heard it anywhere. He and two other dentists since then had not heard of it! I did ask. By 2011 I was told my enamel was gone and I lost about 8 teeth. The others are barely hanging on. I lost all of them on my left bottom row where I "parked" them. I am disabled, far below the poverty line, and the partial dentures my insurance covers don't stay in. I did not see this coming and there wasn't any warning. I can't afford implants they are way out of my reach financially. The thousands of dollars that people in the previous comments cited are CORRECT ! Oh and I only have one top and one bottom tooth that can chew, I practically need a baby food grinder. I'm in if there ever is a lawsuit.

Cynthia

January 15, 2022 at 6:08 pm

I chewed nicotine gum for maybe 5 years. 4mg every minute of my waking day (and some sleeping). I have had 2 cervical spine surgeries and I have adult onset scoliosis. I have degenerative disc disease. This has caused a multitude of problems. It is so difficult to work any more but I have to for the health insurance. The same health insurance that gave me access to free nicotine gum that se[Show More]I chewed nicotine gum for maybe 5 years. 4mg every minute of my waking day (and some sleeping). I have had 2 cervical spine surgeries and I have adult onset scoliosis. I have degenerative disc disease. This has caused a multitude of problems. It is so difficult to work any more but I have to for the health insurance. The same health insurance that gave me access to free nicotine gum that seemed to always be refillable.

Georgene

January 14, 2021 at 6:24 pm

I cannot believe there are no class action lawsuits against the Nicorette gum distributors. I started showing the gun in 1986 I quit and December 2012 when I was diagnosed with colon cancer, went through four serious surgeries still dealing with colon cancer. Now in 2020, all my teeth are falling out. Please, if there is anybody out here who knows about a class action lawsuit Please let me know.

Ann

May 30, 2020 at 10:45 pm

I have used Nicorette 4mg for over 15 years. When I am anxious I chew a lot. Now, I am having bladder inflammation and horrible pain. I am praying it's not bladder cancer. Drs always told me it was safe!!

Christine

March 1, 2020 at 3:35 am

When WILL there be a class action lawsuit??? I have had to travel a lot in the past several years, and use Nicorette gum, sometimes for extended periods of time not just on planes, but for the duration of waiting 3 hours either side of international trips. I use them in classes lasting entire days and notice I have breathing and coughing problems when I chew the gum, whereas I do not while just sm[Show More]When WILL there be a class action lawsuit??? I have had to travel a lot in the past several years, and use Nicorette gum, sometimes for extended periods of time not just on planes, but for the duration of waiting 3 hours either side of international trips. I use them in classes lasting entire days and notice I have breathing and coughing problems when I chew the gum, whereas I do not while just smoking cigarettes. Since my travel began, I developed "smoker's polyps" on my vocal chords. I have smoked all my life and never had these until using Nicorette. Now, these have become pre-cancerous (on the side of my throat where I park my gum the longest). Not only this, I have lost the teeth that held my bridges and crowns in place and it has cost me over $10K to replace them over the past two years that I have had the most travel and exposure to non-smoking areas. I will likely be looking at implants next. There are no warnings on the packages about damage to dental work or concentration of carcinogens. Instead, some even bragged about "whitening teeth." IWhen the doctor hit me with the most recent diagnosis of pre-cancerous conditions in my throat, I only then put two and two together. Sure, I wish I never became addicted to nicotine, but I sure don't think that Nicorette products should be marketed as safe when they may actually be more dangerous than smoking cigarettes! They do increase blood pressure too, but right now that's the least of my problems. How DOES one start a class action suit, because I'm ready to do it.

D.

January 19, 2020 at 6:16 am

25 years, 40 + mg a day nicorette. Thought it was okay, even good for memory and preventing parkinsons (Mom died from it). So easy to conceal. Athletic, highly educated, no diabetes or cancer, normal weight, very active and fairly healthy up until 4 years ago. Feel stupid for my addiction. Not much info available as to long term effects. Have been diagnosed with progressive circulatory, heart a[Show More]25 years, 40 + mg a day nicorette. Thought it was okay, even good for memory and preventing parkinsons (Mom died from it). So easy to conceal. Athletic, highly educated, no diabetes or cancer, normal weight, very active and fairly healthy up until 4 years ago. Feel stupid for my addiction. Not much info available as to long term effects. Have been diagnosed with progressive circulatory, heart and nerve damage. None of my siblings suffer from these things. Currently in significant withdrawl after cutting back by 50%. Plan to quit completely within a month, IF I survive. When will we see a class action lawsuit for NRT??

Maty

August 25, 2018 at 3:26 am

I've been chewing the gum 15 years, really addicted to it. My gums started to recede by my two bottom front teeth, so bad now I have total tooth root exposure. I need a skin graft now. Its upsetting, I have beautiful teeth. I'd like to sue the nicotine company

mick

July 21, 2017 at 8:51 am

been using nicotine gum for a couple years. my eyes are having trouble focusing like i try and squint to focus my eyes and it doesnt work or takes a long time my skin is horrible dry have acne pimples with no head just stay under the skin my hair is so thin i can see my scalp and have hair falling out but not a lot these are all normal problems you if you use nicotine gum and it isnt just me[Show More]been using nicotine gum for a couple years. my eyes are having trouble focusing like i try and squint to focus my eyes and it doesnt work or takes a long time my skin is horrible dry have acne pimples with no head just stay under the skin my hair is so thin i can see my scalp and have hair falling out but not a lot these are all normal problems you if you use nicotine gum and it isnt just me look it up plenty of people saying what i just told you.

M

April 9, 2016 at 4:22 pm

I've been addicted to nicotine lozenges for 6 years. In the past year and a half I've experienced bizarre and unpredictable (not related to negative stress or change in diet or skincare product) outbreaks of a red prickly rash on my face - especially around mouth and nose. More troublesome than the rash is I've had to have 4 teeth extracted from upper jaw as a result of decay below the gum line re[Show More]I've been addicted to nicotine lozenges for 6 years. In the past year and a half I've experienced bizarre and unpredictable (not related to negative stress or change in diet or skincare product) outbreaks of a red prickly rash on my face - especially around mouth and nose. More troublesome than the rash is I've had to have 4 teeth extracted from upper jaw as a result of decay below the gum line resulting in bone loss and infection. I have always been fortunate to have extremely good dental care all my life as well as to have a decent dental insurance plan. My personal and dental hygiene is not the culprit here. The affected teeth that are no more are/were located in exactly the place where I 'park' my lozenges. When my dentist recently asked if I'd been taking any new medication I said no, not thinking of nicotine as a medication. By the time I got home - after having to make another appointment to have another molar extracted and, once that site heals, another molar 'patched up', if possible - I went online to see if there was any info about 'nicotine (brand name) lozenges and tooth decay/dental problems/etc.' If I understand it correctly, in 2009 Obama urged the FDA to lift the 12-wk use period on nicotine products because no evidence of risk/harm. There should be a much stronger warning that these products addictive and while they may be 'better than smoking', as my internist has said, they are still addictive, and the damage to your teeth, jaw, skin etc can create further health issues and be extremely expensive to remedy. I'm having to consider a minimum of 4, maximum of 6 tooth implants to the tune of @$40,000 but my insurance won't cover any portion of it and I don't have the money. So I'm stuck with (and feel lucky because I know there are many, many people who don't have dental care) wearing an plastic appliance with artificial teeth to fill the gaps. Well, I suppose the $$ I'll save not buying nicotine lozenges 2-3 times a week might help.

jamie

October 27, 2015 at 7:06 pm

I am surprised that there isn't more negative comments on here regarding the usage of the nicoderm patches and gum!! Oh yeah as smokers we don't say to much because we're always being judged, so we don't say anything when we try something to appease the none smoker. Because we know we're going to hear "you only did it to yourself " well that said my experience with the nicoderm patch ended up in [Show More]I am surprised that there isn't more negative comments on here regarding the usage of the nicoderm patches and gum!! Oh yeah as smokers we don't say to much because we're always being judged, so we don't say anything when we try something to appease the none smoker. Because we know we're going to hear "you only did it to yourself " well that said my experience with the nicoderm patch ended up in a horrible ending. I was on the patch for 6 months actually started on the step 2 the step 1 was way to strong. also keep this in mind this was all confirmed by a doctor that doing this for a long period of time was way better than smoking. I'm well that totally back fired on me when I had a drastic body change way before I was even due to happen. I went through menopause without any warning. Everything stopped! ! I was tested for my hormone level "thinking I was pregnant" and the results came back I had hormone readings like I have been in menopause for 10 years!! Well I contacted nicoderm and as usual get blown off get a hold of someone in our food and drug control. Oh and guess what? ? Get blown off again! ! Oh remember my comment about us as smokers not like whinning about anything well of course get judged again! ! Yes we know smoking isn't good for us we get it, but using us smokers as your lab rats is outrageous! ! If I could I would love to sue nicoderm make them pay out of there pocket for what I had to endure. Please smokers don't be lab rats for these big money hungry corporations! !

John

August 19, 2014 at 4:10 am

I have been chewing nicorette gum, 4mg, for almost 20 years. What I think is especially pertinent, though, is that I am a PharmD RPh (registered pharmacist, Tx, 25years in good standing) and a PhD in nuclear medicine. I also have two board certifications. I practiced retail pharmacy in the late 1980s and early 1990s. Back in those days, it was not only common, it was expected for pharmace[Show More]I have been chewing nicorette gum, 4mg, for almost 20 years. What I think is especially pertinent, though, is that I am a PharmD RPh (registered pharmacist, Tx, 25years in good standing) and a PhD in nuclear medicine. I also have two board certifications. I practiced retail pharmacy in the late 1980s and early 1990s. Back in those days, it was not only common, it was expected for pharmaceutical reps to visit the pharmacies. We'd let them know who was writing for their product, or who WASN'T!! Now.....I regret, sincerely, that I read and then discarded what the drug representative gave me, only I can assure you there is a record with M Dow......I was particularly interested to know of any information regarding long-term use....or most specifically....long term addiction. See....my dad smoked. My older brother (also a pharmacist) smoked. We watched when the very first nicotine patches were introduced......because several prisons prohibited smoking, a significant number of the 3rd clinical trial (final step in what is required for an 'investigational new drug' to be classified as a new drug, approved and ready to be launched! Let me add this......when I first graduated pharmacy school, I worked as fast and furious as possible......my folks had no money and I refused to take loans. I graduated with a BS in pharmacy in 1989. But once I finally had the opportunity to set aside significant savings, I was in a position to return to pharmacy school. And when I returned, to earn the PharmD (from University Texas, Austin....the 3rd highest ranked pharmacy college in the nation!!).......I literally devoted every waking hour towards study and learning. I mention this only to make a point. This is not the forum, but whenever you take something "by mouth"......if it goes into the stomach, it will ultimately be filtered by the liver, before it ever reaches the systemic circulation. And this filtration, "first pass effect" significantly decreases the amount of drug original introduced. Certainly, like me, you're thinking....."but this gum.....you chew....then park....then chew." So, yes, theoretically, the nicotine is introduced into the bloodstream. Even if this is 100% true, the vascular beds around the gums of the mouth......whatever they absorb is floated on, downstream, and ultimately metabolized.....before ever reaching receptors OR the brain. So sorry......I apologize for the intensity of my thoughts....... Back in the early 1990s, we would see the drug reps at least once a week. They were promoting nicorette......"as a means to stop smoking.......or, at minimum....an addiction that is not contaminated with all the harsh chemicals of cigarettes....an addiction that is not imposing on family or friends or coworkers....anyone in the vicinity". Every pharmacy college incorporates "drug information" into the degree program.....at least 2 semesters, but as many as 4. To spare you from a novel or tome, I'll make my point. If a physician calls a pharmacist and asks, "do people get addicted to nicorette gum???" The general public would have hundreds of internet resources that each purport some answer to the question. In professional practice, in medicine, we must perform a very laborious and complicated search because we can only provide an answer substantiated by "primary" resources (original publications, peer reviewed, statistaclly analyzed and validated)......and secondary or tertiary. By tertiary, you still must exercise caution and act with judicious responsibility. In the world of pharmacy/drugs, the books (National Formulary, United States Pharmacopeoia, Merck Index, Remingtons; Goodman and Gilman)......these books are authentic publications, and regarded with great respect. I'll get to my point in one minute. I'm angry because I had requested studies....clinical trials....even theories or hypothesis. It made sense...."listen....nicotine is addictive.....who does not know that??? Cigarettes....they stink, they irritate those around you.....they color your teeth yellow and age your skin, especially on face, no unsimilar to a tanned animal hide............and here we have this gum......discrete.....nobody even has to know!!! AND you can enjoy your nicotine fix.....during work hours.....on an airplane!!!" Perhaps I wanted to believe his words, but still I insisted on reviewing studies and conclusions Merrill Dow reached based upon clinical trials. (oh....BTW......the PDR...physician's desk reference....this book is nothing more than a bound reference composed of the package inserts----created entirely by the manufacturer of a drug--which introduces possible bias.......you can never, ever...or at least you should never use any reference from PDR or package insert to substantiate a point.) I remember when several testosterone gels first entered the market.....it's been over 15 years. Turns out that just about every single man over 35 has "low T". Those greedy drug companies!!! And guess what.....do you know why anabolic steroids, such as testosterone, are schedule in the class 3 of the controlled substances act? It is not because of addiction or potential abuse.....it is because countless body-builders died. Testosterone.....it does many different things, but one in particular has to do with muscle breakdown and new muscle development. Using steroids, many body-builders achieved a freakish physique, but one they believed to be extraordinary. What muscle.....in your body......works continuously? The heart! You guessed it. So countless body-builders died when their hears grew so large, there was not enough room in thoracic cavity to function. What does this have to do with nicorette???? Just recently I've noticed reports of "chipmunk" syndrome. At least it sounds cuter than 'elephantman disease!".....only it's not good. The number of men >40 using testosterone replacement therapy would boggle your mind. And I'm one of them. And....even with 'more degrees than a thermometer'.....I never once stopped to think...... Testosterone replacement + continuous/24hour, nearly, chewing of gum. You got it......"chipmunk cheeks" or "chipmunk syndrome". I happen to have an identical twin brother. Over the last several years, it's been very frustrating to discover losing weight did not restore my face, as I'd have expected.....We were identical all our lives, but now my face is very different. And the problems with teeth and gums........I can assure ANYONE that continuous chewing nicorette beyond those 12 weeks......one day there will be a price......whatever it costs to rebuild a mouth full of teeth! And finally, I'll add this. I've discovered people that chew nicorette often opt to keep their business secret, even when they need their doctor's advice. Not only will nicorette gum elevate your blood pressure, significantly, but it has a profound effect on heart rate......Normal is around 80 bpm. Very athletic folks.....60bpm. Nicorette addicts? >110bpm. I don't think you have to go to medical school to appreciate the implications
"*" indicates required fields