Inappropriate Use of Antipsychotics as Nursing Home Chemical Restraints to Be Investigated By CMS
January 19, 2023
By: Irvin Jackson
The White House has called on the Centers for Medicare & Medicaid Services (CMS) to launch targeted investigations into unnecessary use of antipsychotic medications on nursing home residents, which carry known dangers and are often used as unethical "chemical restraints", to sedate unruly residents.
CMS issued a press release on January 18, announcing that the agency will begin conducting audits to determine whether nursing homes are following the proper diagnosing and prescribing guidelines before administering antipsychotics to residents.
Nursing Home Chemical Restraint Concerns
For years, nursing homes have faced scrutiny over the common practice of giving antipsychotic drugs to restrain and calm residents with dementia or schizophrenia, even though the drugs serve no medical purpose and may increase the risk of serious side effects.
Past research has shown antipsychotics use among elderly patients not only provides no treatment benefits, but could increase their risk of dying. This tactic of pacifying dementia patients with drugs is known as "chemical restraint" and is often considered a form of nursing home abuse.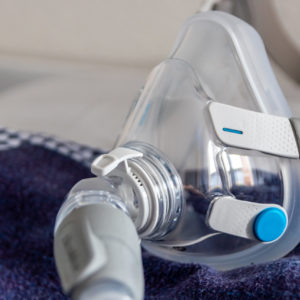 Did You Know?
Millions of Philips CPAP Machines Recalled
Philips DreamStation, CPAP and BiPAP machines sold in recent years may pose a risk of cancer, lung damage and other injuries.
Learn More
The unnecessary use of antipsychotics is especially concerning because the drugs carry black box warnings, the strongest classification of label warning, from the U.S. Food and Drug Administration due to their increased risk of causing strokes, heart attacks, diabetes, Parkinson's disease, and falls. Some also carry the risk of liver toxicity and inflammation of the pancreas.
Nursing Home Medication Abuse Investigations
Starting this month, officials from the U.S. Department of Health and Human Services' CMS division will begin conducting targeted, off-site audits to determine whether nursing homes have erroneously diagnosed patients with schizophrenia. The investigations will seek to identify which nursing homes are forcing these types of diagnoses to falsely justify prescribing the resident antipsychotic medications.
The press release states these new actions are a part of ongoing efforts to reduce nursing home abuse inflicted on the nation's most vulnerable population, which represents approximately 1.4 million seniors, people with disabilities, and others living in over 15,500 Medicare and Medicaid-certified nursing homes throughout the United States.
If an audit determines a nursing home has inaccurately coded a resident as having schizophrenia, or there is a pattern of such behavior, the facility's publicly available Five-Star Quality Measure Rating on the Care Compare site will be negatively impacted. Specifically, CMS indicates nursing homes found to be inaccurately coding diagnosis will automatically be reduced to a one-star rating.
New Trends in Nursing Home Medication Prescribing
While officials continue to crackdown on the unnecessary use of antipsychotic medications, a report released in November 2022 warns nursing homes may be using a new chemical restraint strategy to avoid the radar of regulatory officials.
The U.S. Department of Health and Human Services, Office of Inspector General (OIG) issued the Long-Term Trends of Psychotropic Drug Use in Nursing Homes, suggests that nursing homes are increasingly using epilepsy drugs as "chemical restraints", rather than antipsychotics.
The report indicates antipsychotic prescribing rates declined from 32.1% to 27.9%, and opioid prescribing rates declined from 39.8% to 31.7% from 2015 through 2019. However, it was found that the use of the antiepileptic drugs Depakote (valproic acid) and Neurontin (gabapentin), increased from 29.5 % in 2015 to 31.3 % in 2019.
The report raised concerns over the increased use of antiepileptic drugs on patients with Alzheimer's disease and related dementias (ADRD), as little scientific evidence has shown any medical benefit for symptoms of dementia. Given the lack of clinical benefit, officials questioned the reasoning behind the increase in prescribing of antiepileptic drugs, and whether there is a hidden intent behind their administration.
"*" indicates required fields