Ozempic Overdose Lawsuit Filed Against Giant Following Pharmacy Medication Error
September 21, 2023
By: Irvin Jackson
A Delaware man says he suffered an Ozempic overdose due to a medication error at a Giant Pharmacy, which led to severe injuries and hospitalization.
The complaint (PDF) was filed by Philip Charles Paul on September 11 in Delaware Superior State Court, naming Giant Pharmacy as the defendant.
The lawsuit comes at a time of increased concerns over the side effects of Ozempic, which has increased significantly in popularity in recent years.
Ozempic (semaglutide) was originally approved for the treatment of people with Type 2 diabetes. However, Ozempic has been increasingly prescribed for weight loss, which is considered an "off-label" prescription. As a result of the popularity, the drug maker introduced a higher dose version, known as Wegovy, which is approved for weight loss use.
Both Ozempic and Wegovy are part of a class of diabetic medications known as glucagon-like peptide-1 (GLP-1) receptor agonists, which also includes Trulicity, Byetta and others. However, side effects of Ozempic, Wegovy and other members of the class have been linked to serious stomach risks, including gastroparesis or stomach paralysis, which can result in severe and long-term gastrointestinal damage. As a result a growing number of Ozempic lawsuits have been filed in recent months, claiming that drug makers failed to adequately warn users and the medical community about the potential risks.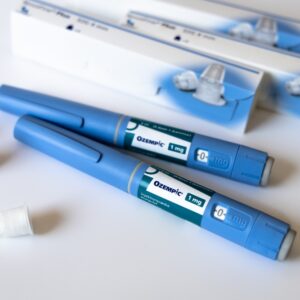 Find Out If You Have a Lawsuit
However, according to Paul's Ozempic overdose lawsuit, his injuries occurred because of a pharmacy error, and not the drug's formulation.
Paul indicates he was accidentally given quadruple his prescribed dosage of Ozempic at a Giant Pharmacy in Millville, Delaware on September 26, 2021.
"Instead of receiving the prescribed Ozempic dosage of 0.25mg, Defendant provided Plaintiff with the incorrect dosage of 1.0mg," the lawsuit states. "Upon injecting four times the dosage of his medication given by Defendant, Plaintiff was transferred to Beebe Hospital ICU for four days due to severe injuries, following home care treatment."
The lawsuit accuses the pharmacy of negligence, saying it deviated from applicable standard care by failing to properly give Paul the correct dosage, failing to have proper protocols in place to prevent potentially deadly medication mistakes, and failing to properly and adequately train its pharmacy staff.
Paul's complaint does not specify his injuries, but Ozempic overdose is known to cause severe nausea, vomiting, and low blood sugar. It may also increase the risks of Ozempic causing gastroparesis.
Ozempic Stomach Paralysis Risks
Also known as delayed gastric emptying or stomach paralysis, gastroparesis weakens the normal muscle movement in the stomach. These stomach contractions are necessary to push food through the digestive tract.
The symptoms of gastroparesis side effects from the delayed stomach emptying can include nausea, vomiting undigested food, abdominal pain, abdominal bloating, severe dehydration, feeling full after only a few bites, undigested food hardening in the stomach, acid reflux, fluctuating blood sugar levels, lack of appetite, weight loss, malnutrition and decreased quality of life. However, some users are reporting these side effects persisted long after Wegovy or Ozempic are discontinued.
In July, a CNN investigation outlined an alarming number of reports linking Ozempic and stomach paralysis, indicating that similar problems have been associated with other drugs in the same class in recent years.
In 2017, researchers with the Mayo Clinic conducted a study involving a similar diabetes medication known as Victoza, which found that the drug caused significantly slower digestion in users, taking about 70 minutes for half the food they ate to leave their stomachs, compared to four minutes for people who did not take the drug. However, the study found that people's bodies tended to adjust over time.
The first known Ozempic stomach paralysis lawsuit was filed in early August, alleging Novo Nordisk knew about the risks, but failed to provide patients and healthcare providers with adequate warning. It was the first of what could be hundreds or thousands of Ozempic, Wegovy and Mounjaro lawsuits filed in the coming months and years.
---
Find Out If You Qualify for Ozempic or Wegovy Compensation
"*" indicates required fields