Ozempic Lawsuit Filed Over Failure to Warn About Gastroparesis Side Effects
August 03, 2023
By: Irvin Jackson
In the first of what could be thousands of Ozempic lawsuits and Mounjaro lawsuits over undisclosed side effects, a Louisiana woman reports she experienced severe gastroparesis, or stomach paralysis, which led to repeated hospitalizations, vomiting and permanent gastrointestinal injuries.
The complaint (PDF) was filed yesterday by Jacklyn Bjorklund in the U.S. District Court for the Western District of Louisiana, indicating that she used Ozempic for more than a year before stopping use earlier this month, and switching to the similar diabetes drug Mounjaro. She is now pursuing damages against the manufacturers of both drugs, including Novo Nordisk and Eli Lilly, indicating that users and the medical community were not adequately warned about the potential gastroparesis side effects.
As a result of the drugs, Bjorklund indicates she has suffered from severe gastrointestinal events, including vomiting, stomach pain, gastrointestinal burning and repeated hospital emergency room visits for stomach issues. As a result of excessive vomiting, she indicates that some of her teeth fell out and she has been prescribed additional medication to prevent throwing up food hours after eating.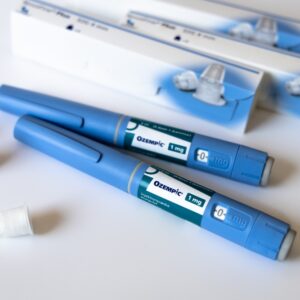 Find Out If You Have a Lawsuit
Ozempic and Mounjaro Diabetes Drugs
Ozempic (semaglutide) is a Novo Nordisk type 2 diabetes drug approved by the FDA in December 2017, as a once-weekly injection. The manufacturer has convinced the FDA to expand the drug's approval over the years, including indications for the prevention of diabetes-related heart disease, and the approval of increasingly more powerful doses.
Novo Nordisk has also introduced a separate version of the drug under the brand name Wegovy, which is approved and marketed for weight loss. However, there have been growing concerns about side effects of Ozempic and Wegovy in recent months, including reports that users have been left with stomach paralysis and severe gastrointestinal problems.
Bjorklund's lawsuit indicates that, over a five-year period, Novo Nordisk spent nearly $900 million on television ads promoting both Ozempic and Wegovy in the U.S., with most of that being spent on promoting Ozempic. The company has also reportedly gifted various doctors a total of $11 million in food and travel expenses as part of their Ozempic promotions.
Mounjaro (tirzepatide) is a similar type 2 diabetes treatment that is in the same class of medications, known as glucagon-like peptide-1 (GLP-1) receptor agonists, which was introduced by Eli Lilly in May 2022. Following the success of Ozempic and Wegovy, Eil Lilly is now pushing for fast-track FDA approval to also market Mounjaro as a weight loss drug.
Ozempic Gastroparesis and Gastroenteritis Risks
Bjorklund's complaint indicates that her stomach injuries were the direct result of side effects of Ozempic and Mounjaro, alleging the manufacturers knew, or should have known, that the drugs increase the risk of gastroparesis and gastroenteritis.
Gastroparesis, also known as delayed gastric emptying or stomach paralysis, weakens the normal muscle movement in the stomach. These stomach contractions are necessary to push food through the digestive tract.
When gastroparesis occurs, the stomach is slow to empty, resulting in symptoms including nausea, vomiting undigested food, abdominal pain, abdominal bloating, severe dehydration, feeling full after only a few bites, undigested food hardening in the stomach, acid reflux, fluctuating blood sugar levels, lack of appetite, weight loss, malnutrition and decreased quality of life.
Last month, a CNN investigation outlined reports linking Ozempic and stomach paralysis, indicating that researchers have similar problems have been associated with other drugs in the same class in recent years.
In 2017, researchers with the Mayo Clinic conducted a study involving a similar diabetes medication known as Victoza, which found that the drug caused significantly slower digestion in users, taking about 70 minutes for half the food they ate to leave their stomachs, compared to four minutes for people who did not take the drug. However, the study found that people's bodies tended to adjust over time.
Last month, the American Society of Anesthesiologists (ASA) issued a warning about using Ozempic and Wegovy before surgery, indicating that the lack of gastric emptying linked to the drugs could put patients at risk of vomiting and aspiration while under the effects of anesthesia.
Gastroenteritis, also linked to Ozempic and similar drugs, causes inflammation of the stomach and intestines. The condition is usually caused by a virus or as a reaction to certain medications. Symptoms can include vomiting, nausea, diarrhea, stomach cramps, muscle aches, headache, and fever. Health experts warn that diarrhea and vomiting from gastroenteritis can cause severe dehydration, which could result in death.
Manufacturers Failed to Warn of Ozempic Stomach Side Effects
The lawsuit claims both Novo Nordisk and Eli Lilly failed to provide adequate label warnings about Ozempic and Mounjaro gastroparesis risks.
Bjorklund's complaint notes that Novo Nordisk does not adequately disclose the risk of gastroparesis or gastroenteritis on the Ozempic warning label or in the drug safety information. The only mention of potential problems comes in the mechanism of action section, indicating that "[t]he mechanism of blood glucose lowering also involves a minor delay in gastric emptying in the early postprandial phase."
"These statements do not disclose gastroparesis or delayed gastric emptying as risks of taking Ozempic, nor do they disclose gastroparesis as a chronic condition that can result as a consequence of taking Ozempic," the lawsuit states. "None of Defendants' additional advertising or promotional materials warned prescription providers or the general public of the risk of severe gastrointestinal events, including gastroparesis and gastroenteritis."
The Mounjaro warning only mentions that it is not recommended for use by patients already diagnosed with gastroparesis, because its effects have not been studied on them.
The lawsuit notes that despite a number of case studies and clinical reports warning that the drugs could cause, or exacerbate, gastroparesis in particular, neither manufacturer has updated the label warnings.
Bjorklund presents claims of inadequate warning and breach of express warranty. She seeks both punitive and compensatory damages.
Other Ozempic Side Effects
The Ozempic lawsuit comes amid increasing reports that Ozempic side effects have also been linked to hair loss when using the diabetes drug as a weight loss treatment.
Some doctors have claimed hair loss after Ozempic use is a natural result of rapid weight loss. This effect is known as telogen effluvium. However, Ozempic may also cause hormonal shifts which can also trigger early onset pattern hair loss in men and women, known as androgenic alopecia, which is progressive and continues to worsen over time. This can lead to permanent hair loss, some health experts warn.
In May, the founder of The American Hair Loss Association (AHLA) and The International Alliance of Hair Restoration Surgeons, warned against misuse of Ozempic for weight loss in an editorial in Dermatology Times, indicating that the hair loss experts do not recommend the off-label use of the diabetes drug.
In addition, regulators in the European Union warned that Ozempic and Wegovy may be linked to an increased risk of thyroid cancer in June. They called for drug manufacturers to turn in additional data and suggested they may take future actions to address the potential risks.
Tags:
Diabetes,
Diabetes Drugs,
Eli Lilly,
Gastroenteritis,
Gastroparesis,
Hair Loss,
Mounjaro,
Novo Nordisk,
Ozempic,
Thyroid Cancer,
Weight Loss
---
Find Out If You Qualify for Ozempic or Mounjaro Compensation
Image Credit: |
"*" indicates required fields