Ozempic Intestinal Blockage Warnings Added to FDA Label About Gastrointestinal Risks
September 28, 2023
By: Irvin Jackson
Federal regulators have added new label warnings to alert consumers about the risk that side effects of Ozempic may cause intestinal blockages, following a growing number of reports involving severe gastrointestinal problems among individuals receiving the drug for diabetes or weight loss.
The U.S. Food and Drug Administration (FDA) announced safety-related Ozempic warning label changes on September 22, providing information about adverse reactions involving ileus, which occurs when the intestines cannot contract normally to remove waste from the body.
Symptoms of ileus include abdominal cramps, bloating, nausea, vomiting, constipation, difficulty passing gas and difficulty eating.
Ozempic Gastrointestinal Risks
Ozempic (semaglutide) was originally approved for the treatment of people with Type 2 diabetes. However, Ozempic has been increasingly prescribed for weight loss, which is considered an "off-label" prescription. As a result of the popularity, the drug maker introduced a higher dose version, known as Wegovy, which is approved for weight loss use.
Although the drug has been marketed as safe and effective, concerns have emerged in recent months about painful and debilitating gastrointestinal problems from Ozempic and Wegovy, primarily involving a medical condition known as gastroparesis, which results from delayed emptying of the stomach. As a result, the drug maker currently faces Ozempic lawsuits brought by individuals who have experienced problems, each raising similar allegations that false and misleading information has been provided for users and the medical community.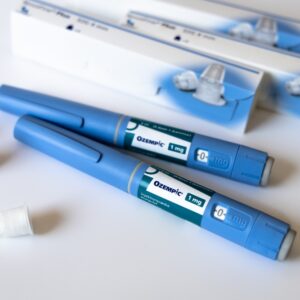 Find Out If You Have a Lawsuit
The label addition by the FDA adds "Gastrointestinal Disorders: Ileus" to the postmarketing experience portion of the adverse reaction sections of Ozempic's label. The update also includes a new warning that when Ozempic is used with sulfonylurea, it can increase the risk of hypoglycemia, or extremely low blood sugar.
The FDA indicates it does not know the extent of the risks or the likelihood of ileus from Ozempic at this time.
"The following adverse reactions have been reported during post-approval use of semaglutide, the active ingredient of Ozempic," the label warning reads. "Because these reactions are reported voluntarily from a population of uncertain size, it is not always possible to reliably estimate their frequency or establish a causal relationship to drug exposure."
Ozempic Gastroparesis Lawsuits
Ileus is a painful obstruction that results from the inability of the intestine or bowel to contract normally and move waste out. The condition is similar to gastroparesis, which has been cited in recent Ozempic lawsuits, and occurs when similar problems develop in the stomach, delaying gastric emptying.
The symptoms of gastroparesis from Ozempic will be similar to ileus, including nausea, vomiting undigested food, abdominal pain, abdominal bloating, severe dehydration, feeling full after only a few bites, undigested food hardening in the stomach, acid reflux, fluctuating blood sugar levels, lack of appetite, weight loss, malnutrition and decreased quality of life. However, some users diagnosed with Ozempic-induced gastroparesis report that the side effects persisted long after the drug is discontinued.
In July, a CNN investigation outlined an alarming number of reports linking Ozempic and gastroparesis, indicating that similar problems have been associated with other drugs in the same class in recent years.
In 2017, researchers with the Mayo Clinic conducted a study involving a similar diabetes medication known as Victoza, which found that the drug caused significantly slower digestion in users, taking about 70 minutes for half the food they ate to leave their stomachs, compared to four minutes for people who did not take the drug. However, the study found that people's bodies tended to adjust over time.
The first known Ozempic gastroparesis lawsuit was filed in early August, alleging Novo Nordisk knew about the risks, but failed to provide patients and healthcare providers with adequate warning. However, it is widely expected that or thousands of similar claims may be brought in the coming months and years, as well as Wegovy lawsuits and Mounjaro lawsuits over similar gastrointestinal risks associated with these similar medications.
---
Find Out If You Qualify for Ozempic or Wegovy Compensation
"*" indicates required fields