Tylenol, Motrin, Other OTC Painkillers May Have Emotional Side Effects: Study
February 13, 2018
By: Irvin Jackson
The findings of a new study suggest that the side effects of Tylenol, Motrin and other over-the-counter pain killers could cause changes in emotion and reasoning. 
Researchers with the University of California Santa Barbara published a review in the journal Policy Insights from Behavioral and Brain Sciences on February 6, which found that taking acetaminophen and ibuprofen affected how some people processed painful emotional experiences.
Acetaminophen is the active ingredient in Tylenol, and is used in many other pain killers and cold medications. Ibuprofen is the active ingredient in Advil and Motrin.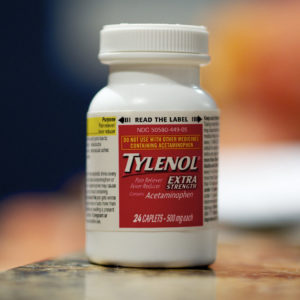 The researchers looked at the results of two studies which put subjects through hypothetical scenarios, measured reactions to personal distress and conducted tasks where they were exposed to unpleasant experiences.
According to the findings, acetaminophen appeared to lessen emotional distress as well as the ability to empathize with the pain of others. The findings also indicated that ibuprofen appeared to affect people differently depending on gender. Women were more likely to experience less emotional distress from emotionally painful experiences, while men became more sensitive to such experiences.
The study's findings also indicated that both medications appeared to make people more willing to part with personal possessions, resulting in them asking for less in return for giving something away.
Researchers also suggest that over-the-counter drugs may reduce the ability of the brain to process new information, with those taking acetaminophen underperforming on certain tasks than those who did not take the drug. The researchers noted that the errors from acetaminophen users appeared to be limited to errors of omission.
"In many ways, the reviewed findings are alarming. Consumers assume that when they take an OTC pain medication, it will relieve their physical symptoms, but they do not anticipate broader psychological effects," the researchers noted. "Are more regulations needed? Should warnings be expanded on drug labels? At this point, drawing strong conclusions from the existing studies would be premature. Nonetheless, policymakers might start thinking about potential public health risks and benefits."
Although most consumers assume that Tylenol is safe, acetaminophen products have been linked to a number of potential health risks. The pain killer has been identified as a leading cause for liver injury in the United States, causing an estimated 50,000 emergency room visits each year, including 25,000 hospitalizations and over 450 deaths annually. In addition, use of the medication has been linked to a risk of dangerous skin reactions, like Stephens-Johnson Syndrome.
In recent years, efforts have been ramped up to bring the risk of acetaminophen overdoses to the public's attention and to reduce the amount of liver injury cases linked to the popular analgesic, which is also found in other pain killers and a number of cold medications.
In 2011, Johnson & Johnson lowered the maximum recommended dosage on Tylenol and other acetaminophen-based products from 4,000 mg per day to 3,000 mg per day. However, the drug maker now faces a number of Tylenol liver failure lawsuits, which involve allegations that important safety information from the public for decades.
Jeffrey

January 17, 2021 at 10:38 pm

Does painkillers causes Mega colon?
"*" indicates required fields