FDA Refuses To Set Limits for PFAS Toxic Chemicals in Bottled Water: Consumer Reports
October 30, 2020
By: Irvin Jackson
Despite mounting concerns about cancer risks associated with water contaminated with per- and polyfluoralkyl substances (PFAS), federal regulators under the Trump administration have refused to established limits on the toxic chemicals in bottled water products.
Consumer Reports issued a report this week highlighting an FDA decision not to set limits PFAS toxic chemicals in bottled water at this time, claiming the agency is relying on outdated research.
The report follows a review of FDA documents by Consumer Reports, after a number of consumer advocacy groups and the International Bottled Water Association (IBWA) requested last year that the agency set limits on the compounds, which have been linked to cancer and learning delays in children. Consumer Reports gained access to a letter (PDF) from December 2019, which indicated the FDA thought such limits were unnecessary.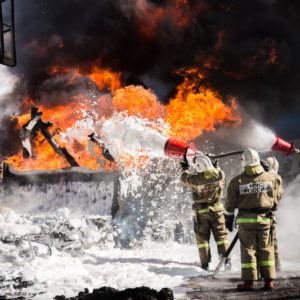 Learn More About
Exposure to firefighting foam chemicals may result in an increased risk of cancer for firefighters, military and airport personnel.
Learn More About this Lawsuit
The letter was sent to IBWA, which called for the agency to establish a standard of quality (SOQ) which would limit any single PFAS compound to 5 parts per trillion (ppt), and 10 ppt for all total PFAS in finished bottled water products.
"While we do not object to IBWA's adoption of SOQs for its members, FDA believes it would be premature for the Agency to establish a SOQ for PFAS in bottled water at this time, given the ongoing activities at EP addressing PFAS in public drinking water," the FDA letter states. "In addition, FDA's testing show that bottled water generally has no detectable levels of PFAS."
PFAS chemicals are used in a wide variety of products, yet the chemicals are projected to take thousands of years to degrade, and past studies have shown their ability to enter and stay in the environment and human body through the air, dust, food, soil, and water. The chemicals primarily settle into the blood, kidney and liver, and have been found to contaminate waters sources near military bases, airports and other locations where the anti-fire foam is regularly used.
Some estimates suggest the chemicals may be detected in the blood of 98% of the U.S. population, and exposure has been linked to a wide variety of cancers, including kidney cancer, testicular cancer and breast cancer.
In September, Consumer Reports published an analysis of 47 bottled water products, including 35 noncarbonated and 12 carbonated products. They found detectable levels of PFAS in 43 of the 47 products tested.
Consumer Reports indicates the agency's claim there were no PFAS detected in bottled water was faulty, and based on an analysis conducted in 2016 which only looked at 30 products, and which could not detect PFAS levels below 4 ppt.
Some of the products tested by Consumer Reports were found to contain levels of nearly 10 ppt.
Consumer Reports and the IBWA plan to continue pressuring the agency to adopt new, more stringent standards, according to the report.
Firefighting Foam Chemicals Pose Safety Concerns
Consumer Reports and other investigators have repeatedly pointed to the use of Aqueous Film-Forming Foams (AFFFs) as a major cause of PFAS water contamination nationwide, as the fire foam used in prior decades contained a number of PFAS chemicals that could leach into waters supplies around military bases and other training facilities.
In recent months, former firefighters and families living near bases have filed numerous firefighting foam lawsuits, which have been filed over testicular cancer, kidney cancer, pancreatic cancer and other injuries.
Since December 2018, all complaints involving firefighting foam exposure filed in federal courts nationwide have been centralized in the U.S. District Court for the District of South Carolina for pretrial proceedings.
"*" indicates required fields