Study Raises Concerns Over High Levels of PFAS Chemicals In Breast Milk
February 28, 2022
By: Irvin Jackson
A new study indicates that breast milk often has concentrations of per- and polyfluoroalkyl substances (PFAS), which are toxic chemicals from firefighting foam that have widely contaminated drinking water supplies nationwide. However, researchers indicate that further work needs to be done to determine what levels may pose a risk to the health of breastfeeding infants.
Researchers from the U.S. and Canada, working with the National Institute of Environmental Health Sciences, published the findings last week in the journal Environmental Health Perspectives, warning that despite 20 years of on the toxic effects of PFAS chemicals, scientists know very little about how those chemicals affect breast milk and breastfed infants.
PFAS were first introduced into the manufacturing industry in the 1940's, because of their ability to resist heat, grease, stains, and water. However, since the chemicals are known to persist and build up in the environment, leading to the nickname "forever chemicals, a myriad of adverse health effects have been linked to exposure, including liver damage, thyroid disease, decreased fertility, high cholesterol, obesity, hormone suppression, and cancer.
While the chemicals are found in a wide variety of products, including some food packaging materials, pizza boxes, popcorn bags, fabrics, nonstick cooking pans, and other products, most of the concerns have focused on high volumes of the PFAS chemicals that entered drinking water supplies from aqueous film-forming foams (AFFFs) widely used near airports, military bases and firefighting training centers in recent decades.
Although safer alternatives were available to fight fuel based fires without PFAS chemicals, AFFF was sold for decades by 3M Company and other companies, who now face a growing number of fire foam lawsuits brought by firefighters diagnosed with cancer and others regularly exposed to contaminated drinking water.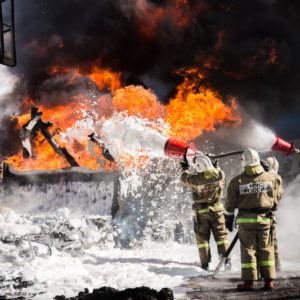 In this latest study, researchers sought to determine PFAS concentrations in breast milk, and compare those levels to screening values considered safe for children. However, one of the first roadblocks to their research was the fact that, despite 20 years of research, there are no screening values set for PFAS in breast milk, which limited their ability to even determine what should be considered dangerous.
Researchers looked at three studies that reported breast milk concentrations in the U.S. and Canada. The studies reviewed involved 129 samples from three U.S. states and 13 samples from one Canadian province. They looked at certain specific PFAS compounds, including perfluorooctanoic acid (PFOA), perfluorooctane sulfonate (PFOS), perfluorohexane sulfonate (PFHxS) and perfluorononanoic acid (PFNA).
To compensate for the lack of screening values for breast milk, researchers instead used screening values for PFAS in children's drinking water created by the U.S. Agency for Toxic Substances and Disease Registry.
According to their findings, mean concentrations for PFOA and PFOS exceeded those screening values, sometimes by double the recommended safe amount. Levels of PFHxS and PFNA were below those values.
"The exercise undertaken in this research provides estimates of nationally representative concentrations of four PFAS in breast milk from the general population in the United States and Canada as well as concentrations estimated for several areas in the United States known to be contaminated with PFAS from industrial dumping or from aqueous film-forming foam (AFFF) used in fuel-based fire training at military bases, airports, and other areas," the researchers concluded. "Importantly, estimated and measured breast milk concentrations of PFOA, PFOS, PFHxS, and PFNA ranged over several orders of magnitude and were near or—in most cases for PFOA and PFOS—exceeded the ATSDR children's drinking water screening values. Exceeding these screening values does not indicate that adverse health effects will occur and should not be interpreted as a reason to not breastfeed; it indicates that the situation should be further evaluated."
"*" indicates required fields