PFAS Chemicals Used in Firefighter Foam Found in Major Fast Food and Restaurant Packaging: Consumer Reports
March 30, 2022
By: Irvin Jackson
Amid rising concerns about the long-term health risks associated with per- and polyfluroalkyl substances (PFAS), which are toxic chemicals that have caused widespread water contamination from decades of use in firefighting foam, the consumer watchdog group Consumer Reports warns that the chemicals are also commonly found in food packaging materials.
PFAS were first introduced into the manufacturing industry in the 1940's, because of their ability to resist heat, grease, stains, and water. However, they are commonly referred to as "forever chemicals", since they are known to buildup in the environment and human body, increasing the risk of a myriad of adverse health effects, including liver damage, thyroid disease, decreased fertility, high cholesterol, obesity, hormone suppression, and cancer.
While the chemicals are found in a wide variety of products, including cosmetics, some food packaging materials, pizza boxes, popcorn bags, fabrics, nonstick cooking pans, and other products, most of the concerns in recent years has focused on high volumes of the PFAS chemicals that entered U.S. drinking water supplies from aqueous film-forming foams (AFFF) widely used near airports, military bases and firefighting training centers in recent decades.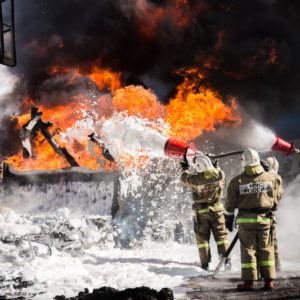 In a new report published last week, Consumer Reports looked at more than 100 food packaging products from fast food and restaurant chains. The group detected PFAS in "some packaging from every retailer we looked at."
The researchers tested a total of 118 products from 24 retailers, looking for organic fluorine levels, which are an indicator of the presence of PFAS. While Consumer Reports' experts call for a threshold of 20 parts per million for organic fluorine levels, almost a third, 37 products, had levels higher than that, and 22 products had levels that exceeded 100 ppm.
The study included major chains like McDonalds, Burger King and Chic-fil-A, all of whom have committed to reducing PFAS in their products in the past. However, even franchises like Trader Joe's and Cava, who claim to promote healthier eating, had PFAS in some packaging, the report indicates.
The chemicals were found in paper bags, hamburger wrappers, fiber salad bowls and paper plates, among other packaging. Consumer Reports found that those who had committed to removing PFAS and promoted healthier lifestyles had lower levels, but they were still present.
The report notes that it is easy for PFAS to migrate from machinery into packaging, and from the packaging into the food.
"No company should tell consumers that their products are 100 percent free of PFAS," Dr. Michael Hansen, a senior scientist at Consumer Reports stated. "Manufacturers could unknowingly still be using the compounds, or they could be using materials produced overseas."
Despite that warning, the report indicates it should be possible for all of the fast-food chains and restaurants to reduce the levels below 20 ppm.
The findings come as chemical manufacturers face mounting litigation over long-term side effects caused by exposure to the chemicals, including a number of class action lawsuits, water contamination lawsuits and hundreds of firefighter cancer lawsuits, involving claims that regular exposure to the chemicals during fire training and response exercises caused the development of testicular cancer, kidney cancer, liver cancer, pancreatic cancer, prostate cancer, breast cancer and other injuries.
"*" indicates required fields